Thanks to a helping hand from rangatahi at Pasadena Intermediate / Te Kura Takawaenga o Te Waitītiko, the restorative planting at Western Springs Lakeside Te Waiōrea is now underway.
On Tuesday 7 July, 21 students aged between 11 and 13 put the first 140 trees and shrubs into the ground, heralding a new era for the beloved forest.
The group, which was a mix of students from the school's sustainability group 'Tūtei Ao' and keen volunteers from one of the Rumaki classes, worked alongside three ecologists from Wildlands, Project Manager Karl McLeod, and teacher Heather Ruru.
"The native tree planting session was one of our school activities to mark the rising of Matariki and it felt symbolic that we were there to put the first of the trees into the ground, marking a new beginning for the forest," said Heather.
"Our students have been learning about the significance of native biodiversity and ecosystems, and also as our kura name, Te Waitītiko, comes from the name of the waterway that flows beside our school, we feel it is our responsibility to safeguard the awa and surrounding whenua.
"We heard the kōrero about the pine trees that had once stood there, before planting native saplings on the whenua, helping to further connect our kura community to our local area.
"It was a privilege to be the first group to plant trees and we are excited to return to Te Waiōrea in the coming months once the track has reopened."
After a short ecological talk and plant identification session by the Wildlands team, it was time for the students to get their hands dirty. Over one and a half hours, the group got stuck into planting native species that included mahoe, karamu, kanuka and cabbage tree.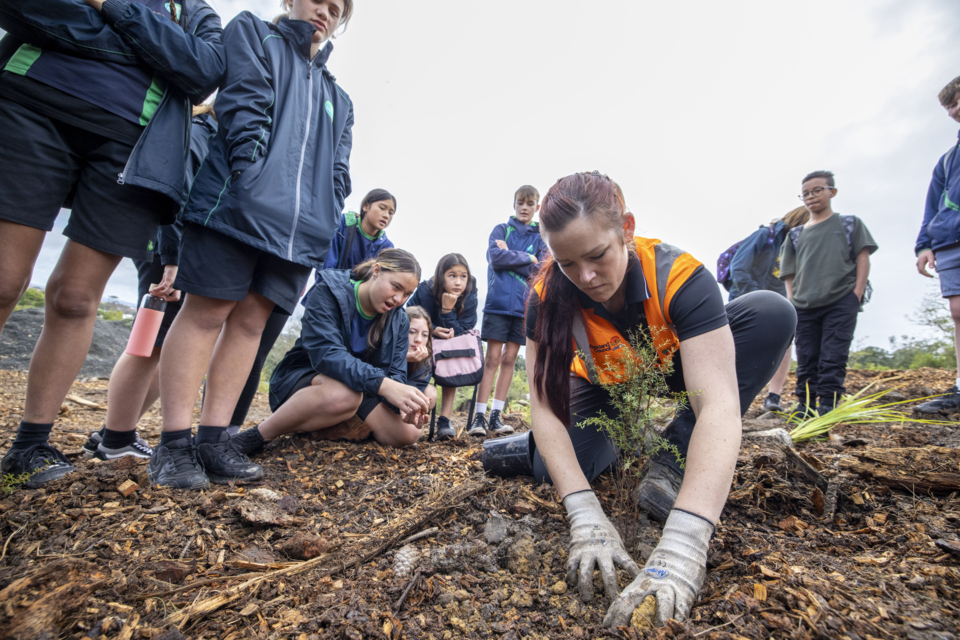 Project Manager Karl McLeod was instrumental in getting the school involved.
"We're so pleased and grateful to the rangatahi who came along and put in the hard mahi to get our restoration programme started.
"The planting of the first trees and shrubs was a significant moment for the project and to have the students involved made it even more special.
"The Western Springs Native Bush Restoration project will help to safeguard the forest for future generations to enjoy, and that's why it was so fitting that the first of the saplings were planted by those who will mature and grow along with it."
Community planting day
A community planting day will take place from 9.30am on Sunday 18 July. If you to participate, please RSVP to the Community Liaison team on westernsprings@aucklandcouncil.govt.nz or call 0272678818
For further information about the Western Springs Native Bush Restoration project, visit aucklandcouncil.govt.nz/westernsprings