Auckland's network of cycle paths and lanes is growing. New cycle routes and significant upgrades to existing ones mean there are more options to explore the city on two wheels. On your bike - here are three of the best new Auckland cycleways to check out.
Karangahape Road
The iconic Karangahape Road has been given a makeover. The lively street is now more cosmopolitan and bike-friendly than ever before, making for an excellent urban cycle adventure.
Safe, spacious, separated cycleways now run along both sides of the street. Cycling down 'K Road', you'll be able to enjoy other additions, including native plantings that help create a greener environment, rainbow crossings celebrating the diverse LGBTQI+  heritage of the area, and tukutuku patterns on the over-bridge and engraved shell disks on the pavement representing Māori influence.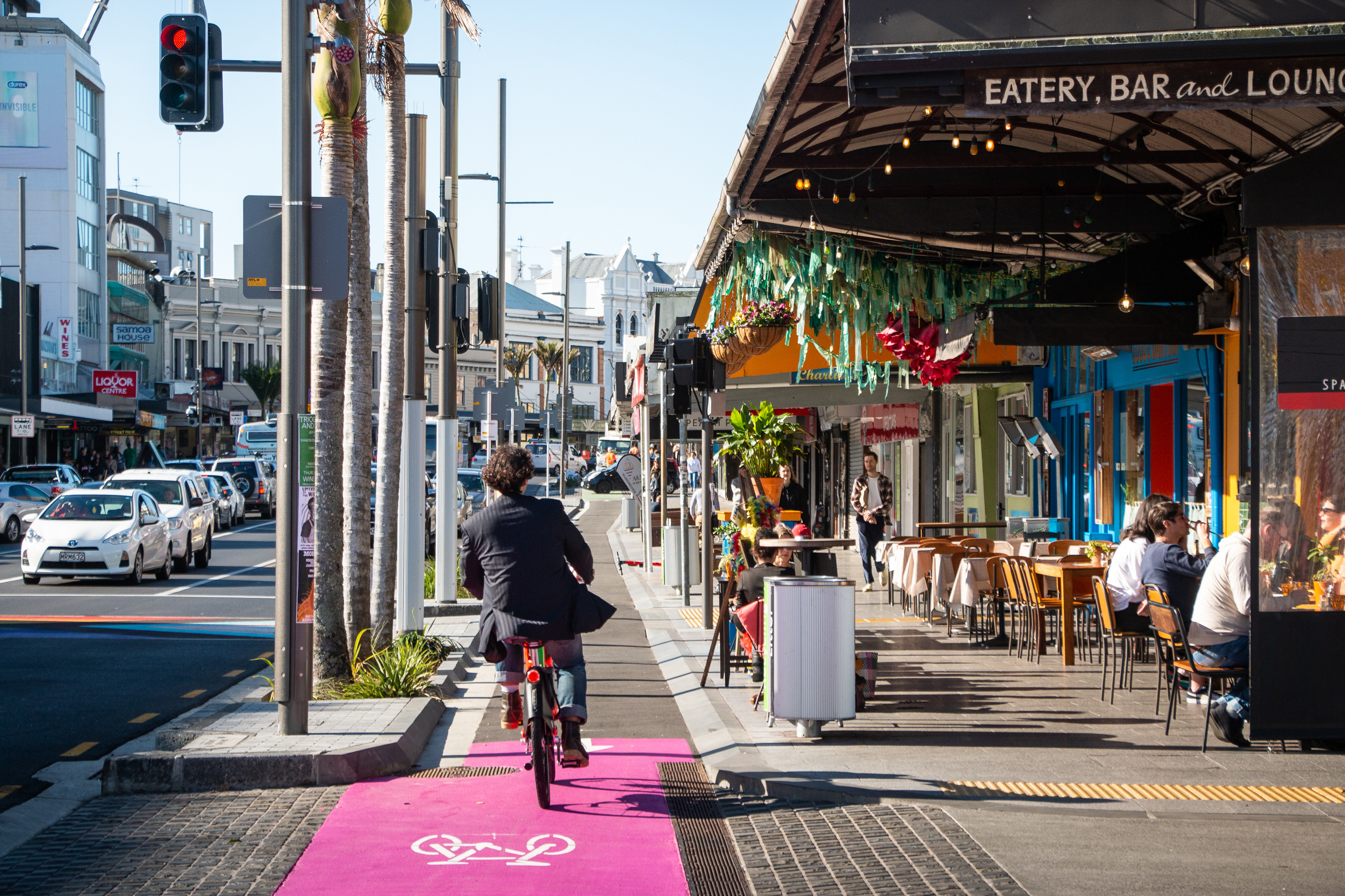 Wynyard Quarter to Mission Bay
The waterfront cycle ride from Wynyard Quarter to Mission Bay is completely separated from the road and has benefitted from a recent upgrade to become one of the most iconic and scenic sections along Tāmaki Drive.
The final stretch of Tāmaki Drive's separated cycleway project, running from Ngapipi Bridge into the city centre, has been completed. The cycle path now links Tāmaki Drive to the central city and on to cycle routes to Glen Innes and Parnell. Bikes have their own separated path on this section of the cycleway, making it safer for cyclists.
You can bike the route with confidence along a spectacular coastal stretch of the city, and enjoy the vibrant waterfront from the CBD to the port and beyond to Mission Bay.
Glen Innes to Tāmaki Drive Shared Path
The Glen Innes to Tāmaki Drive Path is still under construction, set to be one of the most scenic shared paths in Auckland. The pathway follows the eastern railway line, connecting eastern suburbs with the city centre.
Development of the path has been divided into four sections. The first and third sections are now complete and give an exciting preview of what the finished pathway will be like. Currently, you can cycle from Glen Innes along Eastview Reserve to the intersection with St Johns and St Heliers Bay Road. Then, you can cycle through peaceful suburbs to reach the Meadowbank to Ōrākei section, where you can enjoy scenic views of the Ōrākei Basin.