Whether they are colourful, towering, artistic or scenic, there's something that makes every slide in Tāmaki Makaurau unique.
Here's a selection of our favourite slides that'll make you all feel on top of the world.
1. Western Springs Lakeside Te Waiōrea Park
Nestled between Auckland Zoo and MOTAT, this popular lakeside playground has recently been revamped and is now a festival of fun.
Featuring a plethora of colourful climbing gear, a percussion area, an assortment of swings and a junior pump track, there are also two fabulous covered slides of varying lengths as well as a smaller toddler slide.
And for a bit of peace and quiet, the award-winning Fukuoka Japanese Gardens are serene and restful. The bird life here is amazing too but they can be over friendly so keep your snacks safe.
2. Otamariki Park Playground, Ōtara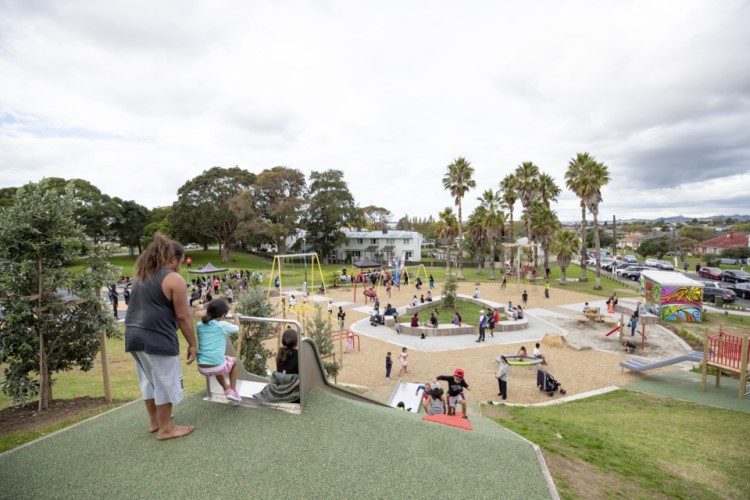 This vibrant park has all the things you need for a fun day out, including a basketball court, a sand play area, a big climbing frame and swings. The Ōtara Creek Path also starts here if you want to have a longer exploration of the area.
But the highlight is the giant silver slide, which is wide enough for parents to accompany younger tamariki. Long pants are recommended for hot days for friction protection.
3. Western Park, Freemans Bay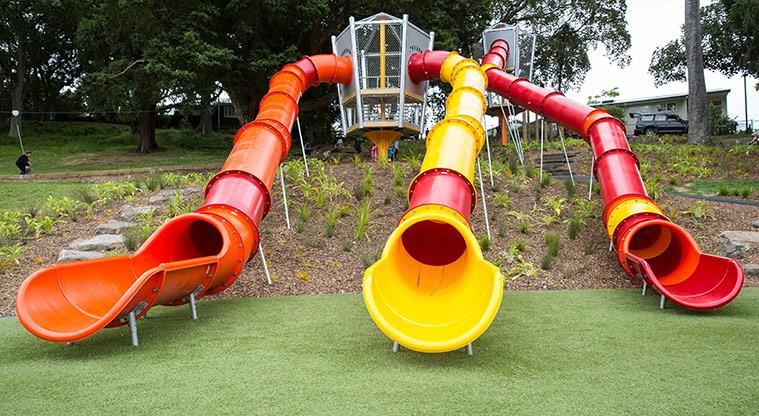 Western Park's playground is a splash of colour and fun. Here you'll also find a mega 25-metre long slide.
Another two slides - shorter but no less impressive - are designed side-by-side so you can race your pals to the bottom. Note that the taller slides is only suitable for children aged eight and over.
Next door there are free-to-use tennis courts, so bring your racquets, and there is plenty of lush green leafy space for running around.
4. Waikōwhai Park, Hillsborough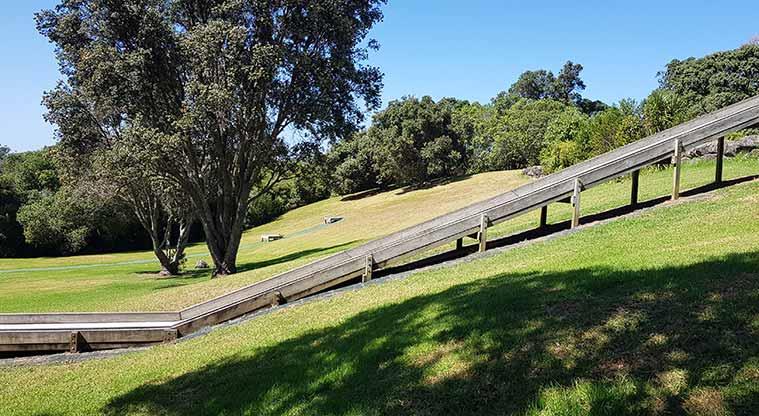 Hidden away in one of Tāmaki Makaurau's most significant ecological areas you will find a serene playground and one humongous slide. Not only will the huge silver chute give you a thrill-ride on the way down, the views over the Manukau Harbour from the top are also breath-taking.
Meaning 'kōwhai by the water' in te reo, Waikōwhai Park is an urban idyll boasting a network of well-maintained paths which link the playground, lookout point and the dog-walking area. Perfect for a peaceful family day out.
5. Tūī Glen Playground, Tūī Glen Reserve, Henderson
Head to Tūī Glen Reserve by Te Wai-o-Pareira/ Henderson Creek and watch the kids reach new heights as they frolic all over this treetop-themed wonderland.
Highlights include an eagle's nest swing, rope bridges, a side-by-side flying fox, climbing frames and three tree huts.
But it is the two tube slides that really tucker the kids out as they race to the top, then zoom to the bottom. With plenty of mature trees for a shady rest and a barbeque, Tūī Glen is an ideal spot to spend the whole day with the whānau.
6. Takapuna Beach Reserve Playground, Takapuna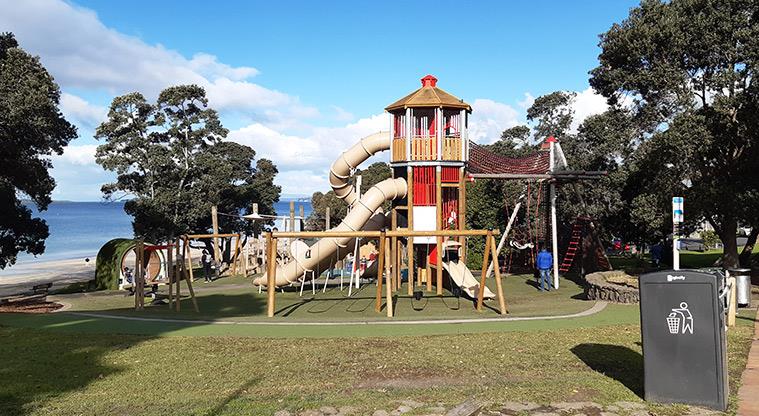 Enjoy being right on the water with a stunning view of Rangitoto Island while tamariki run around. A giant hamster wheel, swings, climbing frames and climbing trees will delight kids. The centre piece of this playground are the two magnificent covered slides of varying heights and two smaller side-by-side slides which will generate squeals of delight. Whānau bliss by the beach.