There's nothing like a lockdown to get our fight-or-flight responses firing. If you're having trouble sleeping, lingering headaches or anxious thoughts, chances are your emotional brain is in control.
Paul Robertson, Auckland Council's General Manager Health, Safety & Wellbeing says, "It is more important than ever that we look after ourselves. Building our resilience is a proactive way we can navigate through challenging times and emotions.
"Auckland Council has an array of resources to help you take care of yourself and your whānau during lockdown and learn how to develop your resilience."
Three tips for building a resilient you:
Breathing techniques to lift your mood
Breathing is a great way to help you concentrate and improve your mood. Simply breathe in slowly through your nose, allowing your diaphragm to expand and then breathe out slowly either through your nose or mouth. Repeat for a few rounds.
Check out the wellness video series that the Auckland Council Pools and Leisure team has put together on other techniques for looking after yourself through better sleep, healthy eating and hydration.
Read
Auckland Council Libraries has hundreds of online resources about resilience. All you need is a library membership to access. Auckland residents or ratepayers can sign up for a free membership via the Auckland Council Library website.  
Once you're signed up, you can also access the Libraries' LinkedIn Learning page for over 16,000 free eLearning video courses and tutorials. Simply search 'resilience' for a selection of resilience-based resources. Here's a snapshot of what you can find: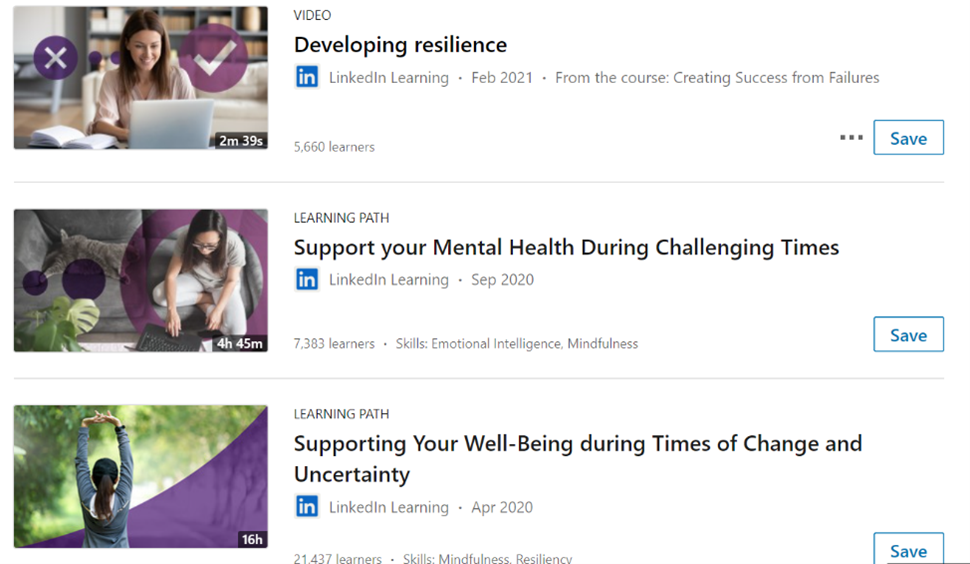 Exercise
Endorphins or feel-good chemicals are released when you exercise. So, moving your body each day does wonders for your wellbeing. Try one of the at-home workout videos posted on the Auckland Council Pools and Leisure Facebook page, we'll be posting regular videos with home workouts for you and your whānau.
Discover more of the great things you can do at home to stay active, keep learning and take care of yourself during lockdown via the OurAuckland Together At Home page.