Cycling is a great way of cutting carbon emissions, but if you've never used pedal power to get around, it can seem a bit daunting. Help is at hand thanks to numerous community-run groups across Auckland called "bike burbs".
Operated independently but linked to Bike Auckland, bike burbs are all about encouraging people to cycle and helping them do it safely. Many bike burbs offer guided rides around their local areas to help build confidence, and enthusiastic volunteers provide safety advice.
Community bike hubs can also assist with maintenance and repairs, and some offer bikes for hire or sale. These are mostly housed in repurposed shipping containers on land owned by Auckland Transport (AT), Auckland Council or Eke Panuku Development Auckland. AT's Community Bike Fund and local boards have provided grants to communities that are encouraging more people to ride bikes, and Auckland Council considers the bike burbs an important part of engaging with people about new infrastructure.
"Many of the bike burbs also advocate for safer bike paths, as 60 per cent of Aucklanders say they would ride a bike if they felt safe enough," says Macaila Pescud, Community Activations Manager for Bike Auckland.
Ōtara Bike Burb was started in 2020 by parents whose children became cycling fans after taking part in a wheelie stunt contest. Leader Lee Naniseni says, "There was no central point for our rangatahi (youth) who love riding, so we wanted to create a space where they could hang out and also fix their bikes." Based in Ōtara Town Centre, the bike burb may have started as an initiative for youngsters, but it now caters for all ages and backgrounds and offers bike maintenance, repairs and safety checks for low prices or koha.
"There's definitely been interest from people looking at cycling as a way to get from A to B, so we try to make it easier for them to jump on a bike," says Naniseni. "The safety side of it is a big thing. I feel like our infrastructure in Ōtara doesn't really cater to that, so one thing we'd like to see is more bike lanes."
Naniseni says it's challenging trying to shift people's mindsets around climate change, but even reaching a few at a time will make a difference. "We try to make it easy to understand how important it is to think about climate change and what we can do. Cycling instead of driving is a great start!"
Visit bikeauckland.org.nz for more information.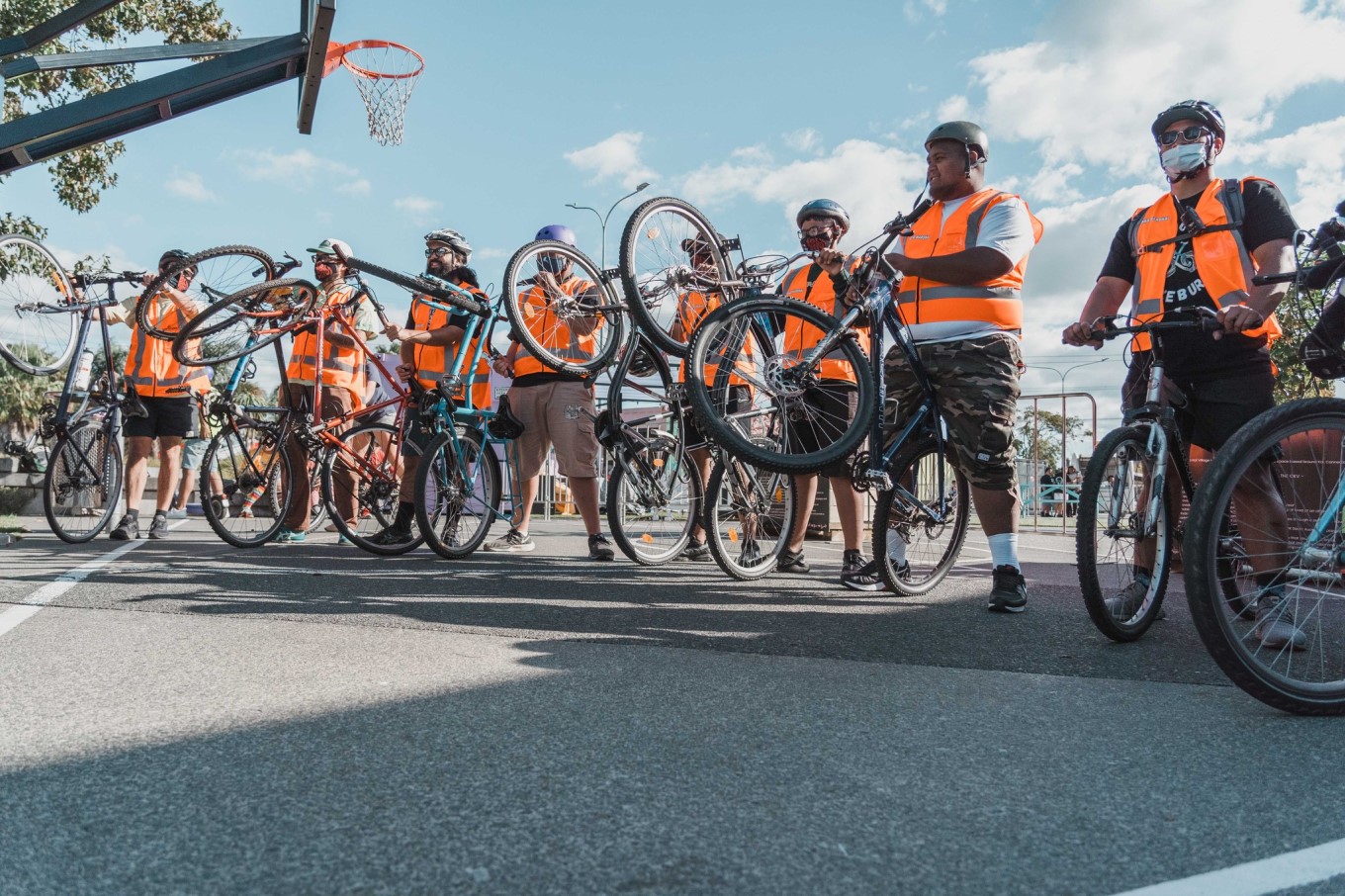 Future Plans
Auckland Council has already committed to more than 500 climate-friendly transport projects. These include the City Rail Link, which will move 54,000 Aucklanders around the region each hour – the equivalent of an additional 16 lanes of traffic, or three Auckland Harbour Bridges. Auckland Transport has also bought zero-emission buses that run on hydrogen or electricity, and is expanding the Rapid Bus network, with plans to improve the Eastern Busway to Botany, and the Northwestern busway.
Future plans include buying zero-emission ferries – as ferries are currently responsible for around 20 per cent of Auckland's public transport emissions – and spending more than
$228 million to upgrade walking and cycling infrastructure across the region.