Auckland Council Pools and Leisure facilities are available to all Aucklanders to help them live active lifestyles, improve their wellbeing, and have fun.
Auckland Council has 26 aquatic centres across the region. We operate 14 of these ourselves and the other 12 are operated by our contract partners.
Between 1 January 2022 and 26 October 2022, there were 432 contamination incidents. You may have heard the general term for these – 'code brown'.
We often get asked questions about code browns and hear our pools being branded as 'dirty' because of the number or type of incidents. We don't feel this is accurate, given the popularity of our pools and the high standards of hygiene before and after a contamination incident.
Accidents happen
Dave Stewart, Auckland Council General Manager, Active Communities says that our aquatic centres are for all Aucklanders, including tamariki, and managing incidents from time-to-time is part of this service.
"Given that we live in a region where beach visits and water sports dominate our relaxation time, learning to swim and having confidence in the water is important," says Dave Stewart.
"We believe in this so strongly that we have made pool visits free for rangatahi and tamariki aged 16 and under.
"We endeavour to always provide welcoming, family friendly environments and have high hygiene standards, particularly for our pools. However, accidents do happen."
What happens when there is a code brown?
Pools typically close for one and a half to three hours while we deal with the necessary cleaning process, sometimes longer if it is a particularly messy incident. If it's close to closing time, we might close the pool for the remainder of the day.
"If a contamination does occur, we're not in the habit of 'poo shaming' any member of our community, says Dave Stewart.
"The pools with the highest number of incidents are often the ones most popular with children and families or are designed specifically for toddlers or littlies.
"With over two million visits to our pools in the last financial year alone, contamination incidents equate to a small percentage and if one does occur, our staff are excellent at ensuring protocol is followed. The extra and out of cycle clean results in a that pool is very clean, rather than dirty."
Millions of Aucklanders using our pools
In the 2021/2022 financial year, we welcomed over 3.7 million visitors to our pool and leisure centres, including 2 million pool visitors. Albany Stadium Pool and West Wave Aquatic Centre are especially popular and our largest pools.
Pool water already contains a specially calculated dose of chemicals that keeps the water clean and clear, free from bacteria and helps protect the pool's paint or lining. Additionally, there is an extra and out of cycle clean to deal with a contamination incident, often meaning that pool is very clean, rather than dirty.
What we are doing about it
While accidents do happen, we've invested in a pilot programme, Pool Hy-genie, to help them happen less, educating swimmers and their caregivers and ultimately, driving behaviour change.
This starts with going to the loo before getting in the pool and ensuring that kids under age three wear a swim nappy.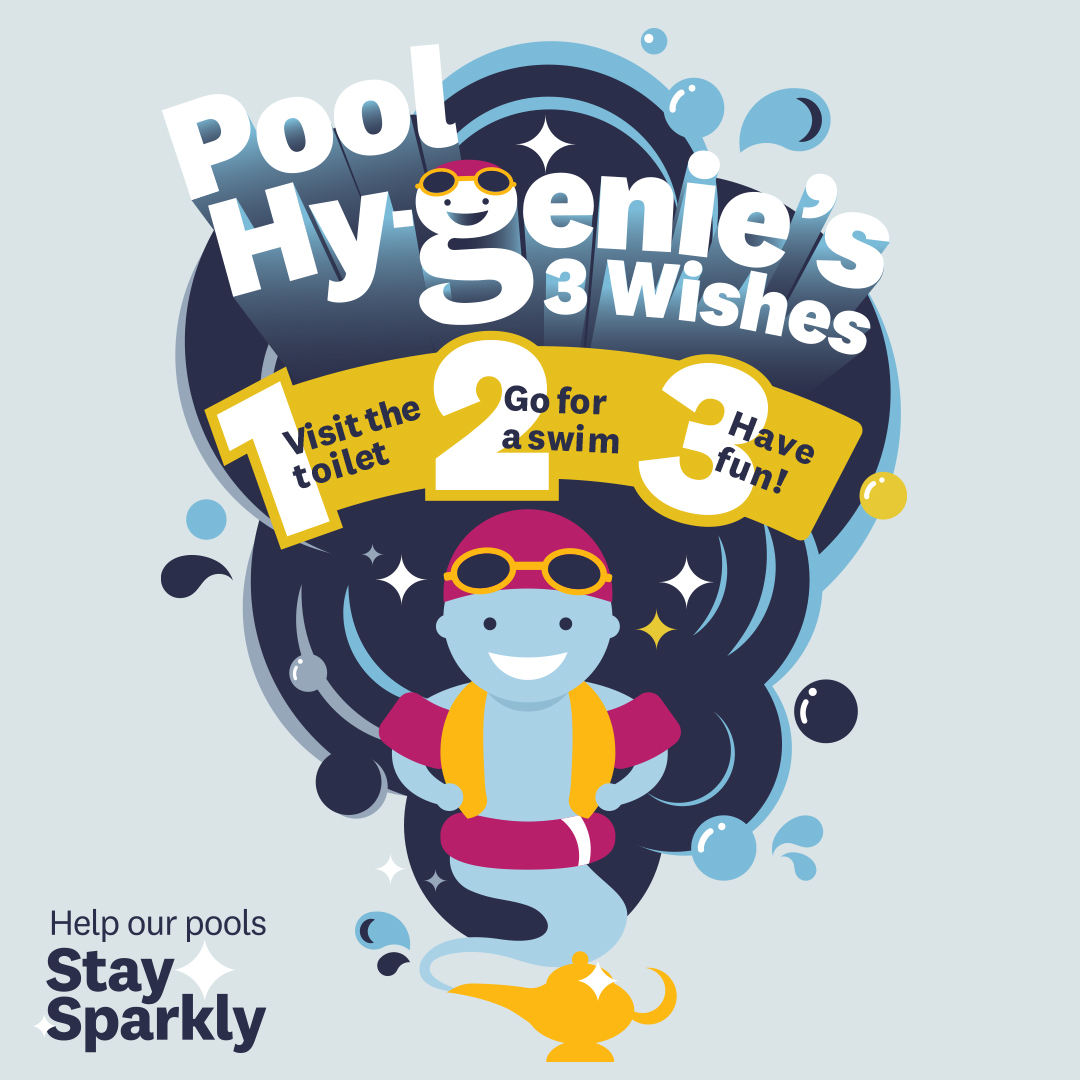 Launched at Albany Stadium Pool, West Wave and Stanmore Bay Pool and Leisure Centre, we've introduced a character called Pool Hy-genie who appears on posters, floor decals and stamps.
Pool Hy-genie helps open an education-driven conversation with staff and parents to remind tamariki to visit the toilet before going for a swim.
We also ask parents to ensure any children under 3 years old wear a swim nappy, which they can purchase at reception if they don't have their own.
The pilot started in March, and we'll continue to test different variations of the programme at these three sites over summer.