There's something about curling up with a good book that is incredibly cosy. As well as providing us with free access to gazillions of books, Auckland Council's 56 libraries provide safe, comforting spaces where you can read, ponder, connect with others – and even whizz down a slide. Here are some top book nooks across the region.
Devonport Library / Te Pātaka Kōrero o Te Hau Kapua
Snuggle up, me hearties! A porthole-shaped window seat in the teen area of this architectural-award-winning library is not only a suitable nod to the seaside suburb's naval history, but it's a charming wee spot for reading, getting some shut-eye or composing your next sea shanty.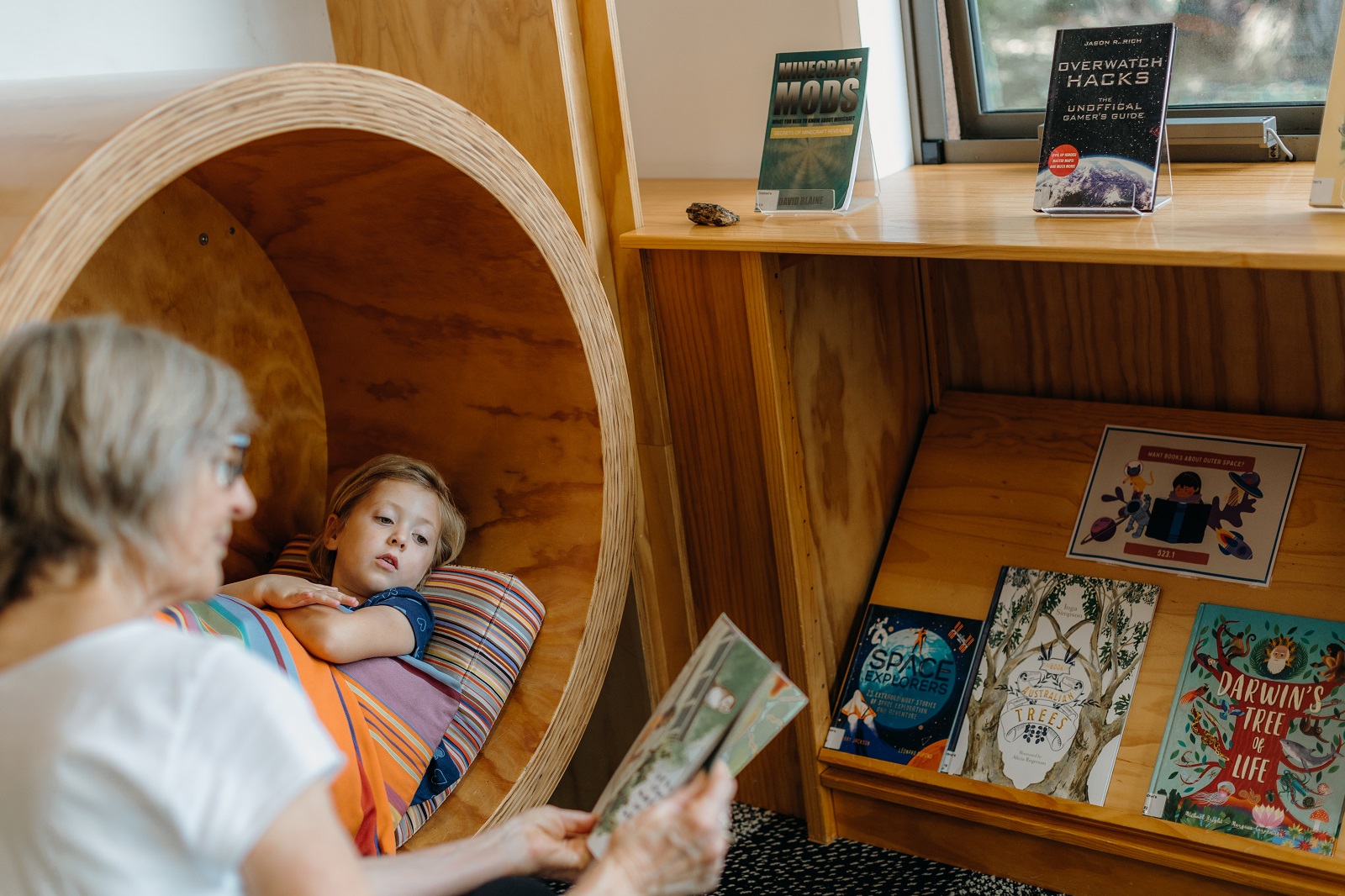 Rānui Library / Rānui Pātaka Kōrero
Nothing says cosy like community, and this comfortable, uplifting space has a strong sense of local identity. Warm up beside the fireplace in winter – above which you'll find sculptures of shovels with native leaf cut-outs by artist Nic Moon that reference the library's proximity to the Waitākere Ranges. Tukutuku panels tell the story of Te Kawerau a Maki, the mana whenua of the area. If it's a sunny day, head to the courtyard where you can soak up the sun, book in hand. 
Takaanini Community Hub / Te Paataka Koorero O Takaanini
Gone are the stereotypes of librarians holding their fingers to their lips and telling children to "shhh". Modern libraries are places to play as well as learn, and even the most reluctant reader will be excited to enter this library's fun children's area and zoom down the yellow tube slide.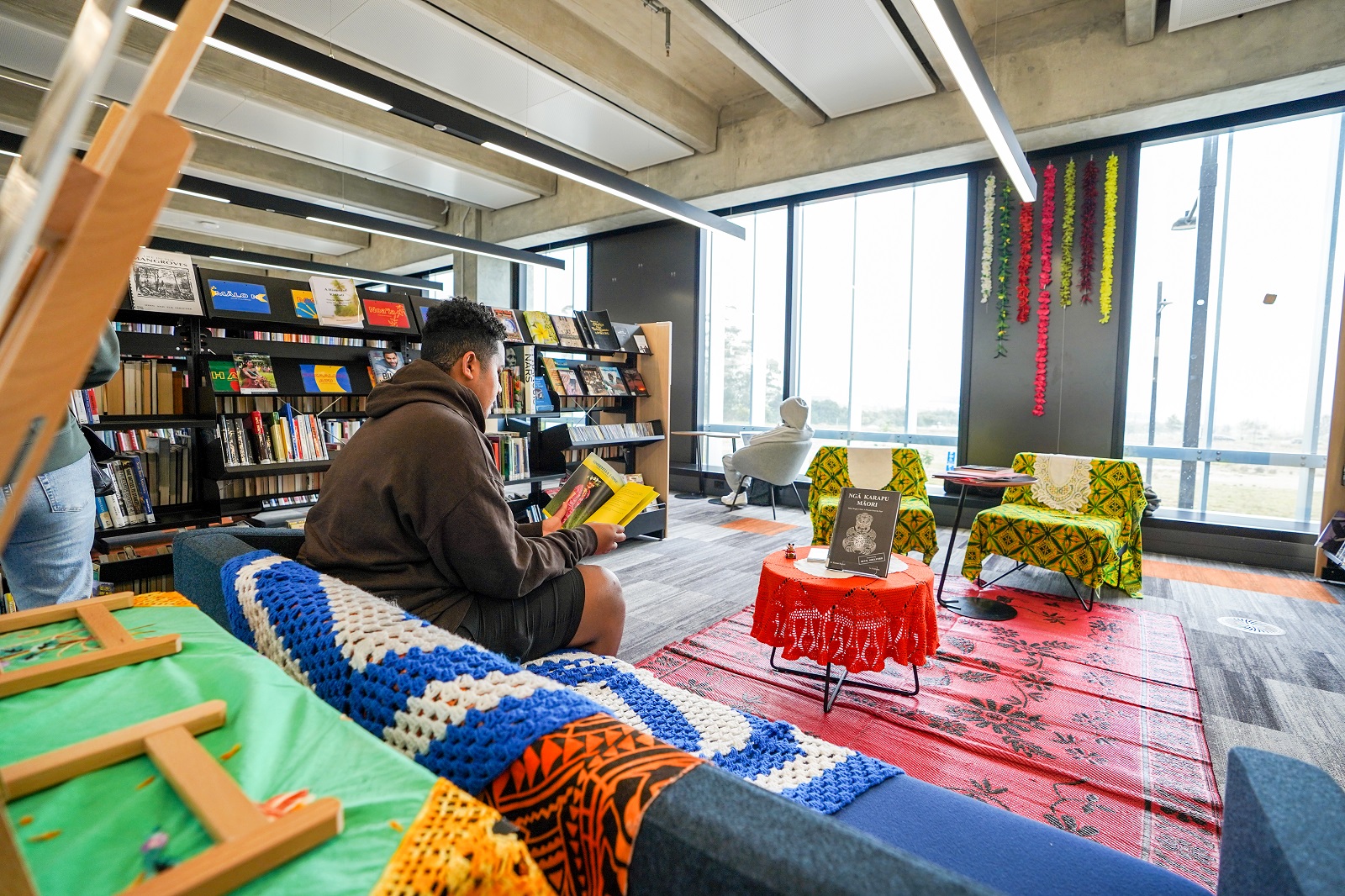 Te Manawa
Couches covered with cosy crocheted blankets and colourful Pasifika fabrics make this seating area on the first floor of one of our newest libraries feel like a welcoming living room, so settle down and make yourself at home. Tamariki will also love playing and exploring in Te Whare Tapere, the beautiful children's area. It was designed to look like a pool in the middle of a forest, and the curved wooden seating within the shelves is so inviting, it's hard to resist climbing in and pretending you're a native bird in its nest.
Takapuna Library
There aren't many places in the country where you can combine your library visit with a walk along one of our most beautiful beaches. Takapuna Library is just a hop, skip and a jump from the sea. Go for a paddle, then head to the library and settle down by one of the Rangitoto-facing windows.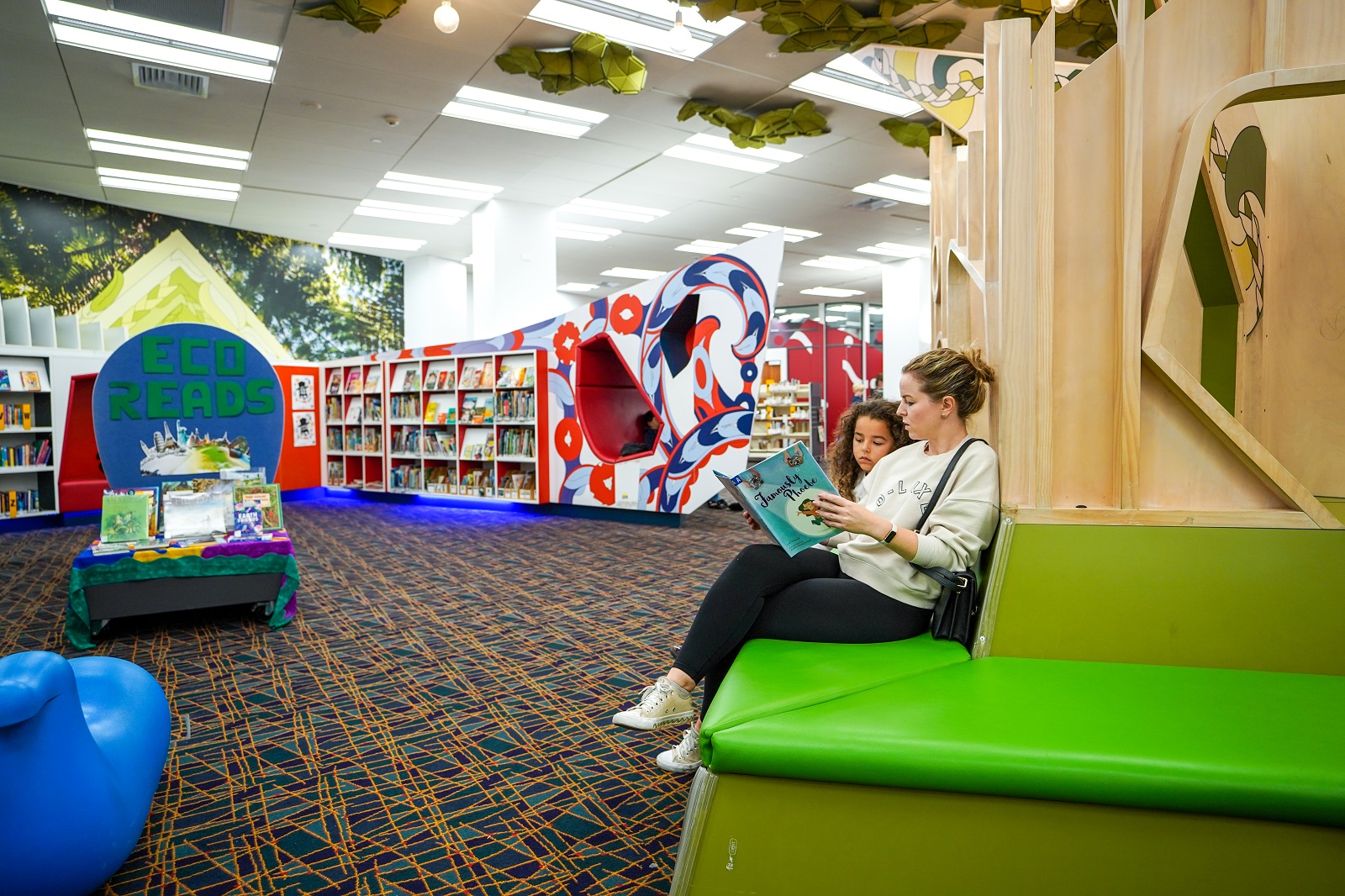 Panmure Library
Conversation pits aren't just for 1970s gatherings with cheese and pineapple on toothpicks – they're cool today, too! Panmure Library's three-tiered modern interpretation is a colourful spot for chilling out with a book, or for preschoolers and toddlers to participate in one of the library's Wriggle and Rhyme or storytelling sessions.