Tāmaki Makaurau has thousands of stories to tell, and our collective history highlights the huge variety of those stories. Whether you are an amateur historian, an armchair Indian Jones or are simply looking for something new to explore, here are some great places to begin.
Auckland Council Libraries
Libraries are more than just books and Auckland Council Libraries has a range of ways for exploring history. The Heritage et al blogpost is a great place to start exploring the history of Tāmaki Makaurau.  For those who have a particular interest in listening to our history, including stories of some of the heritage and rare books that are in the library collection, check out the podcasts. Or explore the wealth of Auckland Libraries' heritage collections on Kura Heritage Collections Online. This incredible collection is free to access and includes photographs, heritage maps, manuscripts, rare books, cemetery records, local history and more.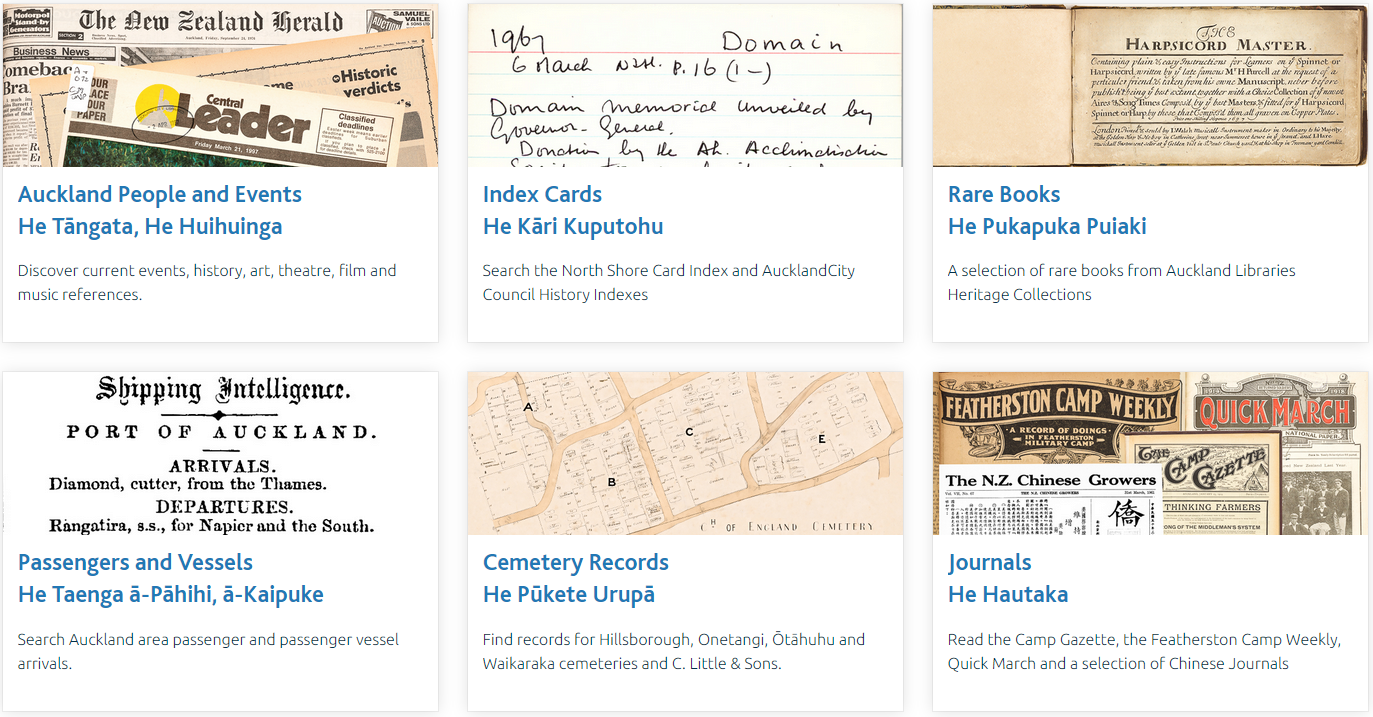 History comes alive at home
Auckland Museum has provided an opportunity to still explore the collections, all from the comfort of home. With videos, blogs, virtual tours there is plenty to enjoy with a cup of your favourite hot beverage. There are also stories from our veterans or look at the book recommendations from the museum staff and head to the Libraries eCollections to check an item out to read.
Fashion Week History
For many fashionistas, the New Zealand Fashion Week is the highlight of the year. Although COVID-19 has put paid to it this year, Auckland Unlimited and FashioNZ have worked together on a video that celebrates all that is good about the history of Fashion Week. The 20-minute video tells the story of the past 20 years where Auckland has matured as a region and a fashion destination. To read more about the video, head to the news section of Auckland Unlimited.
Auckland Council Archives
The council Archives team have an online selection from the archive collection for anyone to delve into. Start with taking a virtual tour of legacy council chambers; learning about the female elected representatives of the former borough, city, county, regional and district councils of the Auckland region; reliving the 1990 Commonwealth Games or the 1950 Empire Games; or even exploring the secrets of public toilets. These online exhibitions are by no means everything the council archives has so the online database can help if you can't find something that you are looking for.
The archives team also holds several records that can be helpful for anyone exploring their family tree. Burial plots, electoral rolls, dwelling records and licensing records are just some of the things to help you in bringing your forebears to life.
Planes, trains and automobiles

MOTAT has an impressive online collection of nearly 85,000 items telling stories of technology, innovation, transport, and social history in New Zealand. This means over a quarter of their collection can be accessed from the comfort of home. Whether you are interested in transport, telecommunications or industrial heritage, there is plenty to discover.

Auckland Council Libraries
All Auckland Council libraries are open from Wednesday 17 November, with some COVID-19 restrictions and precautions in place, making them a great place to reconnect with the books, learning and resources you've missed over lockdown.
Alongside book browsing, Aucklanders will be able to access public computers, printing and Wi-Fi. Integrated customer services will be available too. Research centres will not be staffed, but Aucklanders can get the research help they need by enquiring online.
All library locations across the region are also offering a contactless click and collect service at the front door. This is a great opportunity to get a new set of books or items for the kids to enjoy. Order online today and select the library to collect from. Once the items are ready, you will be notified so you can head down to pick the items up.
Additionally, there are thousands of eBooks and eAudiobooks to explore through the digital collections.