Around 154 hectares of coastal land has been vested to Auckland Council, part of a larger 180-hectare addition to the Te Ārai Regional Park.
Mayor Phil Goff says it's fantastic news that will extend the footprint of one of Auckland's most beautiful regional parks.
"The vesting of 154 hectares of prime coastal land by Ngāti Manuhiri as part of their precinct planning for the area will make a fantastic addition to Auckland's world-class parks network," he says.
"It will form part of a more extensive area of park land and open space and provide for a range of recreational activities such as picnicking, walking, swimming and surfing.
"It's important that we protect public open space in our fast-growing region and this new addition to our parks network will be enjoyed by Aucklanders for generations to come."
The parkland is a result of working together with Ngati Manuhiri Settlement Trust and Te Ārai South Holdings Limited over many years. Te Ārai South Holdings have carried out works on the land in preparation for vesting, including the removal of production pine trees, grading a carpark, forming pedestrian accessways through dunes, and restoring dunes with extensive areas of native revegetation planting.
Councillor Alf Filipaina, Chair of Auckland Council's Parks, Arts, Community and Events Committee, says in addition to the recreational benefits, the land also contains high biodiversity, ecological and cultural heritage values.
"The addition of the Te Ārai South land to the Te Ārai Regional Park will create a total park area of 489 hectares, extending from the Mangawhai Wildlife Reserve to the Poutawa stream, securing 15 kilometres of coastal frontage.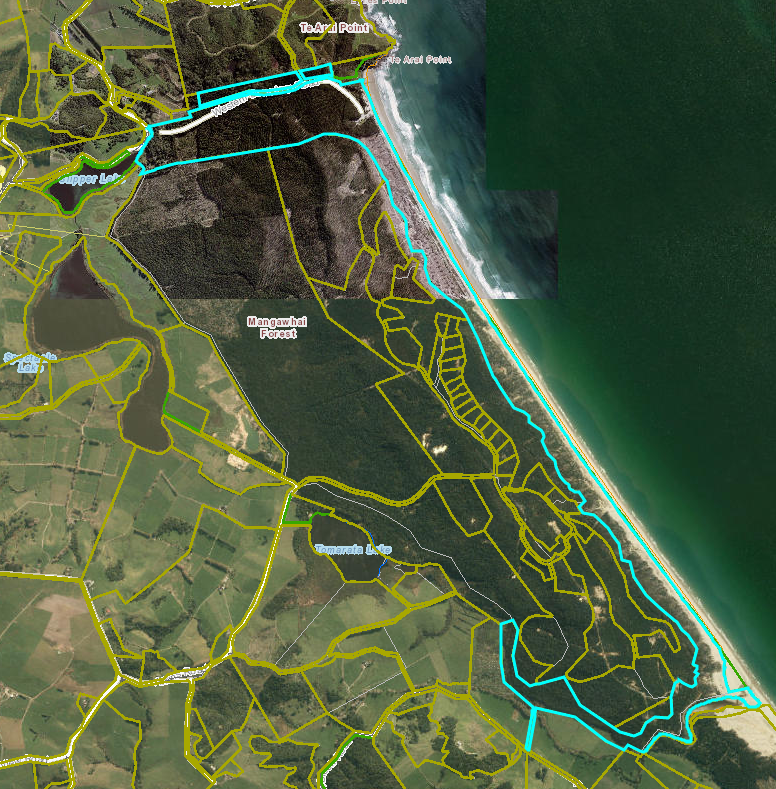 "I attended the ceremony in 2017 that signified Ngāti Manuhiri handing over the land, and I want to appreciate and acknowledge them for their generosity."
Auckland Council General Manager Parks Sports and Recreation, Mace Ward, says the vesting of the regional park land provides a significant opportunity for Ngāti Manuhiri to develop the balance of the site for housing, papakāinga, recreational activities such as golf courses and sand mining activity.
"The Te Ārai South Precinct plan, described in the Unitary Plan, provides for the creation of a public park, and in exchange for these public benefits, subdivision of 60 rural residential sites have been allowed.
"The remaining 26 hectares of the Te Ārai South Regional will be transferred at a later date, following the conclusion of sand mining activity.
"Ngāti Manuhiri Settlement Trust will continue to be a partner with council to contribute to how the park will be developed and protected. The Te Ārai park land is still a Taonga and will remain a significant part of the rohe of Ngāti Manuhiri."
About Te Ārai Regional Park
The potential acquisition of the property at 816 Ocean View Road, Tomarata was considered by the Environment and Community Committee on 12 September 2017. The committee resolved to approve the acceptance of a total of approximately 180 hectares of land (154 hectares to transfer on 10 November 2021) at Te Ārai South from Ngāti Manuhiri at no capital cost to council.
Te Ārai Regional Park is made up of three distinct areas.
Te Ārai Point is the central area comprising 50 hectares that was acquired by the Auckland Regional Council in 2008.
The Te Ārai North part of the Regional Park, vested in 2015 has been created as a result of subdivision of a former Crown owned forest, as part of commercial redress under Te Uri o Hau's Treaty of Waitangi settlement. Te Ārai North covers 217 ha and extends from Te Ārai Point to the southern boundary of the DOC managed Mangawhai Wildlife Refuge.
The Te Ārai South Precinct contains approximately 750ha of coastal land south of Te Ārai Point. The land within the precinct is part of the Treaty settlement between the Crown and Ngāti Manuhiri.
The Te Ārai South portion of the Regional Park (transferred to council on 10 November 2021) runs from Te Ārai Point to Poutawa stream and is approximately 5km long. Te Ārai South regional park land has also been created as a result of subdivision.