In November and December 2021, property owners, stakeholders, and the community gave feedback on the proposed design of Auckland Transport's Eastern Busway project from Pakuranga to Botany.
Every submission was considered by Auckland Transport (AT) and the project's engineers, designers, planners, architects, and customer and community team.
In February 2022 based on consultation feedback and analysis, AT approved the proposed busway design between Pakuranga Town Centre and Ti Rakau Bridge including the Reeves Road Flyover. AT would like more time to review all the feedback on the proposed design between Ti Rakau Bridge and Botany Town Centre and they will meet at the end of March 2022 to make that decision.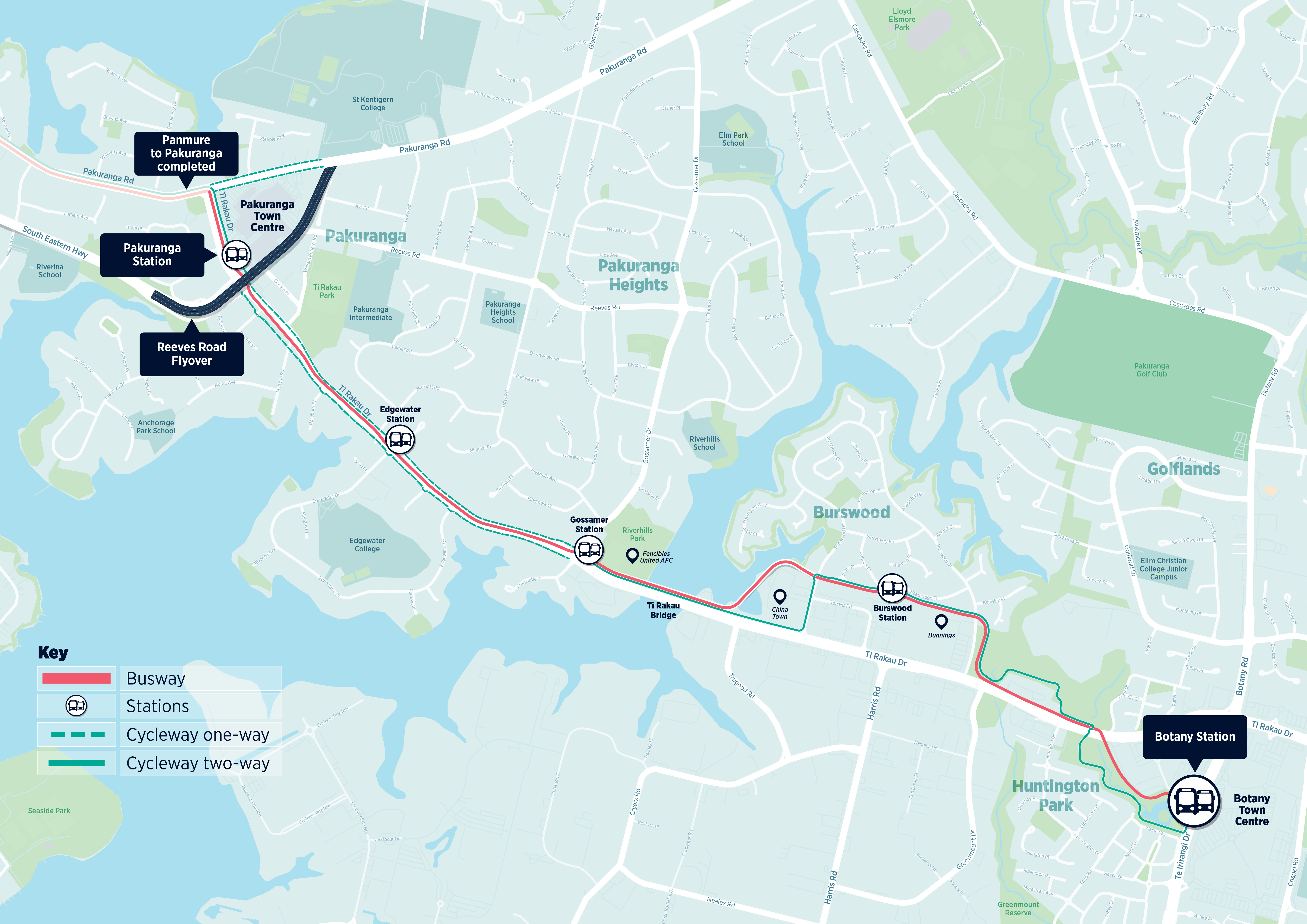 There were several themes of feedback received during the consultation. A summary of the feedback and the project's responses are detailed in the March 2022 Eastern Busway project update [PDF]. Some of the key themes include:
Support for the busway overall as well as for providing transport options for East Auckland.
Some strong objections to a proposed new connection at Burswood and requests for alternative designs between Ti Rakau Bridge and Botany.
Mixed views on the allocation of existing road space. Some people indicated that more should be done to encourage mode shift and reduce vehicle use and emissions. Other submitters said it was essential to maintain traffic flow and vehicle lanes along Ti Rakau Drive as it is already congested.
Concerns about potential loss of open space and reserve land.
Worries about the level of disruption that may be caused during construction.
The feedback on the proposed design was appreciated, particularly as it was given at a time when Aucklanders were managing through the challenges of the COVID-19 lockdown. Thank you to everyone who provided input to the proposed design.

The project team will continue to engage with residents, business owners and stakeholders to better understand views, concerns and opportunities raised by submitters during consultation and how these could be mitigated. There will be more opportunities to have your say throughout this year when the design is refined and during the consenting stage of the project.
Project timeline for 2022
Late February 2022 - AT confirms the preferred design for the busway from Pakuranga Town Centre to Ti Rakau Bridge and the community is informed
March 2022 - AT to decide the preferred design for the busway from Ti Rakau Bridge to Botany Town Centre and the community will be informed
Mid 2022 - Pakuranga Town Centre to Ti Rakau Bridge
Community consultation on design
Project team to seek consent from Auckland Council
Some early enabling construction to start in Pakuranga Town Centre area
Mid to late 2022 - Ti Rakau Bridge to Botany Town Centre
Community consultation on the design.
More information is available at easternbusway.nz, email info@easternbusway.nz or call freephone 0800 BUSWAY (0800 827 929).