It's a demonstration of resilience, artistry and resolve.
Undaunted by the challenges of a global pandemic, Auckland Council's Public Art team and Development Programme Office have worked side by side with artist Graham Tipene (Ngāti Whātua Ōrākei) and his team of talented mana whenua creatives and Warren and Mahoney architects to create an extraordinary artwork; unique in New Zealand, if not the world.
This summer, Aucklanders and visitors who step into Myers Park will discover something deeply meaningful and magical. At the northern end of the park, they'll see a glow of golden light, hear bespoke music and feel the emotion of mana whenua artistry in a contemporary form they might never have witnessed before.  
Graham Tipene and a multi-disciplinary team are behind this project – currently dubbed, the Horotiu Whakarongo Environment. When completed the artwork will seek to 'awaken the senses' of visitors to the presence of the taniwha Horotiu in this inner-city valley.
Auckland Council's public art project managers David Thomas and Mark Osborne have recorded the journey of the Myers Pass underpass; how this dark shadowy concrete tunnel, feared by some, is set to become a uniquely Tāmaki Makaurau addition to Auckland Council's 400-strong collection of public art.
David Thomas documents the backstory and evolution:
Celebrating Horotiu, a protective kaitiaki / guardian
From early in this project the artist and project team were clear: a conventional static image of Horotiu would not be the best way to represent this protective kaitiaki. The thinking was, that this taniwha should not simply be seen in a glance – and perhaps quickly forgotten as something historical – rather, Horotiu needed to be experienced as something current, alive and present.
Artist Graham Tipene talked about Horotiu being an entity that had the shared characteristics of mangōpare, wheke and tuna (hammerhead shark, octopus and eel) – and as inhabiting the water (Wai o Horotiu), the rock, the ground, the trees and the air of Myers Park.
The key creative inspiration was to design and develop an artwork in the Mayoral Drive underpass / northern entry to the park, using materials and technology to engage visitors in a multi-sensory experience of Horotiu in this place.
In an initial phase, Graham collaborated with architect Barrington Gohns to develop a concept where Horotiu is represented by a soffit (ceiling) layer of more than two thousand repeated scales hanging beneath the bridge; suspended in a way that allows them to move with changing wind pressures in the underpass.
The tech company IION was engaged to devise a way for the visitor to engage with Horotiu in this underpass environment. IION proposed a system where incidental or intentional sound and movement from a visitor could trigger audio and light responses representing Horotiu.
This technology proposal led Graham to frame this artwork as a 'whakarongo environment' experience – where a cultural overlay that was interactive for visitors, could create an opportunity for their senses to be vividly awakened to an experience of Horotiu in the Wai o Horotiu landscape.
Specially commissioned kapa haka compositions are the key for interaction with this cultural overlay, which when recited, would trigger the tech system to respond to the visitor through sound and light.
With this concept, the project team needed to: compose and create two specific waiata (song) compositions – to serve as interactive 'keys' or triggers; and follow a thorough 'proof of concept' process to ensure that the recitation of the patere and waiata would trigger the coded system – producing audio and light responses and changes in the underpass.
This led us to ask, 'who do we need for developing this creative mahi?' Justyn Pilbrow, as music creative and producer, and composers Moeahi Kerehoma (Ngāti Whātua Ōrākei), Tarumai Kerehoma-Hoani (Ngāti Whātua Ōrākei) and Tuirina Wehi (Ngai Tuhoe) are now leading this element.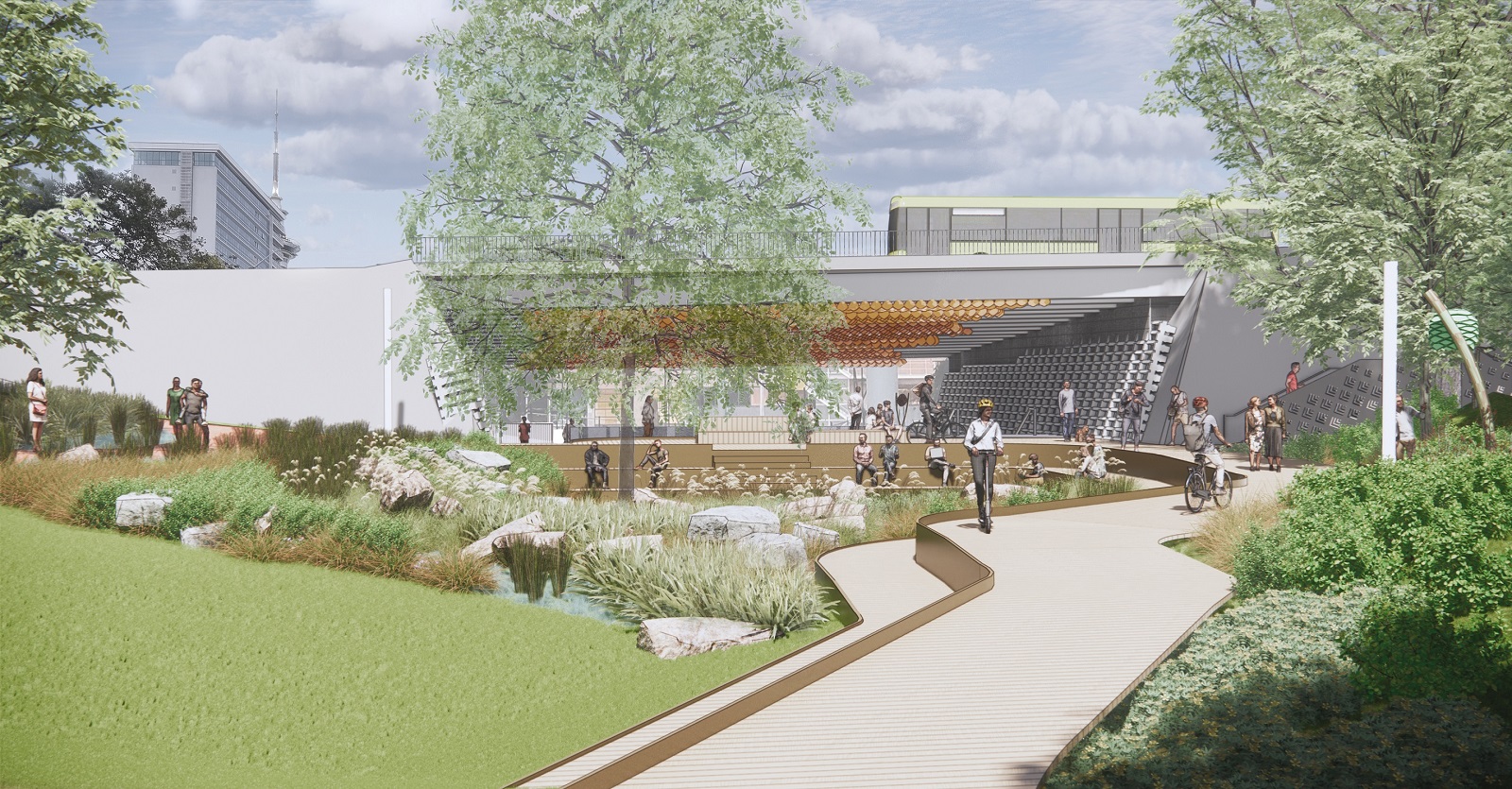 Graham Tipene is a multi-disciplinary artist with a passion for tā Moko, and has been involved as a consultant and key artist on a number of significant civic and Auckland Council-led projects throughout Tāmaki Makaurau. His public work brings kaupapa Māori, mana Māori and wairua Māori into the built environment of the city, with major projects including the Waterview Tunnel, Victoria Park, Central City Library and Tirohanga Whānui Bridge in Albany.
Graham's concept, creative expertise and guidance of the project in matters of history and respect for the Wai o Horotiu whenua, te ao Māori and tikanga, have provided the guiding basis for the Public Art team's collaboration, management, development and delivery of this project.
Auckland Council makes it happen
Waitematā Local Board, Auckland Council and the Auckland Centre City Advisory Board (ACCAB) have concern for and interest in improving Myers Park as a public place – to make it a place that all people and communities can enjoy and use in safety.
Through a mana whenua forum process, Graham Tipene was nominated to develop a cultural artwork, alongside the council project team redeveloping the underpass landscape.
Tessa Harris (Ngāi Tai Ki Tāmaki) was also selected to develop some cultural patterning work for application to a replacement stairway that connects the Mayoral Drive and Queen Street corner with Myers Park.'