Kids playing sport at Pukekohe North School will have to be careful not to cross the line.
Not because they are rule-breakers, but because Bob the Spraybot has added lines to sports fields that have gone unmarked for years.
Bob is the name tamariki from the kura gifted Citycare Property's new robot when staff marked the fields.
Franklin Local Board member Logan Soole reached out to Citycare Property while the school applied for CLM community sports funding to improve the fields and add posts and goals.
School principal Jim Stafford-Bush says the new marked football and rugby fields will be a big plus for the kids.
"They've been unmarked for years, 'forever' really. That's meant arguments about being in and out but more importantly meant our kids didn't have access to the kinds of fields most of us assume all schools have."
But it's not just the children who will benefit.
"We'll be opening the fields to the wider community and hope to see lots of local people enjoying them."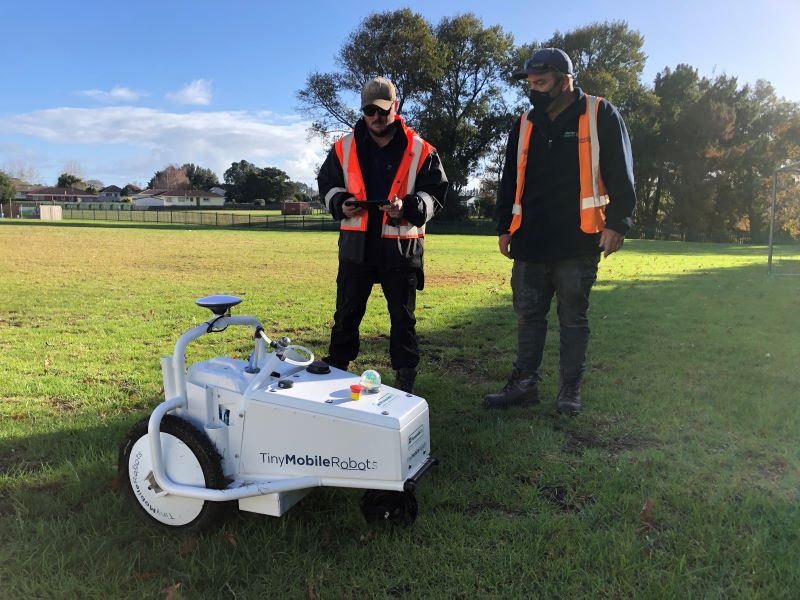 Soole says in the past the school hosted all sorts of sports, making it a real community hub.
"But for whatever reason that stopped, and the fields haven't been marked properly for years, leaving the kids without access to a proper football or rugby field."
One of only 10 such robots in New Zealand, Bob measures and maps fields and, when satisfied, the operator turns on the paint and Bob does the rest, including adding the curved lines seen on football, hockey and cricket fields, before storing the data for next time.
The automated process can be done by a single operator and removes the need for time-honoured methods such as string lines, with a field able to be marked out in as little as half an hour.
Citycare Property's Nellie Burwell says staff were keen to join the upgrade project and were delighted when the school's kids lined their fields to see Bob in action.
"We learned something new too," she says. "Because of the attention to detail and accuracy, we thought Bob was female."