In February 2022 Auckland Transport (AT) approved the design of the Eastern Busway between Pakuranga and Ti Rakau Drive Bridge. The project team is now getting ready to build the busway safely in stages, as quickly as possible and in a way that minimises disruption.
Building the busway from Pakuranga to Ti Rakau Drive Bridge, and the Reeves Road Flyover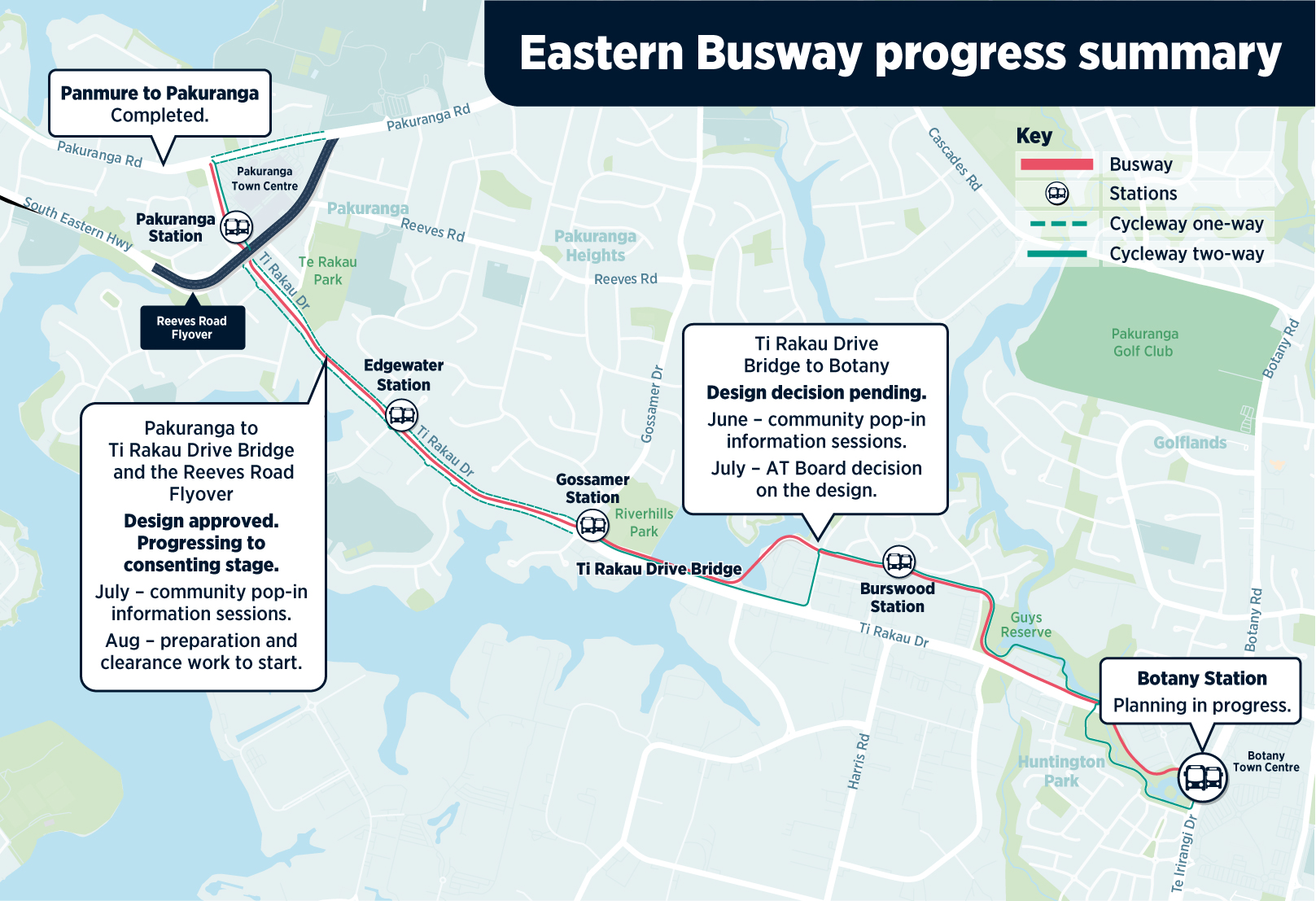 From late August this year, you can expect to see preparation work in and around Pakuranga Town Centre and along Ti Rakau Drive to Ti Rakau Drive Bridge. The team will start to prepare vacated properties to be deconstructed and will begin clearing sites.  
As with the construction, clearance work will take place in stages to ensure it is done safely and efficiently. The project team is working with suppliers and organisations to relocate buildings and reuse as much material from them as possible. All properties will be tested for asbestos before any work starts.  
Our priority during this stage will be coordinating with neighbours to ensure the appropriate installation of safety fences and security measures, and that disruption is minimised. Pre-condition surveys for neighbouring properties will also be completed.  
Community information sessions  
The project team is holding pop-in information sessions soon for the community to give their feedback on the busway between Pakuranga and Botany. The sessions will be held at the East City Wesleyan Church, 219 Burswood Drive, Botany, on the following dates:
Wednesday 15 June, 3pm – 6pm
Saturday 18 June, 10am – 1pm
More pop-in information sessions will be held during July and August. The details of the events will be widely advertised and available on the project's website easternbuway.nz.
Information required for construction consents will also be available. It includes measures to ensure careful management of construction noise and vibration, traffic, dust generation and other construction effects. 
June 2022 update  
The Eastern Busway is a significant project that is about more than just better transport. It will enable East Auckland to continue to develop and grow through investment, creation of jobs and greater social mobility. Its efficient services will give nearby communities a compelling reason to leave the car at home, and it will be a vital part of Tamaki Makaurau's public transport network for decades to come.  
During the last six months property owners, stakeholders and the community have given feedback on the proposed busway design between Pakuranga and Botany, which has been carefully considered by AT.
Following their decision in February, in May 2022 AT considered the route options between TI Rakau Drive Bridge and Botany Town Centre and would like further time to engage with the community before deciding the route. AT's decision on this section of the alignment will be known at the beginning of July.  
To read the full June 2022 project update or to find more information, please visit easternbusway.nz, email info@easternbusway.nz or call 0800 BUSWAY.