Retiring Henderson-Massey Local Board Chair Vanessa Neeson pulls no punches when she explains her entrance into politics: "I'm an accidental politician, you know."
It's not the first thing you would expect to hear from someone about to chair their final business meeting after 33 years in local body politics, but that's exactly how she puts it.
Her husband, Brian (Upper Harbour Local Board member Brian Neeson) was running for local MP, and convinced Vanessa to stand for the local elections in 1989 to increase name recognition.
"Don't worry you won't get in, he said to me," she says. But of course, she did, and she has been a fixture on the West Auckland local government scene ever since.
Waitākere City Council
First in the Waitākere City Council days, which Vanessa describes as "frantic, terrific, and magical. We sure had our battles! I'm not someone who backs down - if I believe in something, I stick to it.
"I'm dedicated and if I take on a job I do it properly. Waitākere was a young council without many business ratepayers back then, so we did not have much money either.  And we had a lot of footpaths that were not done that I always used to complain about.
"The staff used to have sweepstakes on how long it would take me in the Annual Plan process to bring up that we needed more money for footpaths and kerbs every year!"
But Vanessa recalls the sense of collective purpose.
"The good thing about it was whenever we left the council chamber with a decision it was done and we could walk down the halls and get staff to get things done instantly almost, those days were really, really good."
There were many notable names in West Auckland politics at the time, including former Auckland Council Deputy Mayor Penny Hulse and celebrated 'westie' Sir Bob Harvey.
"We knew how to get stuff done, you know," she says. "It was visionary really. We got things done because at the end of the day there was none of the backstabbing or nastiness I've seen in other councils. I certainly had my battles with Bob, but that was just one of those things."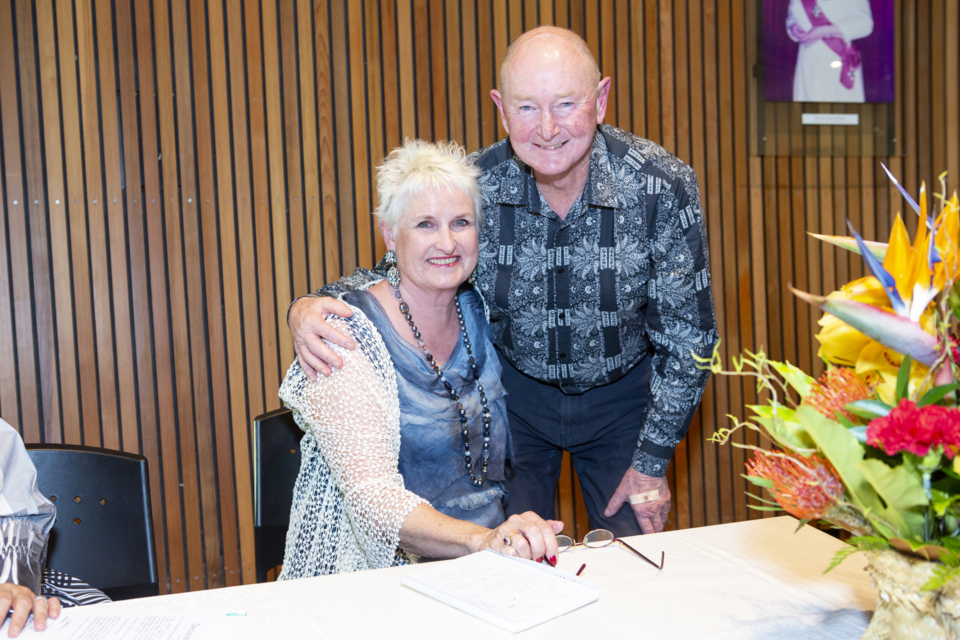 Community at heart
Vanessa has always been a big community person, and Ranui has always been close to her heart, as part of her original electorate and councillor for the area. She has remained closely associated with that part of West Auckland, a community she holds dear.
"They are a part of the community that don't consider that they have a voice," she says, explaining why she feels so much passion for the area.  
"They don't hound you to death, and don't think they ought to complain, and I cannot help myself but to back the underdog.
"The people of Ranui, Massey, Bruce McLaren that hardly have two bob to put together, but they work the hardest and make one dollar go for 20 dollars.
"They have real heart and passion for the community, they support one another, and do all they can to make the community better, which is why I go into bat for them, and they will always have a special place in my heart."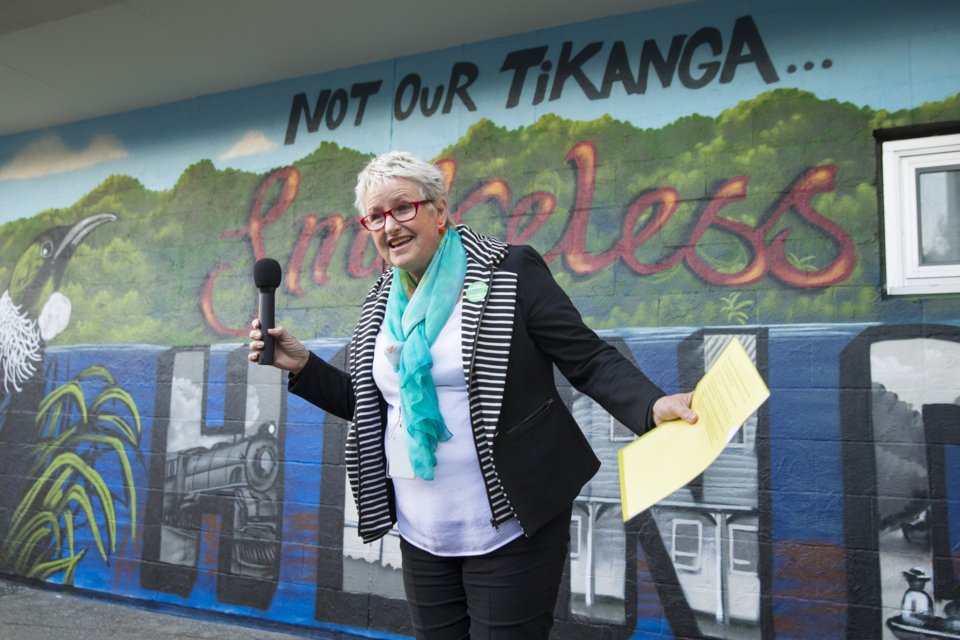 Local Board
Although there was an unsuccessful run for mayor in the first super city election, Vanessa was elected to the Henderson-Massey Local Board, and has been there ever since, including as chair for two and a half terms.
"I enjoyed my first two terms as board chair as I got quite a lot done, working 60-70 hours per week," she says.
And some of the highlights of her career took place during her tenure on the board have left a legacy that will last a long time.
"When we were in the middle of planning the Te Atatū Peninsula library and Community Centre, there was a $600,000 blow out in the budget," she says.
"I went to the Finance and Performance Committee and got the money to start the build, and now look at that incredible community hub.
"We also got the Tui Glen Playground done, and the magnificent Royal Road playground agreed in those terms too."
And she also has fond memories of tackling graffiti problems in Henderson with a creative solution. 
"While combating graffiti I wanted murals painted on the spare spaces throughout Henderson, that's when Kakano Youth Arts Collective came to play, we gave them a grant and the result changed the face of Henderson. What we did was the envy of the Auckland region."
Snow in the Park
And she lights up when talking about Snow in the Park, the winter event that brings snow to Royal Reserve, a toboggan run and lots of winter themed fun. It's a roaring success, with thousands of people turning up each year, even when it is pouring down with rain.
"For years I had wanted snow in Henderson and had said to the parks people is there any way we can get snow into the centre of Henderson?
"Because there are youngsters here who had never seen snow, and never would be likely to see snow.
"So I wanted a way to bring the snow to them, but staff advised that it would have been too messy and impractical to do in the town centre, which is when we started looking for a park. When Luke Wilson came on the board, he shared my enthusiasm for the project and we got it done, and Snow in the Park was born.
"I remember the first one, and it rained! It was hammering down, and I remember this guy and his son and I'm standing there absolutely drenched, monitoring the sled coming down and I said "isn't it time to go? And they were like - no way!
"I'd get up at four in the morning to watch the snow come from Snow Planet and get packed down. It doesn't matter what the conditions are, you never see a miserable face at Snow in the Park."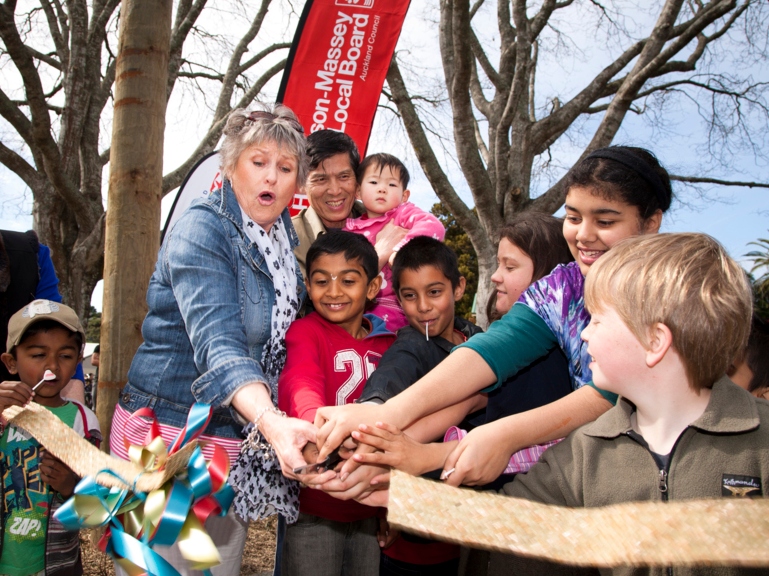 Final meeting
She is anticipating a few tears for her final business meeting on 20 September and the thought of no longer working with the community in the same way.
"I'll be choked on that final day," she says.
"I'll miss assisting the community to do what they do well, but it is time. Brian is not well, and we probably should not have done this term. It is time to focus on us a little, enjoy the grandchildren and take things a bit slower."
One last message
By this point Vanessa is already tearing up, but she has a final message to her successors in the role and for the community she has served for all these years.
"For my successors on the board, my advice is: stay close to your community, treat the staff well and do your best.
"And for my community. My love and appreciation for them knows no bounds, I will not forget them any time soon, it's been such a privilege to serve them.
"That's one thing about being an elected member, its actually an honour and a privilege.
"It has been for me, and I've done it to the best of my ability."
Thirty-three years. Not bad for an accident.
Stay up to date
Want to stay up to date with all the latest news from Henderson-Massey? 
Sign up for Henderson-Massey Local Board E-News and get the latest direct to your inbox each month.