Beautiful parks and stunning beaches are just some of the many things that Aucklanders love about their region. 
But with a growing population, changing land use and climate change, we will need to act now to ensure Tāmaki Makaurau's natural environment can be enjoyed for generations to come.
"Aucklanders love our region's natural environment and want to see it cared for and protected," Auckland Mayor Phil Goff says.
"That is why, with strong support from the public, we introduced targeted rates to protect it now and for future generations.
"We have planted 2.5 million native trees and shrubs; delivered 2230 hectares of pest plant control in regional parks; upgraded more than 100 kilometres of walking tracks to protect our iconic kauri, and cleaned up waterways across the region, enabling the removal of long-term public health warnings at numerous beaches and bays in the Manukau Harbour.
"Together we are making a difference and I would like to thank Aucklanders for their support to protect and enhance our natural environment and ensure we can leave a positive legacy for our children and grandchildren."
Auckland Council's 10-year Budget 2018-2028 approved $311 million for a natural environment targeted rate to protect and restore priority native ecosystems and threatened species. 
Another $452 million was committed for a water quality targeted rate for new water infrastructure to clean up our beaches, harbours and waterways.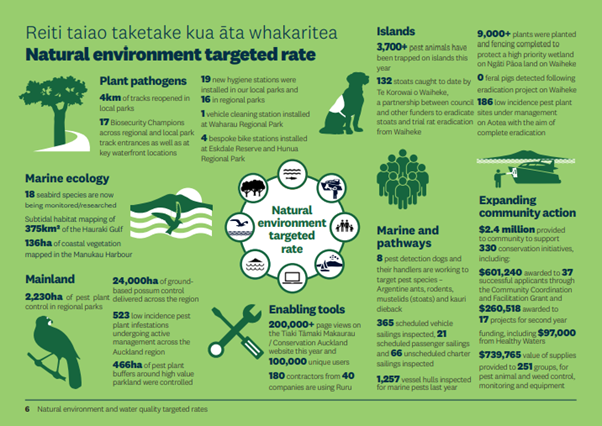 Environment and Climate Change Committee Chair Councillor Richard Hills says he is incredibly proud of the hard work the team has put in to continue to deliver positive outcomes for the region.  
"Despite the challenges caused by COVID-19, our teams have adapted to the unusual working circumstances with creative solutions and were still able to deliver fantastic environmental and water quality results. 
"Over the last year, we have seen the successful delivery of many programmes such as the first long-term kauri health monitoring survey for the Waitākere Ranges, record investment in our bush tracks and the Safe Networks programme, with the long-term Safeswim warnings removed from Wairau Outlet, North Piha Lagoon and Titirangi Beach. 
"This is a team effort and we couldn't have achieved this without the support of Aucklanders and the amazing mahi from our communities."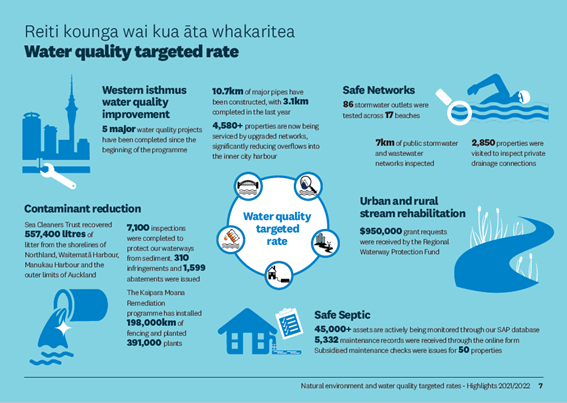 Year four highlights include: 
Delivered 2230ha of pest plant control in regional parks and 24,000ha of ground-based possum control across the regionto protect our native birds and trees
1257 vessel hulls were inspected in-water for level of fouling and marine pests at marinas, moorings and anchoragesto stop incursions by invasive organisms
Awarded $601,240 from the Community Coordination and Facilitation grant to 37 new projects and $260,518 to 17 projects for second year funding 
The Kaipara Moana Remediation programme installed 198,000km of fencing and planted 391,000 plantsto help address worsening siltation of the harbour
Tested 86 stormwater outlets across 17 beaches and commenced a further seven network investigationsto detect and remedy contamination
Introduced a new programme to increase investment in stormwater infrastructure in Auckland's eastern isthmus which will improve water quality in coastal environments from Hobson Bay to St Heliers
Introduced a new programme to improve water quality in the Manukau Harbour
7100 site visits were carried out at building sites as part of the Closing the Gap programme to protect our waterways from sediment, with 310 infringements and 1599 abatements issued.
To view the full report, please visit the Auckland Council website.