The beauty of te reo Māori in song is embraced in Tāmaki Makaurau. From kapa haka celebrations that fill Spark Arena like Tāmaki Hakangahau did in July, to the national competition Te Matatini that Auckland will host in 2023, these traditional arts are becoming more modern with new lyrics and compositions.
But kapa haka is not the only domain of Māori language songs anymore. Radio stations in New Zealand played more waiata reo Māori than ever last year, and not just during Te Wiki o te reo Māori / Māori Language Week.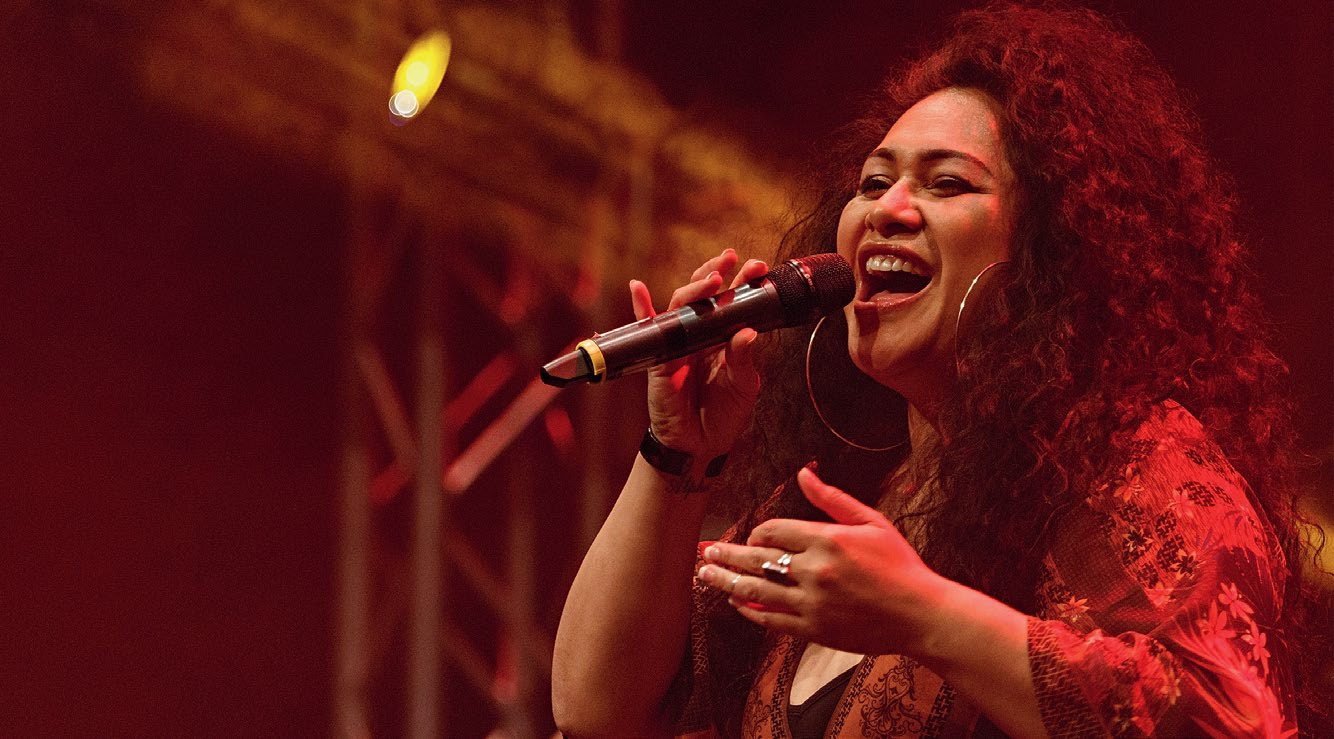 Leading the change
The growth in our bilingual music landscape can't be talked about without mentioning Dame Hinewehi Mohi, the driving force behind the songs, albums and performances of Waiata / Anthems. From Six60 to Lorde and Dave Dobbyn, Waiata / Anthems is the overarching kaupapa (project) Mohi created to reimagine hit songs in te reo Māori.
When Matiu Walters, lead singer of Six60, stood on stage at Western Springs in 2020, his jacket showing the words 'Kia mau ki tō ūkaipō' – the Māori language version of their song Don't Forget Your Roots – he may not have realised the huge crowd gathered would lift their voices to sing along in te reo Māori.
Mohi lit the fire for this, decades after she was criticised for singing the national anthem only in te reo Māori at the 1999 Rugby World Cup in England. Her performance was pitch perfect, yet off-key for media commentators and others who derided her choice. The debate cooled, and warmth for the inclusion of te reo Māori grew – now children sing the bilingual version of our anthem, quite likely unaware that it used to be different.
This growing celebration of our local music scene features a programme of events around Te Wiki o te reo Māori, which begins on 13 September, as well as other events throughout the year. One of those is Auckland Council's youth music and dance competition Stand Up Stand Out, where students can showcase their creative talents to their peers, whānau and the music industry. This year's final takes place on 24 September at Auckland Town Hall.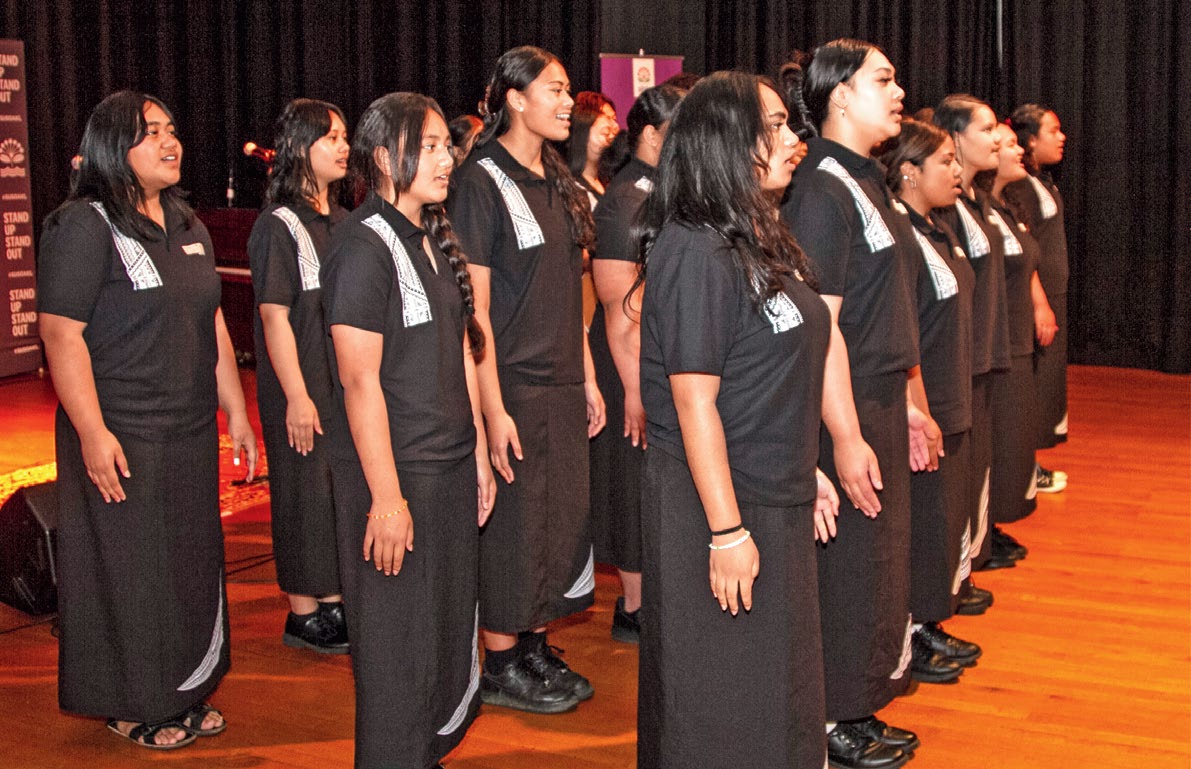 The circle of life
One incredible singer who has performed in parks, stadiums, concert halls and surely most stages in Auckland is Bella Kalolo. A powerhouse of musical talent, Kalolo first won a role in the huge Australian stage production of Disney's The Lion King in 2004. This year during Matariki, The Civic hosted the premiere of The Lion King Reo Māori, with Kalolo singing the iconic songs, this time on the big screen in te reo Māori.
"We were all so proud. There was literally a raranga (weaving) of pride through all of us who had the opportunity to be part of it," says Kalolo. Having previously performed the songs in English, Kalolo said singing them in Māori "felt different, sat different, and felt like it carried more mana (prestige)."
There was a rapturous response from the crowd at the premiere that night, and Kalolo says the whole experience felt like the cast were part of a family. Musical director and lyricist Rob Ruha and song co-ordinator Cilla Ruha led that feeling for Kalolo.
"They were like the joints in the body that led to my ngākau (heart, emotions)," she says. "They believed in my taha Māori (Māori side) and were key to me being able to feel comfortable speaking te reo Māori, mucking up, trying again and getting it right."
The Matewa Media production of The Lion King Reo Māori got it more than 'right', with crowds across the country ensuring their local theatres and schools put on screenings.
Local music star Stan Walker is the only artist Sir Elton John has allowed to perform a non-English version of Can you Feel the Love Tonight – an honour Walker has taken to great heights with "Tāiri Te Aroha", which had the crowd at The Civic lighting up the theatre with their cellphone torches.
Everyone felt the love that night.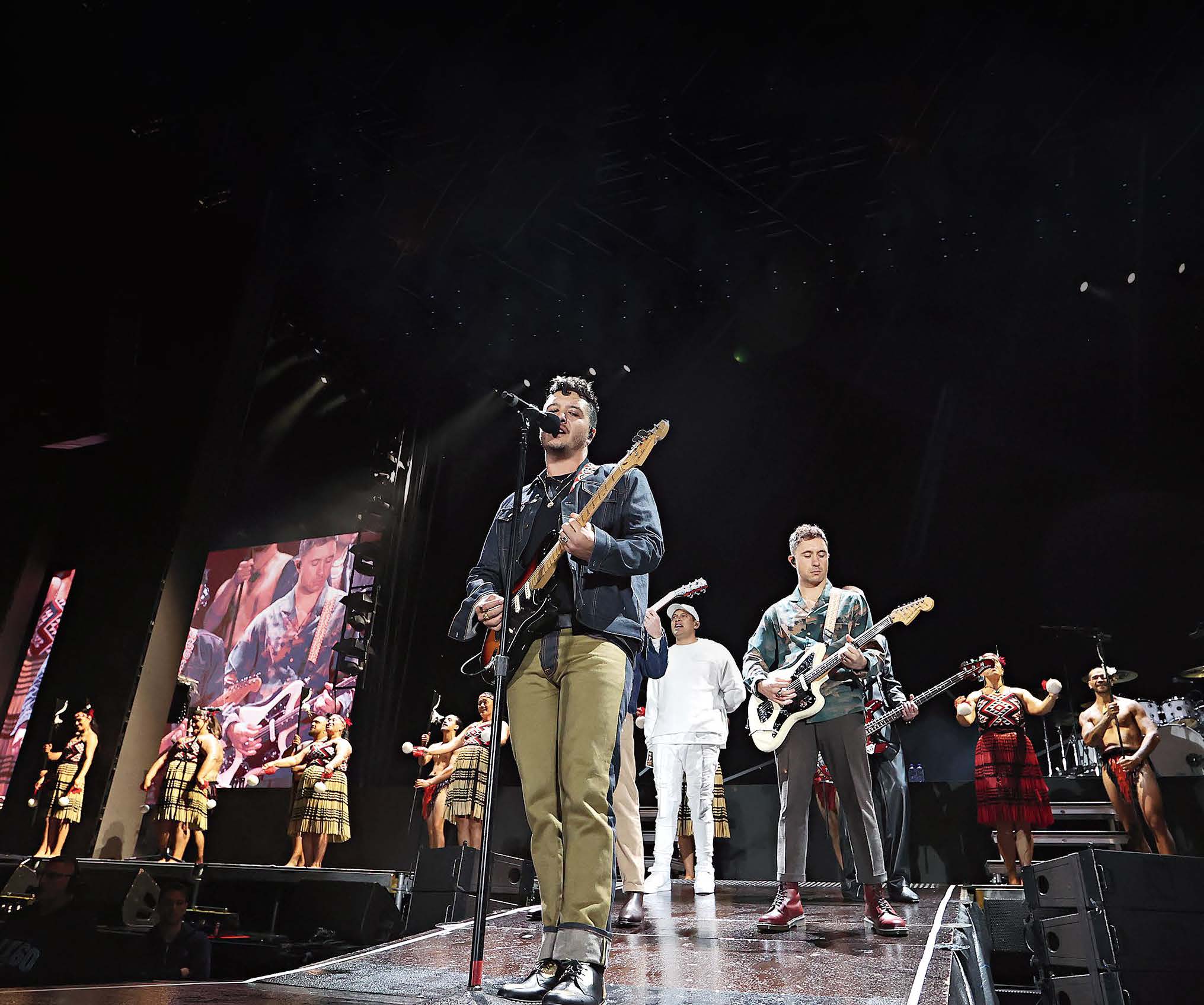 A new generation
Then there's Anika Moa, who takes the title of 'Baby Whisperer' very seriously. That's because her three Songs for Bubbas albums are huge hits for kids and adults around the country.
She says her live gigs for these are like a mosh pit at a heavy metal gig. The magic has happened at Auckland Council Libraries, when Moa has performed, singing waiata reo Māori to tots. "The kids know all the words, and it helps the adults as well. Counting to 10, colours, animal names – it makes te reo more accessible to everyone!" she says.
While Moa is not a fluent te reo speaker herself, she continues to learn. "I need to show my kids it's fun, and they have the right to learn their language."
Anna Coddington, a Silver Scroll Top 20 finalist 2022 for her song Aho/Beams, says that having her songs translated into te reo had a "simultaneously small and enormous" impact on her.
"Small in the sense that I had someone else do the translations for me so it's not like I slaved over the interpretation myself. But it was also a really big deal to me. I've obviously always been Māori, but I never really felt like I was making "Māori music", whatever that means," she says.
Translation between languages is tricky at the best of times: Idioms, metaphors and the turns of phrase we take for granted in conversation rarely correlate exactly word-by-word in another language.
It's even more tricky when it comes to music: rhyme, melody and word length make the challenge of preserving a song's original nuances in another language all the more complex.
"My reo is a work in progress," she explains. "When I got the translations back, they felt so natural and beautiful. They worked so well and so easily it just seems so obvious now that any of us can sing in te reo."
Proud to be a City of Music
Auckland is officially a City of Music, joining the UNESCO Creative Cities Network in 2017. An Auckland Music Strategy Te Rautaki Puoro o Tāmaki Makaurau 2018 — 2021 was then developed through collaboration between Auckland Council, its council-controlled organisations (CCOs) and Auckland's music sector. Music plays a key role in forming the identity and telling the stories of a city.
We express ourselves through music, and in turn that music expresses who we are. For Māori, music is a divine gift passed down by the gods. It is embedded in traditional ceremony and preserves stories of the past.
These stories live on today, woven into our culture and city. As time passes, our stories will mix with the songs and sounds of the future, creating a new chorus and adding to the ever-evolving story of this place, Tāmaki Makaurau, Auckland.