Auckland Council's elections team and Auckland Transport (AT) are going the extra mile this election with Vote Boxes placed at select transport hubs for convenience.
"We're so thrilled Auckland Transport has come aboard the elections campaign by providing space in their thoroughfares for Vote Boxes" says Rose Leonard Auckland Council's Manager Governance Services.
"This gives Aucklanders easier access to a Vote Box anytime they are moving about the region."
Auckland Transport Group Manager Metro Services Darek Koper says hosting Vote Boxes at AT's busiest stations and wharves is a simple way to make it easier for Aucklanders to vote this election.
"Voting in local elections is such a crucial part of our democracy in New Zealand so our teams at AT were keen to help make it easier for Aucklanders to vote this election," Mr Koper says.
"More than 1.2 million passengers travel on our public transport network each week, so by hosting Vote Boxes at some of our busiest train stations and ferry terminals we are helping to make voting almost as easy as hopping onboard one of our AT Metro services."
From Friday 16 September when voting opens, look out for the Vote Boxes at these AT hubs:
Britomart Train Station
Devonport Wharf
Downtown Ferry Terminal
Manukau Bus Station
Manukau Train Station
New Lynn Train Station
Newmarket Train Station
Ōtāhuhu Train Station
Panmure Station
Puhinui Train Station
Waiheke Ferry Terminal
Vote Boxes will also be available at 150 locations across Tāmaki Makaurau, including council libraries and Countdown supermarkets.
See a map of all the places you can drop off your vote here.
Auckland Council has especially designed and manufactured the robust local election Vote Boxes with security in mind. The locked boxes will adequately house voting envelopes while being installed securely to prevent tampering or even removal.  
Locations have been chosen where both staff and CCTV are present. Vote Boxes will be emptied by electoral officials daily, and then at midday on Saturday 8 October, promptly sealed and taken away.
While the purpose of this initiative is to make voting more accessible and therefore increase the number of votes received, the security of Vote Boxes is the council's priority.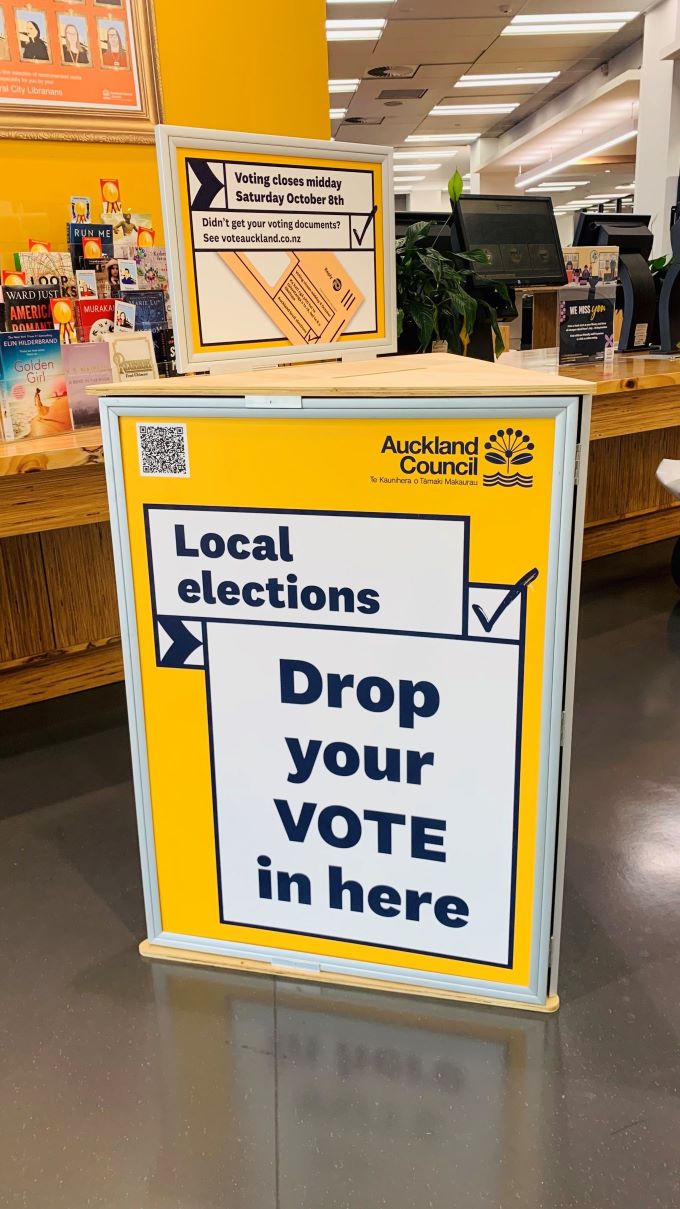 How to vote
To vote, you need to be a NZ citizen or permanent resident, 18 years or over and registered on the electoral roll - visit vote.nz to check if you're enrolled.
If you are enrolled, then look out for the purple envelope on its way to your letterbox from Friday 16 September. Inside you'll find a voting guide, your voting paper and an orange return envelope. Follow the guide and tick the names that you prefer.
Take your orange envelope with you on your next AT journey to one of the hubs listed and drop it into the Vote Box. Scan the QR code on the back of the orange envelope to find out where to drop off your vote.
Remember to vote by midday 8 October.
If you need special assistance to fill out the voting form, you can call Independent Election Services to discuss and arrange your specific needs. If you don't get your purple voting pack in the mail, you can still vote. Call 0800 922 822 for a special vote. 
More information
For the full list of Vote Box locations and everything else you need to know about voting go to: voteauckland.co.nz/vote