Warkworth residents are sharing views for a plan to ensure the town is well-designed and meets the needs of the whole community over time.
The year-long collaborative Puhinui / Warkworth Centre Plan project, funded by Rodney Local Board, is engaging with the community through workshops and community events to help shape the plan and ensure the community is engaged in the process.
The need for that approach was outlined in the 2020 Rodney Local Board Plan, and in collaboration with the Ngāti Manuhiri Settlement Trust, and consultants - Community Think, and Motu Design with good engagement over the last year.
Rodney Local Board Chair Brent Bailey says using new tools to gather community feedback has produced excellent results over the first engagement phase.
"More than 130 students and families took part in workshops delivered out of a box containing all the relevant material, on loan from Warkworth Library; more than 40 others shared their thoughts and ideas at the Festival of Ideas family event, 22 wishes were placed in community boxes or posted online, and 39 online surveys were completed.
"One of the main concerns raised has been the new motorway and big box developments drawing residents and visitors away from the town centre.
"Residents have talked about a sustainable vision and a local economy that supports locals and visitors alike. Other suggestions have been to activate more spaces around town and by the river, and for lanes and paths that connect the town, river and green spaces."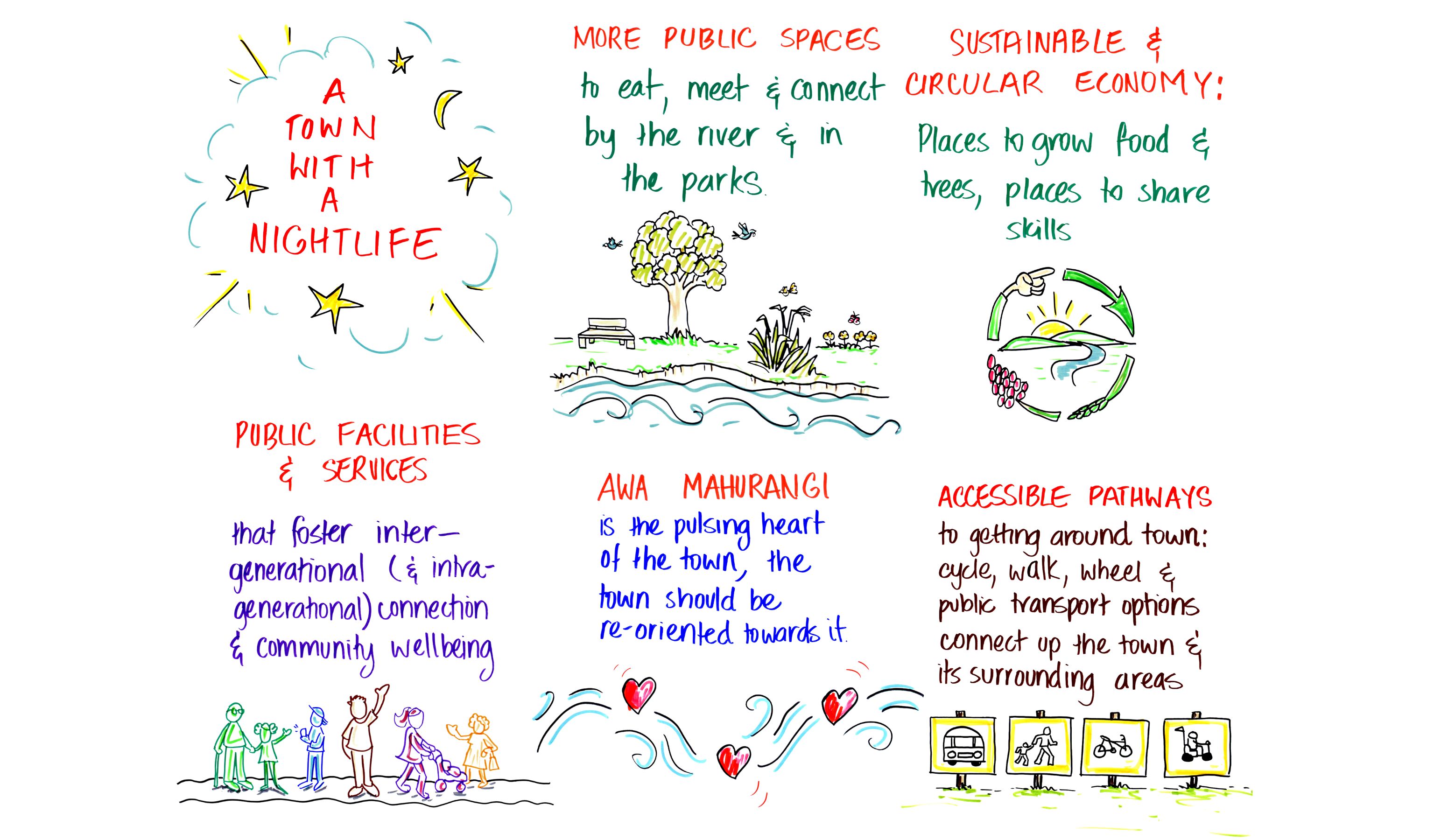 Key themes:
a town with nightlife

more public spaces by the river and in parks so people can eat, meet, and connect

a sustainable and circular economy

places to grow food, trees and share skills

public facilities and services that foster connection across all age-groups

encouraging community wellbeing

Awa Mahurangi / Mahurangi River as the pulsing heart of the town

re-orientating the town towards the river

accessible pathways so it is easier to get around town

more transport options such as cycling, walking and public transport.
The urban design team will build on the themes from public feedback to develop design options for the river and town centre. 
They will test design principles and options with the community, with residents able to take an interactive journey through different sites around the river and town to help them visualise what the plan might deliver.
Then early in 2023, a draft centre plan will be developed for further community feedback and input.
Puhinui is the name Māori used to refer to Warkworth. It holds meaning as a place of reflection and connection, and will be used with Warkworth throughout this project to honour the traditional name while its future is reflected on.