With sheltered and sandy beaches, calm waters and easy access, Auckland's shores are a paradise for stand-up paddle boarding (SUP) enthusiasts. Here's our pick of five of the best locations in the region.
Ōrewa
On the Hibiscus Coast, Ōrewa Beach is sandy and spacious, with room to swim, surf, or kitesurf. Check the conditions before heading out as Ōrewa can experience bigger swells than many east coast beaches.
It's great for experienced paddle boarders who want to tackle bigger waves using their board like a normal surfboard and the paddle to steer. However, beginners may want to stick to the sheltered Ōrewa Estuary at the southern end of the beach.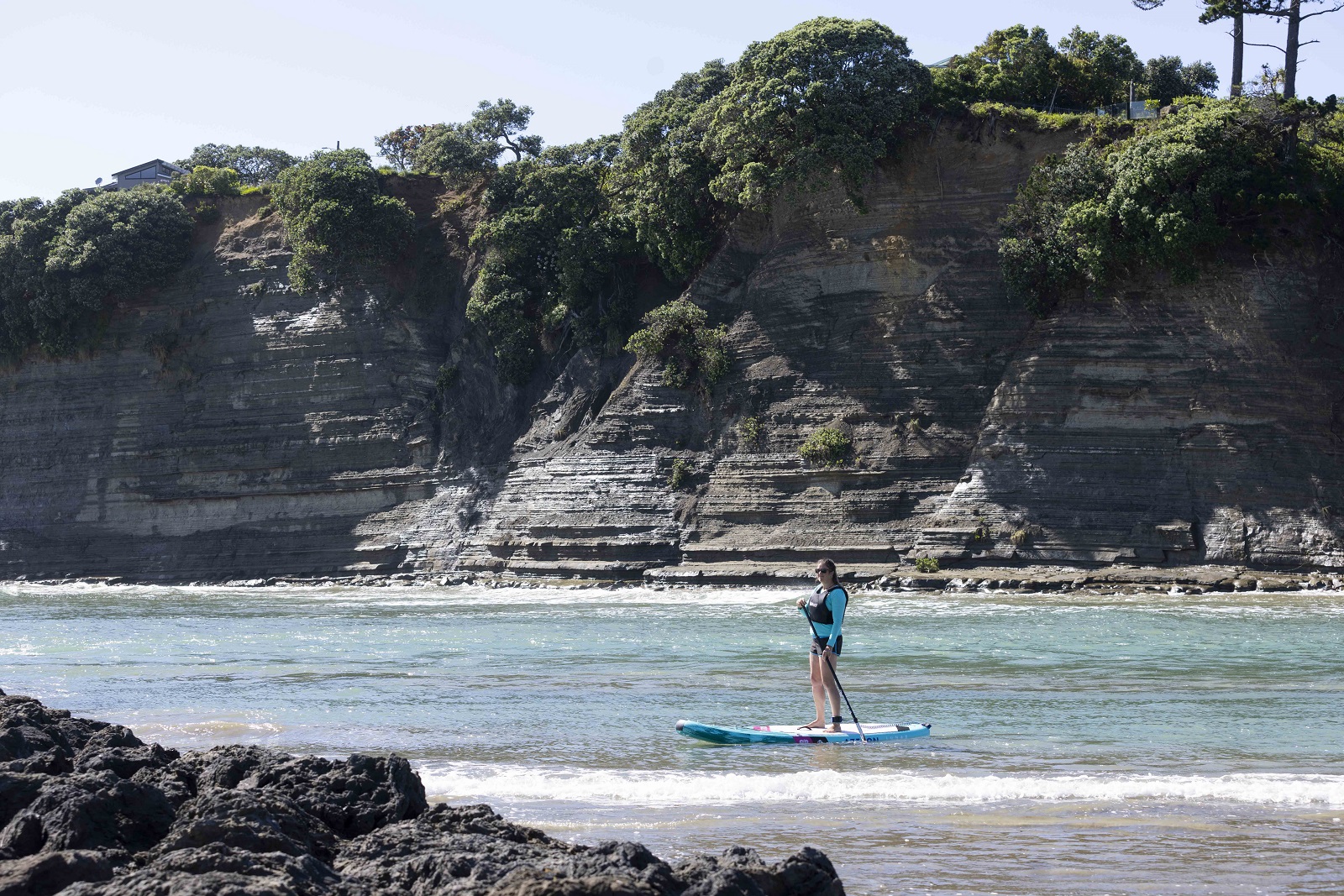 Takapuna Beach
A white-sand beach with a laid-back vibe and sweeping views across to Rangitoto and Tīkapa Moana / Hauraki Gulf beyond, Takapuna Beach has tranquil waters well suited to SUP. Popular with families, there are numerous cafes and restaurants, a playground and picnic areas either on its shores or in easy walking distance.
The Takapuna Beach Series runs on Tuesday nights until mid-March, giving beginners and experienced paddlers the chance to take part in race events with distances ranging from 1km to 4km.
Lake Pupuke
This stunning freshwater lake was created thousands of years ago through a volcanic eruption that saw lava spilling all the way to Takapuna Beach (where it created a 'fossil forest' still visible today). SUP lessons are available at Madloop, one of New Zealand's oldest windsurfing schools, located at the bottom of Sylvan Park.
While you're cruising across the lake, you may spot wing foilers in action. A cross between windsurfing and kitesurfing, wing foiling – on a foil board with a hand-held inflatable sail – is set to be the next big thing in water sports.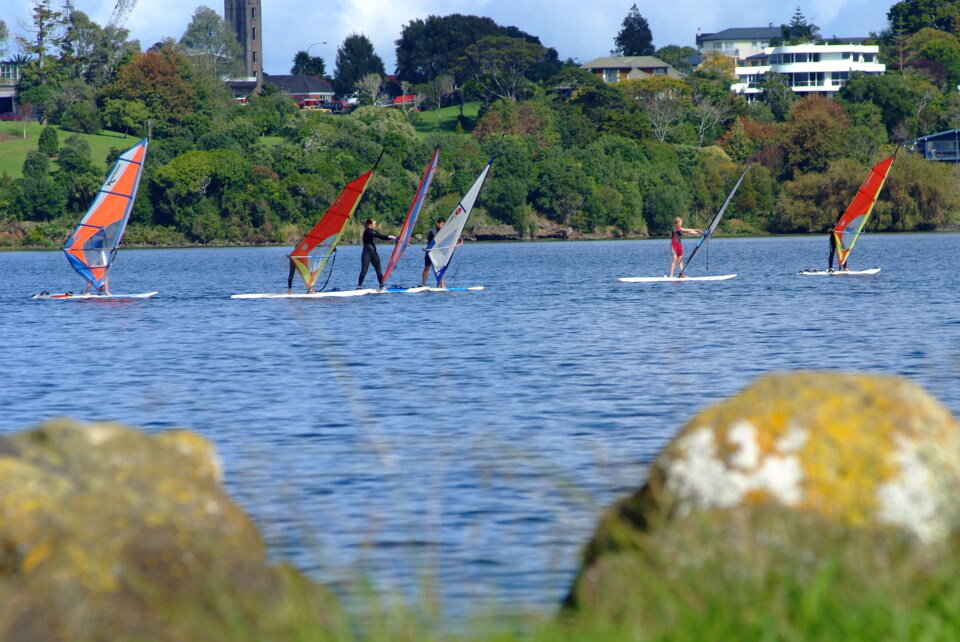 Otitori Bay / French Bay
Close to Titirangi and Waitākere Ranges Regional Park, Otitori Bay / French Bay is a smaller and stonier beach, so water shoes are recommended. It's home to the French Bay Yacht Club, and is a popular spot for yachting, kayaking and SUP.
Don't forget to check the conditions as there can be strong currents as the tide goes out.
St Heliers Beach
At the eastern end of Tāmaki Drive, St Heliers is one of Auckland's quintessential coastal communities with a lively village atmosphere and a beach ideally suited for walking, relaxing, swimming and SUP. If you're fit and experienced, paddle from St Heliers Beach across the sparkling waters to Mission Bay or further into the Waitematā to Okahu Bay. Or if you've never tried SUP before and are keen to give it a go, most of the paddleboard-hire companies in the area offer free introductory lessons when you hire a board for an hour or more – so what are you waiting for?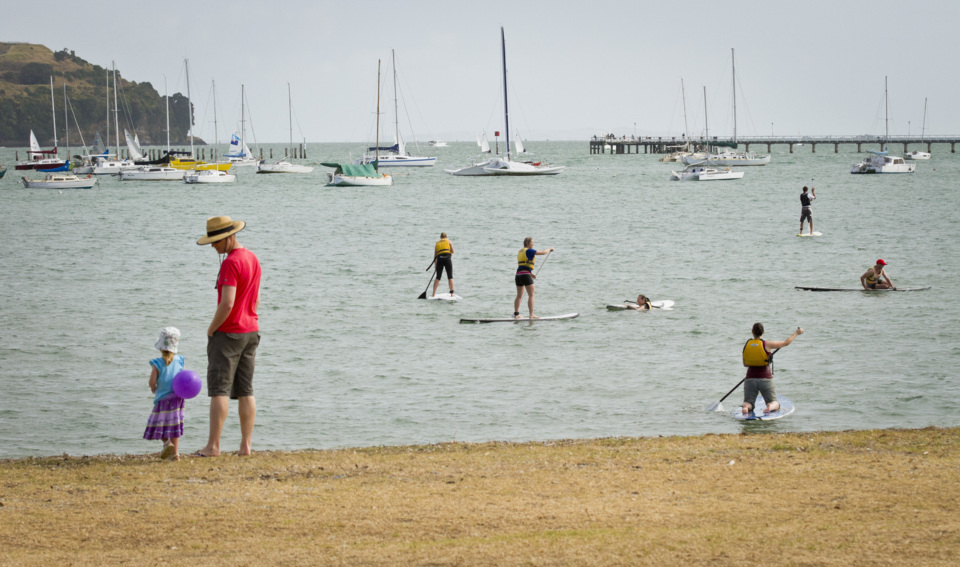 Using a Personal Flotation Device
A buoyancy aid or Personal Flotation Device (PFD) will greatly increase your survival time should you become separated from your board. It is also a legal requirement in New Zealand. A PFD with permanent built-in flotation (as opposed to the inflatable type) is essential if you are a weak or non-swimmer. A beltpack inflatable PFD is a good option for the more experienced paddler.
Check before you swim
Before you take the plunge this summer, check out the Safeswim website for up-to-date information on water quality, wind, waves and tides as well as jellyfish swarms and other hazards. Safeswim is a fantastic tool to help keep you and your whānau safe.
With long summer days finally here and your favourite swimming spot calling, now is a great time to think about how to stay safe around the water.
Stay safe and have fun in the water this summer by following these tips.