With new food scrap bins currently being delivered to households in West Auckland, some residents who already compost their food scraps are asking what does Auckland Council's new food scraps collection service have to offer them?
As GM of food rescue charity Fair Food and a West Auckland resident, Michelle Blau knows how to make good use of unwanted food whether it is surplus or scraps. While the team at Fair Food works to save perfectly edible food from going to waste, at home Michelle and her family do the same.
"Our family doesn't generate a lot of vegetable scraps as we freeze leftovers, we don't peel carrots and we eat everything – broccoli stalks included. What we can't eat, goes into our worm farm."
There are, however, some things that neither humans nor worms can eat.  This is where the food scraps collection comes in. It takes all food scraps, including those that can't be composted or go in a worm farm, such as dairy products, meat scraps, citrus peels, onion skins, eggshells, and bones.
In their first week of having their food scraps bin, Michelle's family were surprised by the amount of food scraps they had produced. 
"We were shocked but all those little bits, they really add up. We filled three pink bin liners in our kitchen caddy, which filled our food scraps bin halfway."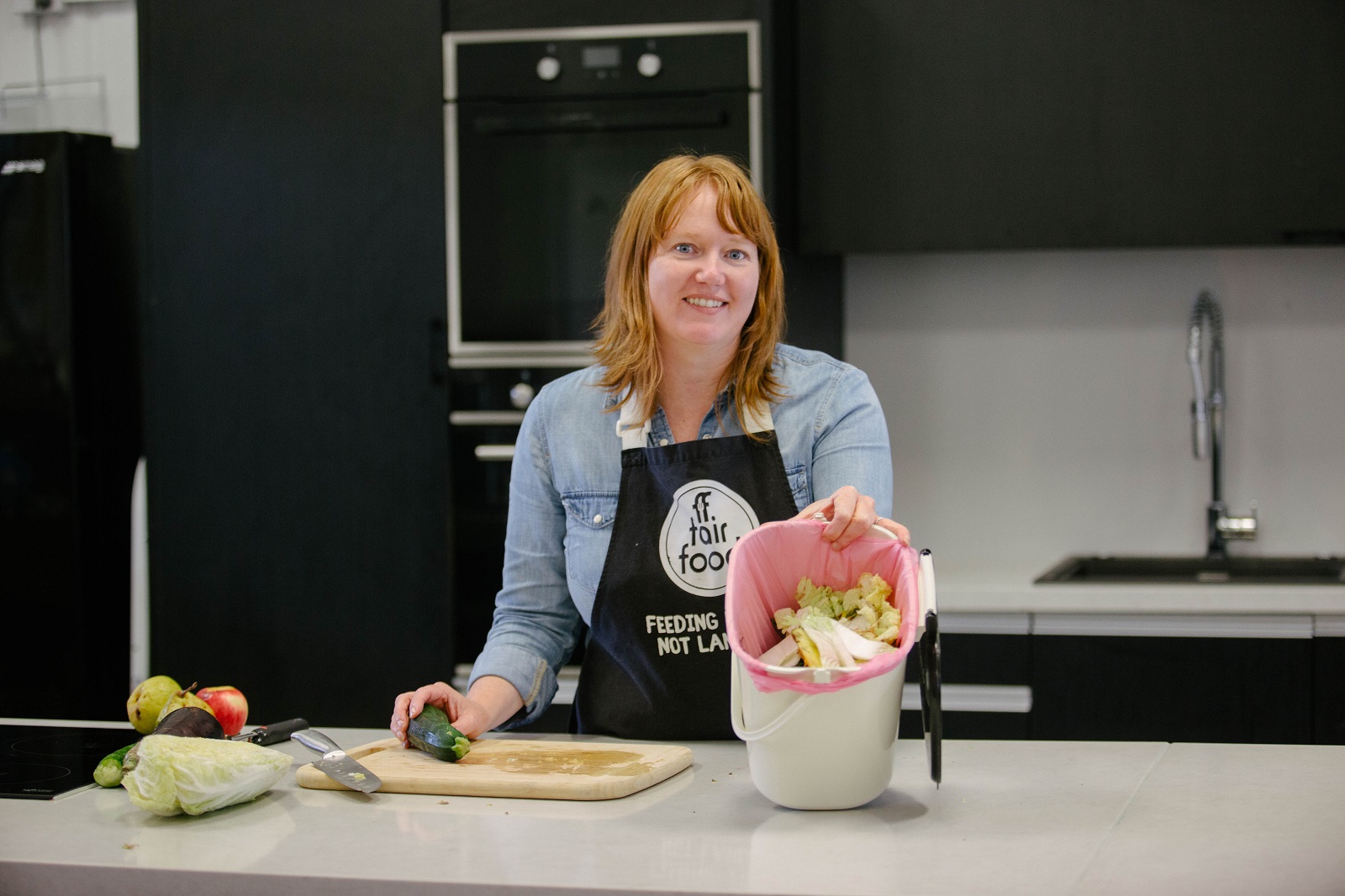 Michelle also admits that convenience is a real bonus, even for a dedicated composting family like hers.
"When it's just one teabag or one kiwifruit skin and it's hardly worth the trip out into the garden to the worm farm, we just drop it into the kitchen caddy. It's easier and faster."
Every new food scrap bin comes with its own kitchen caddy and three rolls of pink bin liners. The kitchen caddy can be left on the kitchen countertop and lined with a pink bin liner or newspaper to keep it clean.  Once it's full or starting to smell, the food scraps can be emptied out of the caddy into the food scraps bin.
"It's more convenient than the rubbish bin, having a container on the countertop. You can collect it all up in a paper towel."
Fellow West Auckland resident Elena Izaguirre agrees that it's far easier than putting your food scraps in the rubbish bin. For her, the service is an extension of what she already does.
"We have a compost bin for all our vegetable scraps and fruit peels. However, with meat scraps, I used to freeze them and throw them into the rubbish bin.
"We also have an enormous lemon tree and when the lemons ripen, I preserve the juice but end up with buckets of skins. Now I can easily put them into the food scraps bin."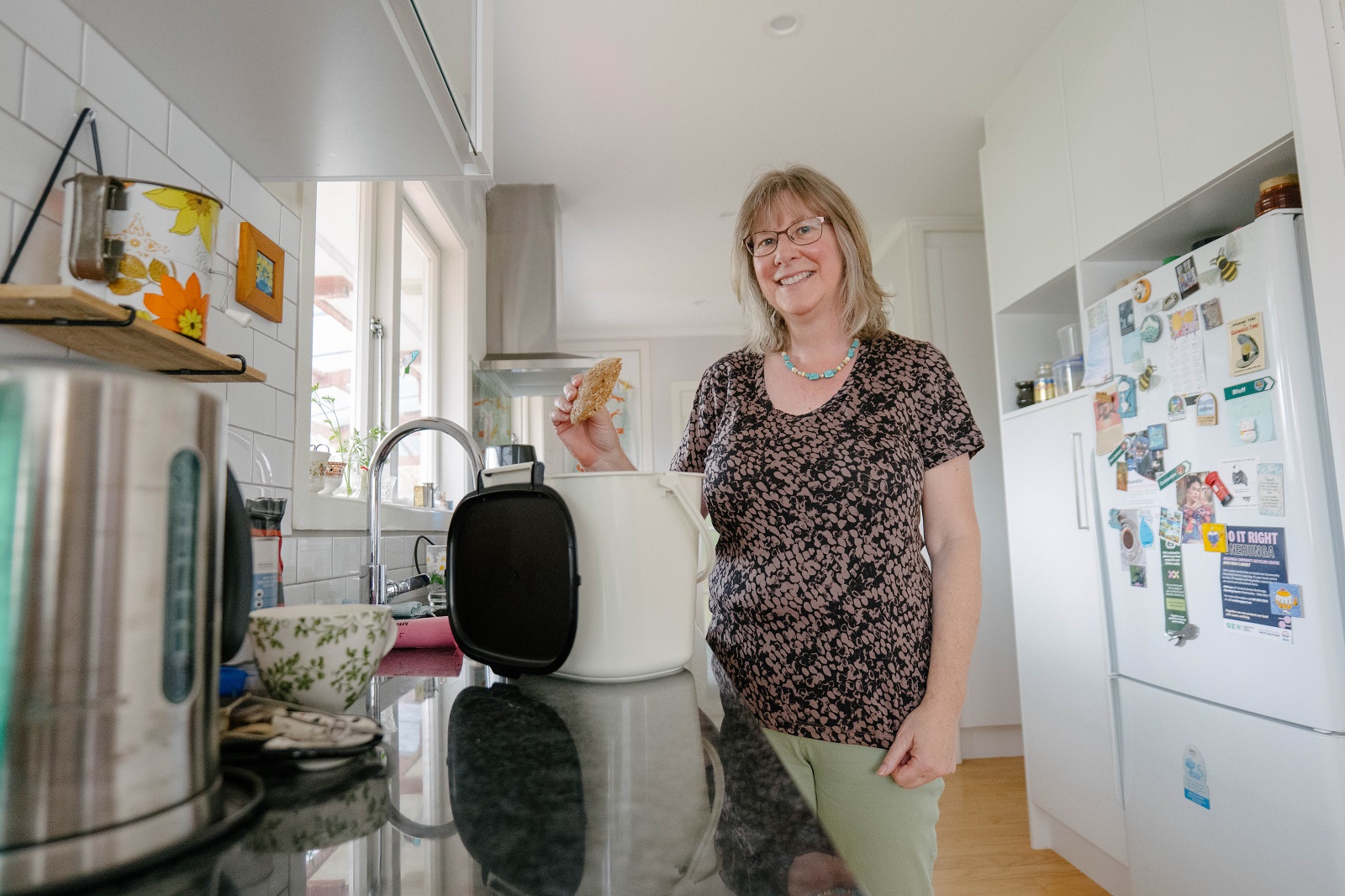 Elena is keen to see her friends and family take advantage of the new food scraps collection service and her advice is for them to try it.
"Even if you don't think you have that many food scraps, give it a go and remember it might take a little getting used to. If the countertop kitchen caddy is too big for your counter, use an ice cream container."
While home composting is still the preferred option to treat food scraps and we support residents to learn how easy and beneficial composting can be through the Compost Collective, not all food scraps can be easily composted and not all Aucklanders will be able to compost at home.
Auckland Council's food scraps collection service means that food scraps, which would end up in landfill where they create harmful greenhouse gases, will now be used for renewable energy and fertiliser to grow more food sustainably.
Elena and Michelle share their top tips for people using their new food scraps bin:
Freeze the meat scraps, pop your meat scraps into an old ice cream container in the freezer and then tip into your food scraps bin the night before collection
Keep the lid closed with handle up to lock it to keep pests and animals away
Do keep your bin nice and clean
Ask your kids for help, they may already compost at school
Remember to leave your cream kitchen caddy in the kitchen - do not put it out for collection either in the green food scraps bin or on its own.
For more information search 'Food Scraps' on the Auckland Council website.