A trained volunteer response team dedicated to cleaning up local reserves damaged by severe weather events has been established in the Kaipātiki area, thanks to a collaboration between Pest Free Kaipātiki, Auckland Council and the local board.  
The Kaipātiki Reserves Task Force was launched officially on Saturday 25 February with 28 experienced Pest Free Kaipātiki volunteers, including several local board members, heading to Beach Haven to clear drains and fallen trees on tracks in Rangatira Reserve. A large slip in the reserve is due to be repaired by council contractors with the volunteer group assisting with restoration planting once this is complete. 
Task force volunteers have continued working in Rangatira reserve as well as Le Roys Bush, Birkenhead War Memorial and Chelsea Estate Heritage Park, clearing gutters and paths and re-graveling steps and staircases to help prevent further closures of reserves from future weather events.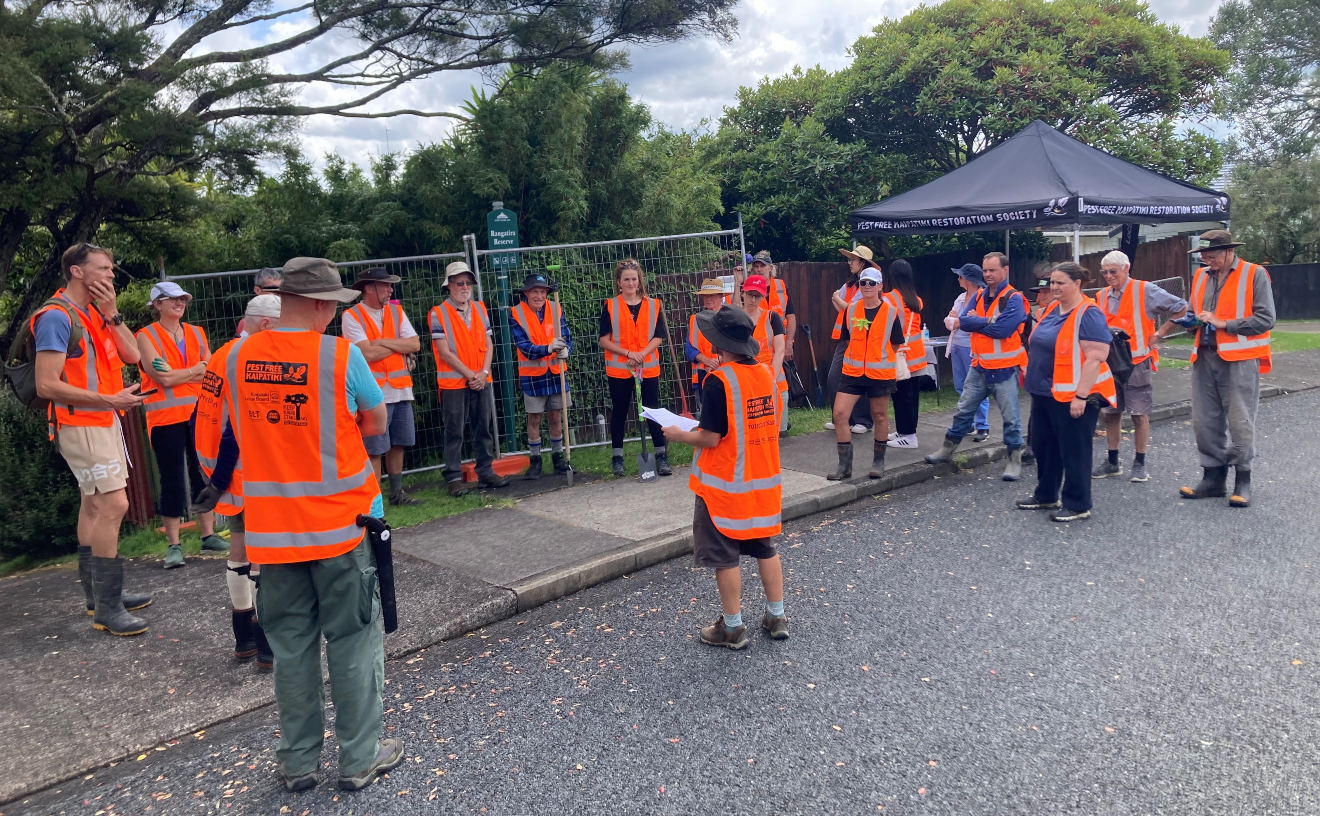 The task force was initiated by the board-funded Pest Free Kaipātiki (PFK) in response to the extensive damage done to local reserves by the late January floods and Cyclone Gabrielle.  
Local Board Chair John Gillon says the board was keen to help PFK to get this project off the ground.
"There was a real need after the floods and cyclone to get experienced volunteers trained and geared up so they could contribute to the clean-up in a safe and effective way. It's been amazing to see the way that PFK has brought these capable volunteers together and what they have achieved, and we are proud to support them." 
PFK General Manager Annie Dignan says the local board played a key role in advocating for the project to get council approval to facilitate the work being done by the volunteers.
"Support from the board was critical in getting buy-in from the council. Board members were involved in meetings with the council saying, 'yes, we support this as it will help get our reserves open sooner,'" she says. 
 
Annie Dignan says the task force has also had positive effects for the wellbeing of the volunteers involved.  
"Not only have the volunteers help clean up the reserves, but they also helped each other both practically and emotionally after the damage from the storms and I feel proud to be a part of a community where people want to help and be connected," Dignan says.  
PFK will continue to support the task force in the work they do and to train and organise new volunteers. They will also be holding ongoing slip remediation workshops in Kaipātaki with funding from the local board.  
If you are keen to get involved with PFK and want to know about their upcoming volunteer events, send them an email, check out their website or follow them on Facebook.
Stay up to date
Want to stay up to date with all the latest news from your area? Sign up for your Local Board E-news and get the latest direct to your inbox each month.
Sign up for the Kaipātiki Local Board E-News