Your apple cores and stale bread are a valuable resource, and taking climate action can now be as easy as putting these rukenga kai (food scraps) into a separate bin. Auckland Council's new food scraps collection service is turning waste into renewable energy and liquid fertiliser.
Your rukenga kai (food scraps) will be collected from your kerbside and taken to the Ecogas processing facility in the centre of the North Island. This facility, the first of its kind in Aotearoa, is where Ecogas will transform your food scraps into liquid fertiliser and biogas, which in turn will help to grow more food on farms and in glasshouses.
"Diverting food scraps from landfill will reduce greenhouse gas emissions and put previously wasted nutrients back into soil," says Elise O'Brien, senior organic waste specialist and project manager at Auckland Council.
The council expects to collect nearly 40,000 tonnes of food scraps in the first year – equal to taking 10,000 medium-sized cars off the road. That's because when food breaks down in landfill, it produces methane. "One tonne of methane released into the atmosphere creates the same amount of global warming as 25 tonnes of carbon dioxide," Elise explains.
Considering that Auckland currently sends 100,000 tonnes of food waste to landfill every year, the rukenga kai (food scraps) collection service will have a huge impact if we all play our part. It's a chance for everyone to dispose of their food waste responsibly and help reduce both waste to landfill and emissions.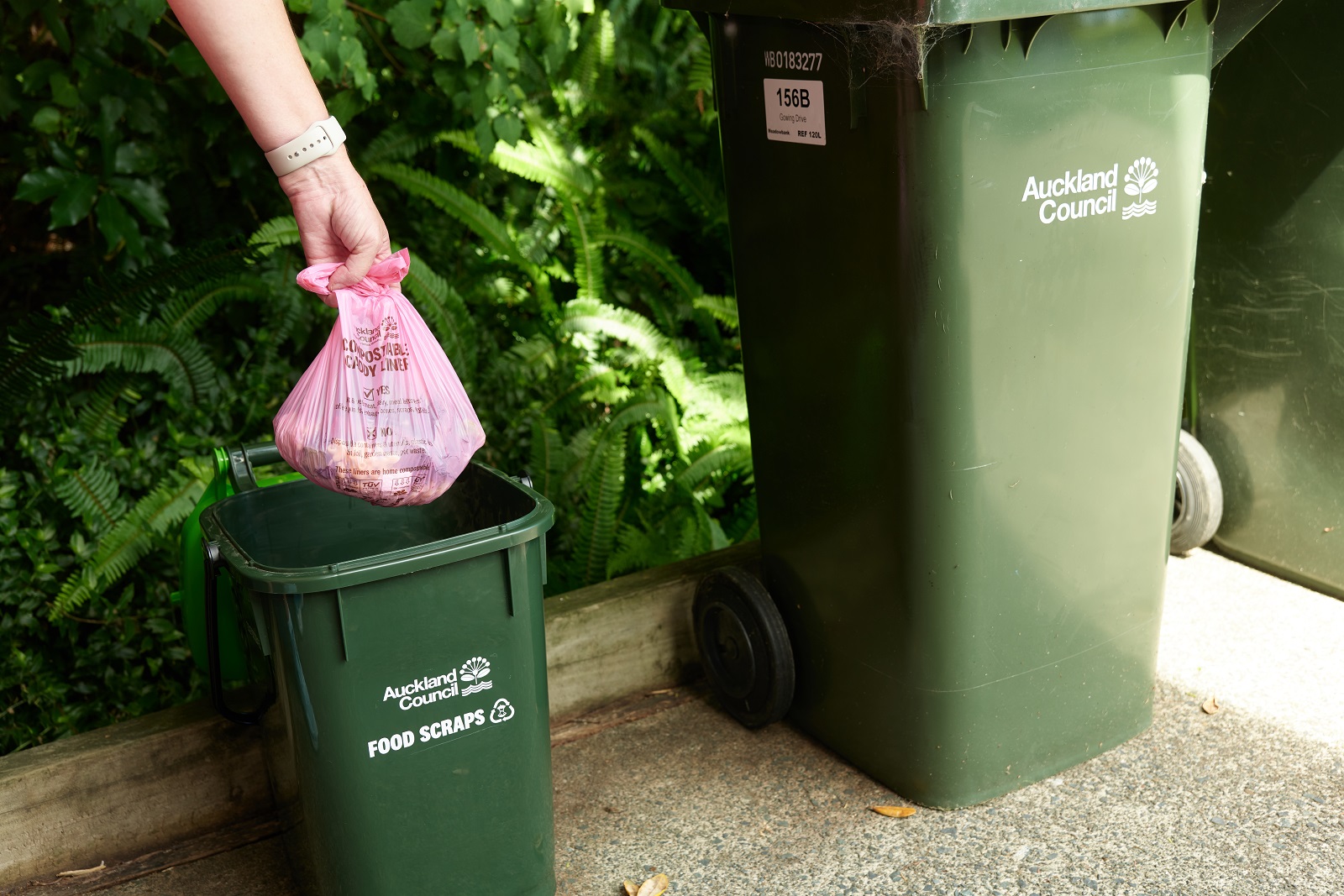 For Aucklanders, this makes acting on climate change easier. Not every household can compost food waste at home, and even if you have a composting system, not all food waste can go into it.
The new kerbside collection service complements home composting, Elise says. "It can take things that you might not want in your home compost bin, like meat, bones, shellfish and dairy scraps. Or, if you use a worm farm, the things your worms don't eat like onion skins and citrus peel."
The food scraps bins go out weekly, on your council collection day. The small bins are emptied into the waste collection vehicles – some of which are electric – and the food scraps are transported to a facility in Papakura before being combined into trucks bound for Reporoa.
Dr Alzbeta Bouskova Houghton, the general manager of Ecogas, says that even this transport has been carefully thought out. The food scraps are loaded into vehicles which have delivered gravel to Auckland from Taupō, she explains. Rather than returning to Taupō empty, now they make the trip back south carrying food scraps. "This means we aren't adding more trucks to the roads to make the journey."