Have you ever wanted to use a drill to fix something or a jigsaw to cut out a shape in a piece of wood, but can't tell a drill bit from a dremel? You're not alone. Many of us are way out of our comfort zone when it comes to using power tools. But you can take the power back (literally) by attending a free or low-cost woodwork class with The ReCreators.
The social enterprise, which receives local board funding, runs a wide range of workshops where participants learn DIY skills using upcycled items that are donated by individuals or local businesses. One of their popular classes is Creative Woodworking. Over the course of 10 weeks, attendees learn how to use power tools to make an upcycled chopping board and planter, before embarking on their own project under the tutelage of woodwork teacher and upcycle extraordinaire Buffie Mawhinney.
"At the end of the 10 weeks, their confidence is boosted and their skills have grown so much" says Buffie. "They've learned how to use a drop saw and have made a beautiful upcycled piece of furniture."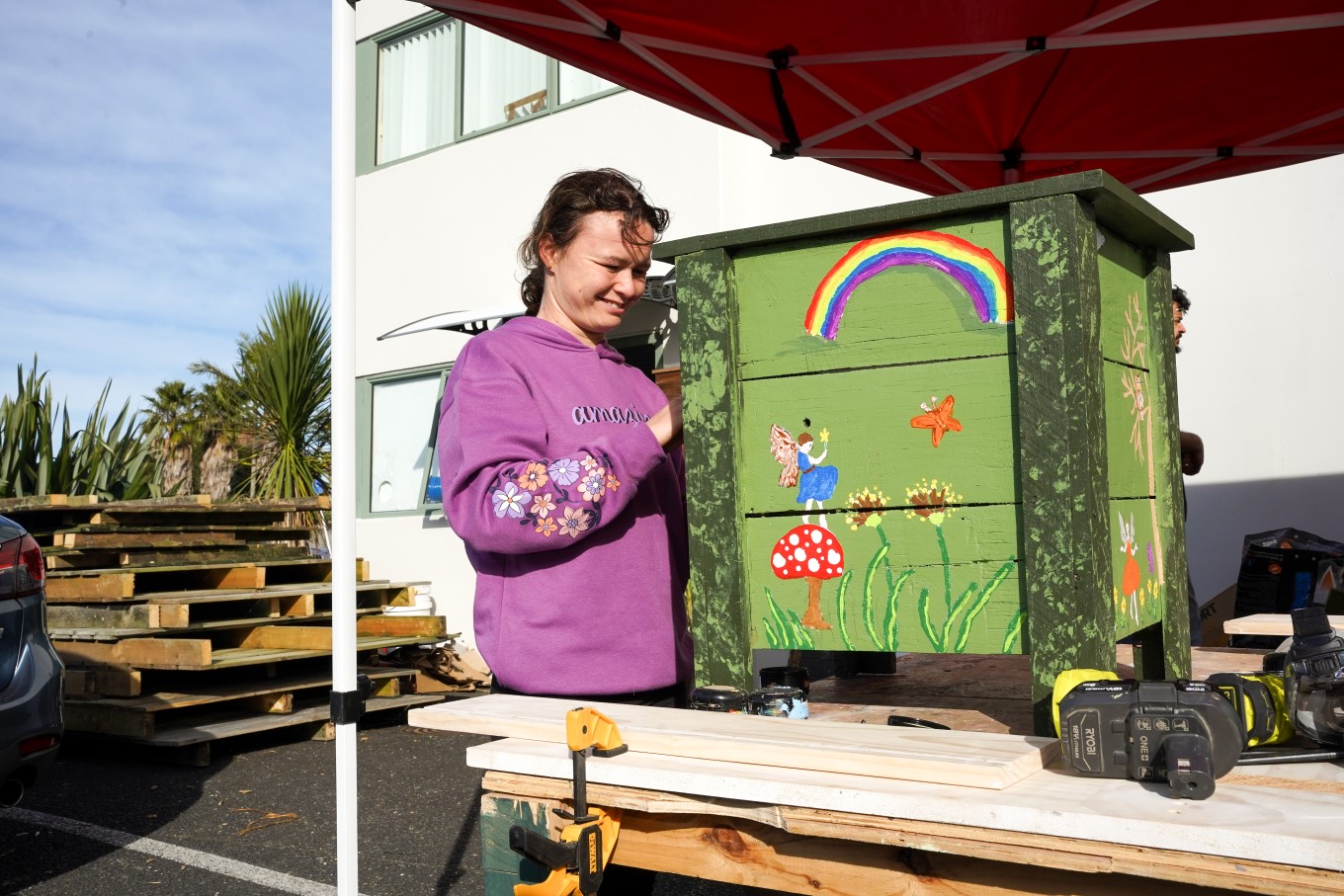 In the late 1980s, Buffie was the first female at her co-ed high school to enrol in woodwork class. Now she says that the majority of her workshop students are women who have never had the opportunity to develop these skills.
"A lot of the older women had husbands, fathers and brothers who wouldn't let them touch the tools," says Buffie. "They're taking control in their life and learning these things. The younger ones haven't ever had a chance to learn these skills yet."
Eileen White, one of Buffie's students, says that when her son gave her a drill set she was too scared to use it, but really wanted to be able to fix things and be creative. "Doing the course has given me confidence and it's a supportive environment," explains Eileen. "It's also really good because it's free! I always used to leave it to the boys to do this kind of thing."
Other positive outcomes from the class are the opportunities to turn new skills into business opportunities, and the kaupapa of using reclaimed wood inspires others to consume less.
"When I put my planter on my Facebook page last week, there were two people who wanted to buy one," says Eileen. "I'm also inspiring a lot of people that tend to throw away stuff."
Showing off her beautifully finished chopping board, which is laser-printed with a pattern from her Samoan culture, she adds, "I couldn't touch this wood when I started because it had moss and mould. But now it's sellable."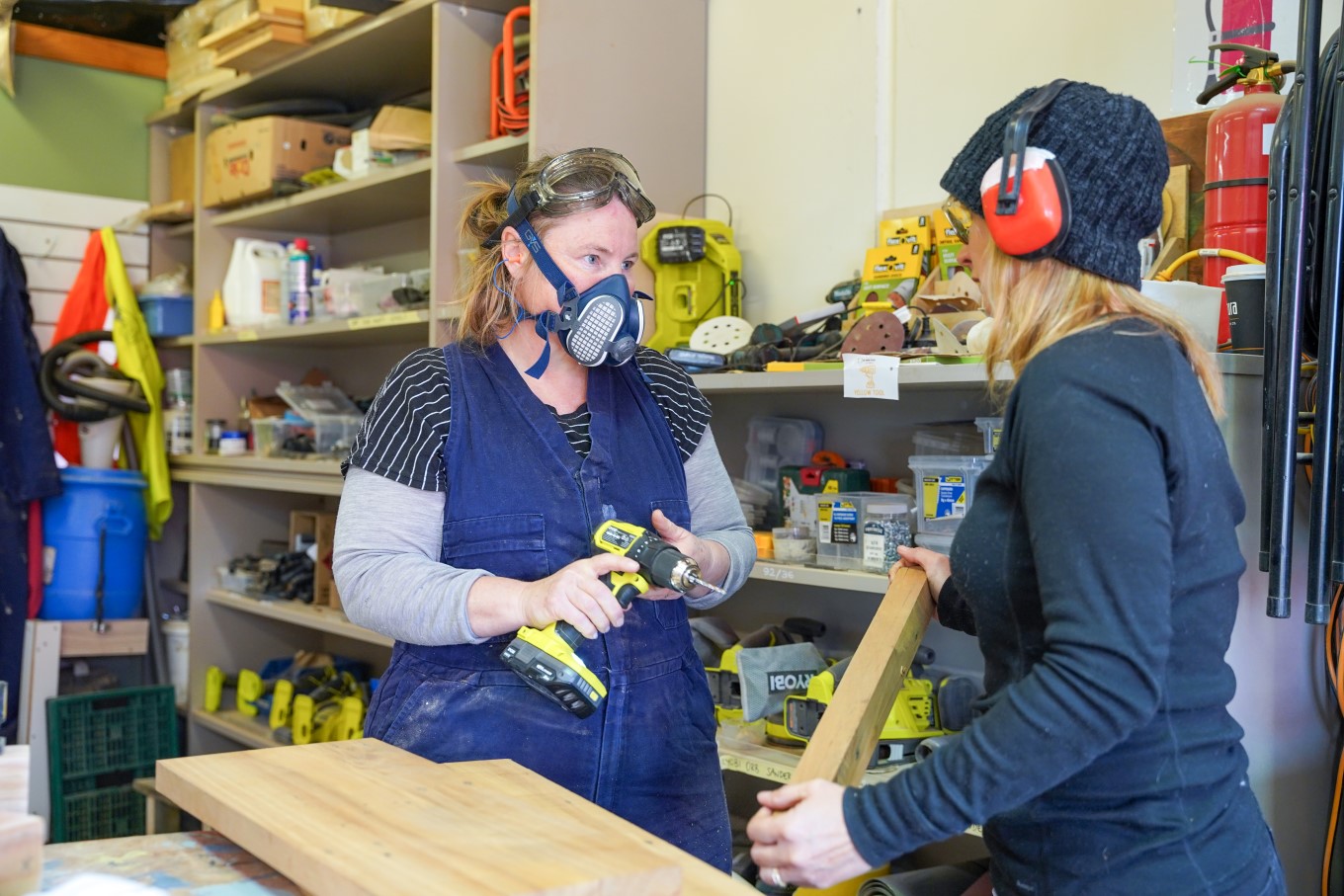 Learning about the circular economy is definitely one of the main benefits of the course, says Buffie. "We're repurposing wood that has already been cut down or used elsewhere. We also use brand-new offcuts that would be heading to the tip or the fire."
Sarah Tonge, another class member, is using the skills she learned making her chopping board and planter to build a side table from mataī that came from a deconstructed house in Waikato.
"I've always wanted to learn how to do woodworking. I've just never had the opportunity before," says Sarah. "It's really good for your mind too. They say life is too busy these days, but this is a satisfying and tactile way to spend your time. It's actually really good to slow down."
The ReCreators run a range of low-cost and free workshops at different venues across Auckland. Click here to check out upcoming courses.