Never mind smart phones, new generations of Aucklanders have embraced Morse code with the help of the Franklin Amateur Radio Club.
Club members learned the Museum of Transport and Technology needed support for a live event when an SOS – the international signal calling for help – went out, mentioning a popular event feature was the Morse code key.
Member Peter Henderson says organisers knew families liked to try Morse code, and wondered if an amateur radio station might be set up to send and receive messages.
"We met officials and were shown space where a station could be set up, and an antenna was put in place, with MOTAT getting its own printers to run up postcards for visitors who used Morse on the day."
Members had a send-and-receive system in mind, but it proved difficult, and a new solution had to be found, with a 'half wave dipole' at the clubhouse meeting the requirements - it's signal so good it could be heard in Rotorua and Blenheim.
"We decided the easiest message to send was people's names," Henderson says. "The cards had a Morse chart with dots and dashes on one side and two spaces on the other, for their names and a translation."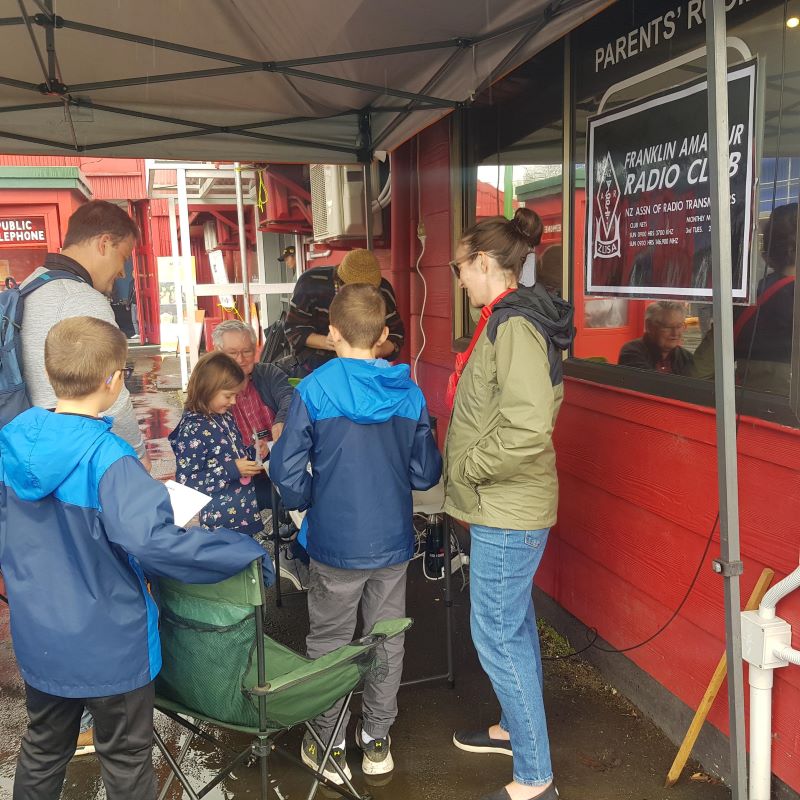 A week before the event, Henderson keyed a radio message to enthusiasts giving times and frequency details and asking for people to reply to visitors who keyed their names. "I was pleased four operators contacted me inside 24 hours, all of them promising to reply."
When the live event dawned, members got to work, mounting the antenna and powering up before eager users lined up, practicing their names using a sound generator. "That meant they could learn to differentiate between the dots and dashes," Henderson says.
"When they were ready, they took over the key, with a link operator sending their name back to them slowly, so they could recognise it and understand their message had been received."
MOTAT was pleased with event numbers and the club's role, with Franklin likely to be invited back – though probably by email or phone, rather than by Morse code.
Franklin Local Board chair Angela Fulljames says the club, which operates from council premises in Stadium Drive, has long been part of the community and despite technology moving on, could still play a part in an emergency if communications were disrupted.
"It's great to see locals interacting with a Council organisation like MOTAT, and it's reassuring to know there are still people who could step up and make things happen in an emergency if we needed to send an SOS of our own."
Stay connected
Want to stay up to date with all the latest news from your area? Sign up for the Franklin Local Board E-News and get it in your inbox each month.