Aotea / Great Barrier is aiming to be the first place in New Zealand to eliminate single-use takeaway cups.
From October 1, coffee retailers on the island will offer alternatives to the cups and most will no longer stock single use cups, which despite appearances are neither recyclable nor compostable.
"We're lucky on Aotea because we're a small, island location so something like this is totally doable," says Jo O'Reilly, director of Aotea's Anamata resource recovery centre and driver of the scheme. "I've been so impressed by how enthusiastic people are, right from our retailers to our coffee drinkers.
"We live in an ecological paradise that we all want to protect. The trick will be to bring tourists and visitors along with us.
"What most visitors to the island probably don't realise is that every bit of landfill waste must get shipped back to the mainland at huge environmental and financial cost. We're doing all we can to reduce those volumes," says Jo.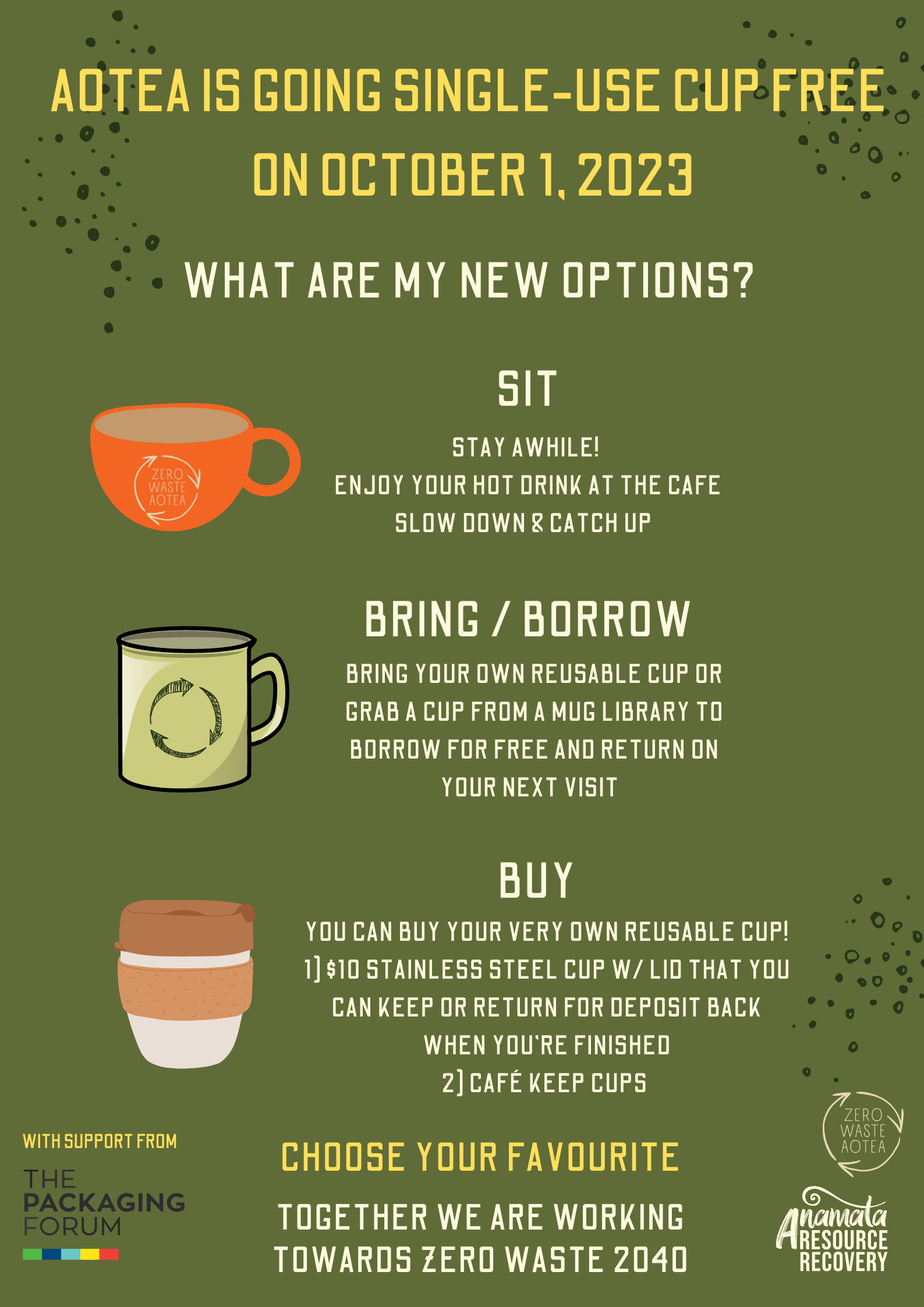 Zero waste
The cups project is one part of Aotea's bid for zero waste to landfill by 2040, and Aotea / Great Barrier Local Board is in support of the initiative.
"We want to congratulate Anamata on the initiative", says Izzy Fordham, Local Board Chair.
"It's been great to see the community truly embrace the initiative, with most store owners and businesses in support of eliminating single-use cups.
"The board has offered its continued support for the project, which aligns with our vision of zero waste for the island."
Coffee drinkers will have three options once the single use cups are gone.
Bring their own keep cup

Use a mug from the café's mug library (at participating outlets) or

Purchase a $10 double walled, lidded, stainless-steel cup from the island-wide "borrow" scheme, which can be kept or returned to any participating outlet for a refund.
"Or of course they can sit down to drink their coffee, at a pace more suited to island life," says Jo. "We call the cups scheme 'a small step for mankind but a big step in terms of what it says about our island and what's important to us'."
Her message to all those coming to Aotea this summer is: pack your keep cup!
The initiative is supported by the New Zealand Packaging Forum.
Stay up to date
Want to stay up to date with all the latest news from your area? Sign up for Aotea / Great Barrier Local Board E-news and get updates direct to your inbox each month.