The rāhui and blanket public health advice not to swim in the Waitematā Harbour is starting to lift as green ticks return to Auckland's safeswim.org.nz
Ngāti Whātua Ōrākei placed a rāhui over the Waitematā Harbour and Auckland Council activated black pins on Safeswim when advised by Watercare of the Ōrākei main sewer blockage and significant discharges into the harbour on 27 September.
Ngāti Whātua Ōrākei Trust chair Marama Royal says that the main purpose of a rāhui was protection and in this situation it was important to consider the entire Waitematā Harbour.
"As tangata whenua of central Auckland and upper Waitematā, Ngāti Whātua Ōrākei have a duty as kaitiaki to look after the mauri or life force of the Waitematā as well as to keep our communities safe. We will continue to keep the rāhui under review – the health of the Waitematā and of all who enjoy using it are paramount to our iwi," says Ms Royal.
"We have lifted the rāhui across the Waitematā Harbour, except between Ōkahu Bay west to Masefield Beach reserve by Curran Street and we thank Aucklanders for respecting rāhui areas as it gives the harbour a chance to recover," she adds.
Deputy Mayor and Ōrākei Ward Councillor Desley Simpson also thanks the community for their understanding and support, at the same time as Watercare undertook the massive task to design, plan and install the Parnell bypass to resolve wastewater discharges into the harbour.
"This was a distressing situation with major impacts on recreational users of our Waitematā beaches and waterways, as well as wider impacts for Ngāti Whātua Ōrākei who placed a rāhui to allow time for the harbour to recuperate and be safe to use," says Deputy Mayor Simpson.
"I know there have been economic impacts for organisations which run water-based events and activities. I really want to thank Watercare for their efforts to start to fix the Ōrākei Main Sewer, knowing that public health and safety is paramount," she adds.
Due to spring weather conditions, the pins that signal safe swimming are updated as water quality monitoring results are checked by the council. Aucklanders should continue to check the Safeswim website for the most up to date information and to make decisions on where it is safe to swim. Following rainfall, swimming water conditions can change quickly.
The rāhui remains in place at Ōkahu Bay, Te Tinana / Wilsons Beach, Judges Bay, St Mary's Bay and Masefield Beach reserve at Curran Street.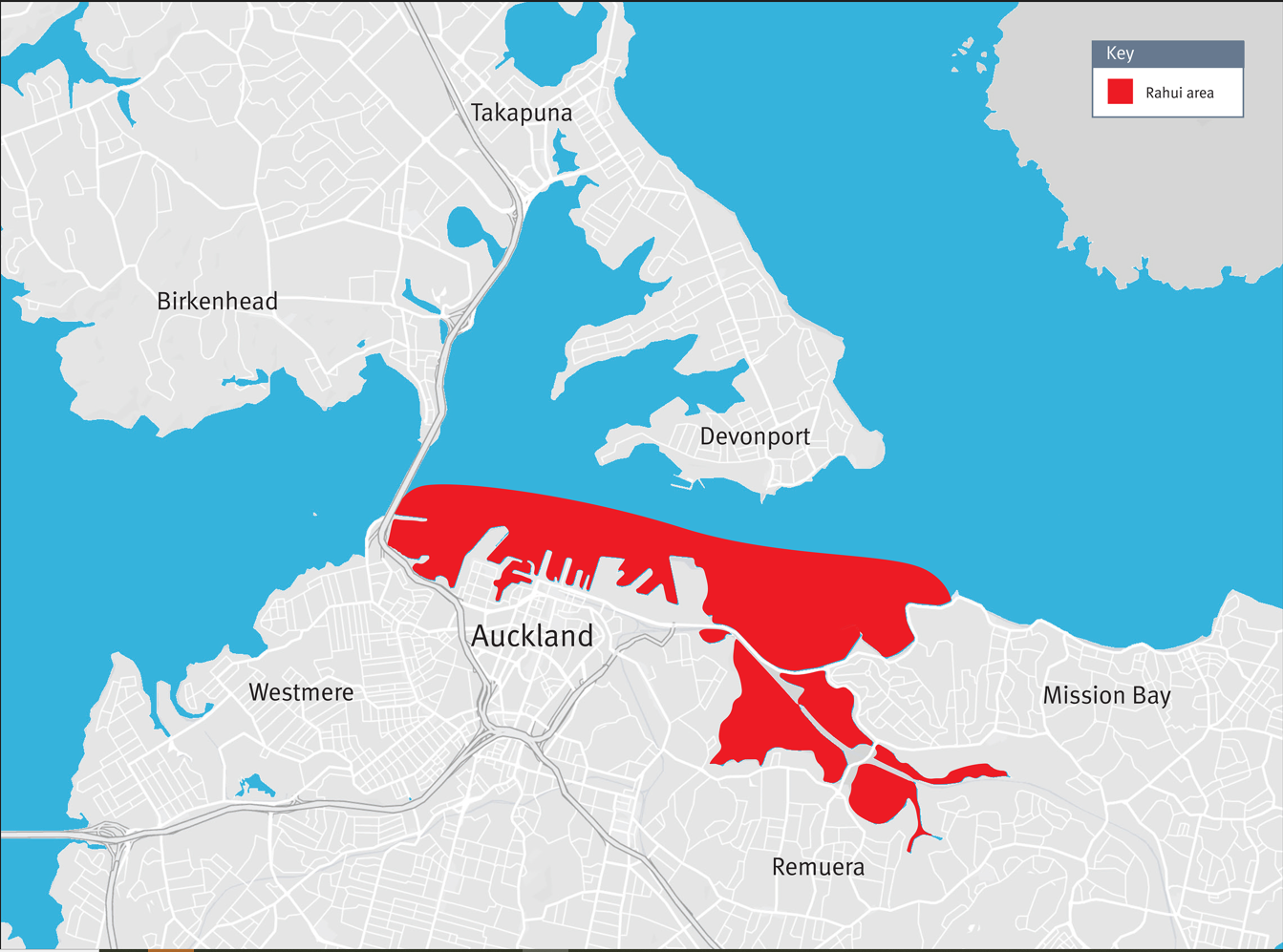 A black alert is used to indicate wastewater discharges to water and elevated health risk to beach users. The following areas outside the rāhui area have black alerts due to the most recent water quality results: Chapman Strand, Taipiri Strand, Te Atatu, Pt Chevalier, Herne Bay, Home Bay and Sentinel Road. The water quality information for these locations will be updated as testing results are received.
Up to the minute information on water quality and swimming conditions at your favourite spots are at safeswim.org.nz
The Auckland Regional Public Health Service provides public health advice about fishing and gathering shellfish – which should not be collected in areas that have been contaminated for at least 28 days.