When The Southern Initiative came to Manurewa Local Board about a Youth Connections work programme, representatives announced Mā Te Huruhuru had been selected to deliver it for 16 to 25-year-olds.
One idea underpinned the plan, the group would deliver a programme by Māori for Māori.
By the time trust general manager Māhera Maihi reported back to the board on the programme, 10 rangatahi had gone on to full employment, eight were undertaking further education, 15 had gained work experience, about the same number had got driving licenses, one adding a forklift license.
Hit by COVID-19, the trust managed to operate using strict hygiene protocols, even creating pandemic advertising using its own people, going on to graduate 10 students from its Māoripreneur programme, inspired by successful young Māori businesspeople.
As well as academic and formal qualifications, students became involved in practical courses including water skills, driving, carving, and gardening and sustainability, and participated in community activities such as the Big Puhinui Clean-up.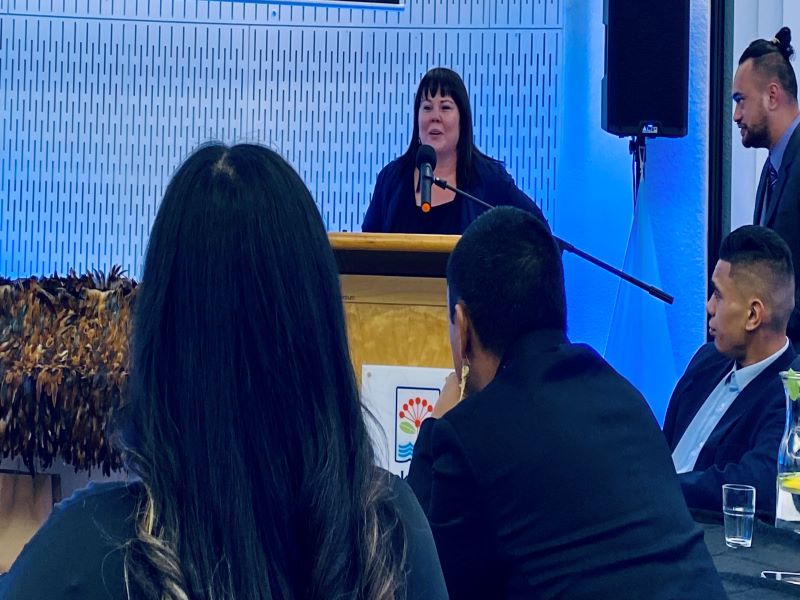 Manurewa Local Board deputy chair Melissa Moore says young people deserve the chance to learn skills that will position them to be able to make good life choices and contribute to the community.
"We shouldn't try and sugar-coat it, we have problems and we see too many of our young people dropping out or not doing well in the school system.
"But as a board, we aren't prepared to sit back and say it's not out problem. These are our kids, and we want them to know they matter to us, so having the ability to partner and help organisations such as Mā Te Huruhuru is very much part of that."
She says many of those on the course come from challenging backgrounds that put many of the things most residents take for granted, such as transport, out of reach.
"You can have fabulous courses but if the kids can't get there, what then? Mā Te Huruhuru has done a great job because we know they've picked young ones up and even paid for Ubers. The commitment they have shown to these young people is outstanding."
The Papakura Local Board also provided funding to the initiative, allowing more students to join a 26-week programme that offered young people the chance to develop cultural connections alongside their employment skills.
So successful has the scheme been that the Ministry of Business, Innovation and Enterprise is looking to run it on a larger scale, Mā Te Huruhuru developing the programme and sharing its own learnings.
"We need to acknowledge that there have been challenges," Moore says.
"It turned out to be more expensive than anyone thought to make a positive change in these young people, and that is going to be a challenge going forward. But working together, our rangatahi, their whānau, groups like Mā Te Huruhuru and its funders, and community leaders, can stand with these young people and show them we believe in them."