Another much-anticipated detail has been installed at Te Wānanga in downtown Auckland.
Woven green safety webbing is now secured across an opening in the deck suspended above the water.
Mayor Phil Goff says, "Aucklanders are encouraged to lie on the flax-like surface of Kōrimurimu, breathe in the sea air, look up to the sky and hear the movement of the tide below.
"This is a fantastic innovation for Auckland's new, world-class waterfront, which has been incredibly popular since it opened on 2 July.
The name given to the piece is Kōrimurimu, meaning to be covered in seaweed. Rimurimu is a seaweed which is native to Te Waitematā.
"The combination of traditional Māori art and weaving with modern materials and inventive design has created a striking and enjoyable space for Aucklanders.
"It's a great reason to visit Te Wānanga and our renewed and upgraded downtown waterfront public space," he says.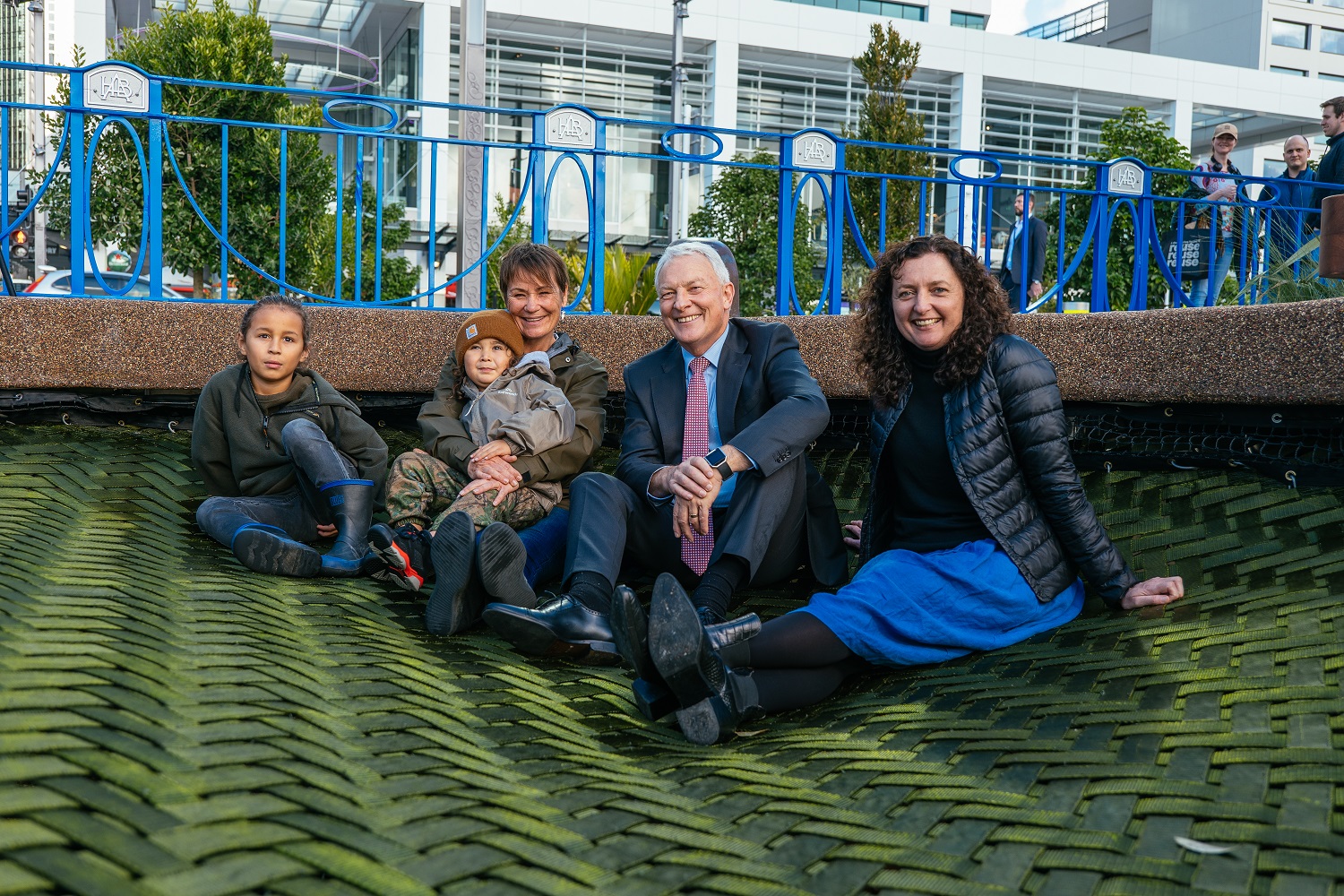 This innovative work is by artist Tessa Harris (Ngai Tai ki Tāmaki) in a co-design with Isthmus, taking traditional Māori weaving and reinventing it using hi-tech materials in a super-sized scale for a public place.
It is the product of a collaboration between Auckland Council, Auckland Transport, Isthmus (designers), Airey Consultants (structural engineers), Cookes (manufacturer) and Mana whenua.
Tessa Harris explains that Kōrimurimu is a visual ecological response. She says the work lends itself to remembering a time when our shores were covered in seaweed and fish were abundant.
"We wanted to highlight the decline of seaweed in our waters, a principal food source for many fish species now also in decline," she says.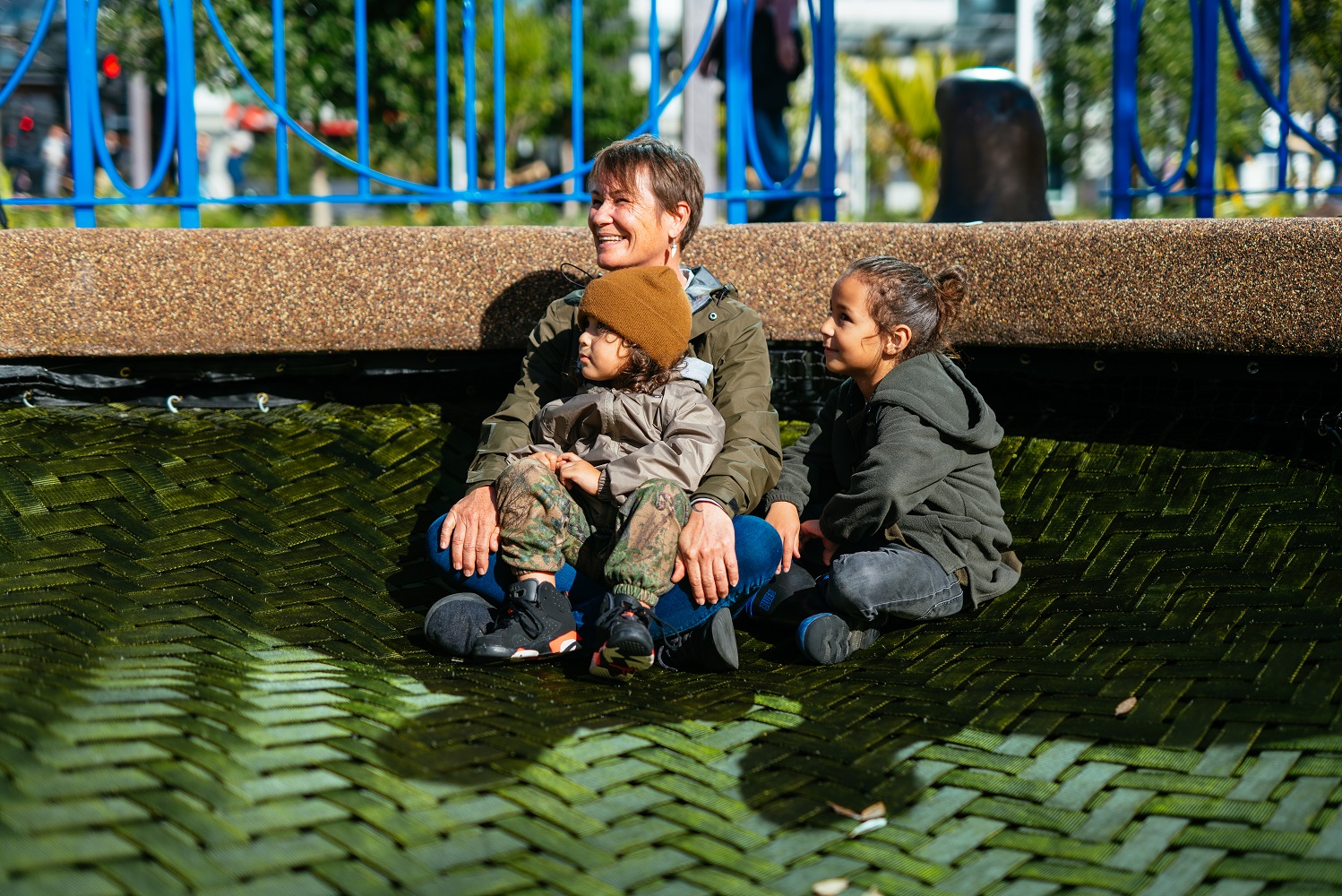 This mahi toi takes traditional raranga Māori (weaving) and elements of Kōrimurimu and the kupenga (net) customarily used for fishing to tell the story.
Forming a bond between the land and the sea, Te Wānanga is on the seaward side of Quay Street at the epicentre of Auckland's waterfront.
Councillor Chris Darby says bringing traditional weaving techniques and contemporary materials together like this in an unexpected and playful way is believed to be a first.
"It is important for us to deliver spaces that are uniquely Tāmaki Makaurau. Our design and construction teams have worked side by side with Mana whenua every step of the way to achieve this exciting outcome.
"We are grateful to Mana whenua for so generously sharing their stories of place, histories, values and ideas throughout this design process. What a beautiful space. Deeply layered with meaning, it's in a class of its own," he says.   
Programme Director Downtown Eric van Essen says: "Throughout the design, engineering, manufacture and installation of Kōrimurimu, meticulous attention has been given to every aspect.
"I'm delighted we have brought Tessa's original concept to reality. It's a beautiful and intricately made piece. It might even prove to be the most popular element of the new space. It's certainly one of the most unique," he says.
Newly installed Kōrimurimu is ready for Aucklanders and visitors to experience.