Before the current lockdown, figures from Marketview ranked Karangahape Road the highest performing Business Improvement District (BID), for the last three months compared with the same time last year, of all 50 BIDs across the Auckland region.
Customer spending at Karangahape Road businesses from May to July 2021 was 25.9 per cent higher than the previous three months (February to April). The value of each transaction also increased by 3.3 per cent in the same period.
Michael Richardson, Manager of the Karangahape Road Business Association (KBA), says: "This lockdown will hurt us. But we've recovered once. I'm sure we can do it again."
He attributes the business improvements from May to July to the new street enhancements delivered by Auckland Council and Auckland Transport, the public celebration of the new street on 26 June, the street's new promotional campaign 'Be Our Guest' and the area's new website.
Auckland Mayor Phil Goff says the lockdown will undoubtedly be tough for local businesses, but he's pleased the completion of the Karangahape Road upgrades had a positive effect before Level 4.
"COVID-19 restrictions will clearly have a serious effect on businesses unable to open," he says.
"However, it is promising to see that, before lockdown, Auckland Council's Karangahape Road upgrade—which delivered wider footpaths and a more inviting streetscape—was also benefiting businesses through higher customer spend in the area.
"It shows that by making our urban environment more accessible, people-friendly and inviting we can encourage more people to the area to spend time and money at shops, restaurants, cafes and businesses. Everyone benefits when we make our city a more vibrant and exciting place."
Councillor Pippa Coom says: "Wider footpaths and a safer street environment have made Karangahape Road a much more pleasant place to be, and in lockdown those aspects have come into their own. We've found that the street is more resilient with extra space for social distancing."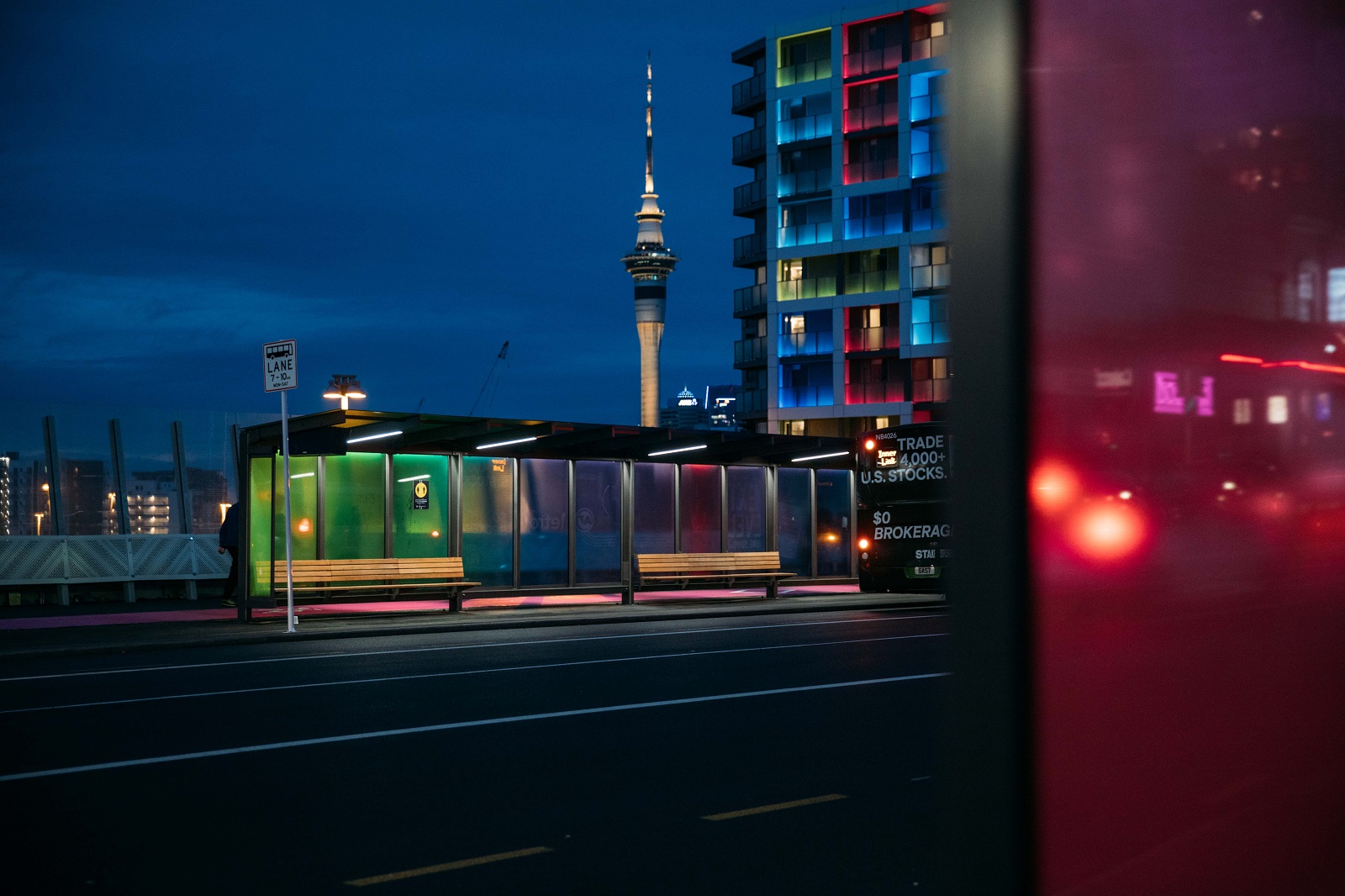 Michael Richardson says: "People are attracted to what Karangahape Road has to offer. There are so many exceptional businesses. People were flocking back to Karangahape Road before this current lockdown.
"The low-key nature of the new street design has allowed our heritage, architecture, awesome businesses and people to continue to speak for themselves. Outdoor dining has become much more relaxing as the wider footpaths and cycleways position people away from the traffic. This gives a more relaxed feel to the streetscape and the chance to enjoy urban street life," he says.
Helen McIntyre has owned and operated Buana Satu, a design store on Karangahape Road, for 30 years. She says, "There was definitely an uplift in the months before this lockdown. Our cafes, bars and restaurants were buzzing at night. People were so excited about the food. I feel the changes we've seen along the street have been good but we're waiting for more people to discover us. Once the City Rail Link is in, that will complete the circle."
Rose Hope who owns Crushes, a concept store offering lifestyle and gift alternatives that are 'good for the earth and her people', agrees. She says that without tourists and with lockdowns continuing there is still a way to go.
"But I love our rainbow crossings. I love the pink bike lanes. I love the sandy rain gardens that filter our stormwater before it goes into the sea. And I love how the Karangahape community embrace the un-homed community.
"Karangahape Road is definitely where it's at. Every new restaurant seems to be opening here. The street has its own character. That character has changed but we are still a street of independent owner-operators. People like that unique sense of character in a world of mass manufacturing and same-same-ness," Rose says.
Bringing art and light to vacant store fronts
With both Heart of the City and Karangahape Road Business Association, Auckland Council is helping bring vibrancy back to the city centre by funding artwork by local artists to sit in front of shops which are temporarily vacant.
Walk along Karangahape Road and Queen Street and you'll see art as placeholders in a handful of store fronts waiting for new tenants.
Some of the art was being removed as the city showed early signs of rebounding, pre-lockdown.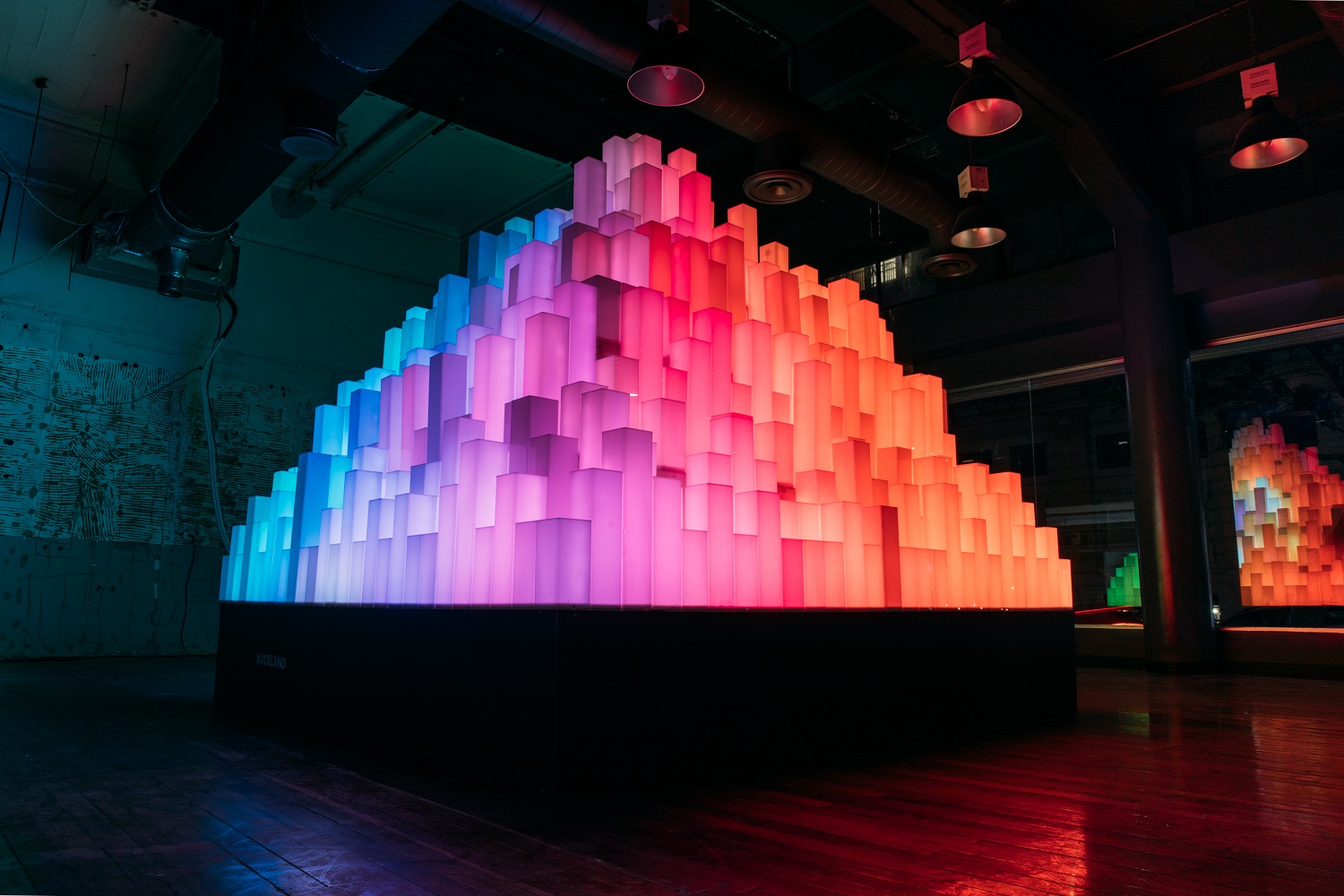 Mountain of Light (pictured) by Angus Muir was commissioned for Vivid in Sydney in 2016. Since then, it has toured to London, Perth, Queenstown, New Plymouth, Kaiwaka and Auckland Light festivals.
As a Karangahape Road resident, Angus is thrilled one of his bigger artworks is on show in his local neighbourhood. It is positioned at the front of George Courts on the corner of Karangahape Road and Mercury Lane.