Memories of lockdown wouldn't be complete without Netflix, sourdough bread, Lego pieces on the floor and the daily 1pm press conferences.
Noticing the sound of birds singing, the freshness of the air, the feeling of the sea lapping at our feet, and walks in the park are also likely to be high on our lists.
Auckland's parks are free for us to use as we navigate these difficult times. A wander through our green spaces helps contrast our routines at home and enables us to be active while experiencing nature and keeping our whānau (family) safe.
With over 4000 parks and more than 250 AKL paths to explore the choice is yours.
Walk or Run
Grab your walking shoes and a sprinkling of motivation and head to a park for a walk or a run.
There are plenty of dog-friendly parks across the region so have a look at what's close to you.

Pinpoint the types of trees you see along the way and the birds you hear. Try the NZ Birds Online encyclopedia. If you want to test your bird knowledge join the free Bird Identification course from the Department of Conservation.

Use AKL Paths to find a path you might have missed near home. Now's the time to get exploring.
Cycle or scooter
A number of the parks across the region have bike paths in them or that pass alongside them. Again, head to AKL Paths to explore a local cycle path near your home. The whole family can get out and ride safely together without having to worry about cars.
Kick a ball around with those in your bubble
Kick or throw a ball around. It's fun and great exercise, keeping young ones fit for when lockdown lifts and winter sports return. Moving further and further apart improves those ball skills and helps you stay two metres apart.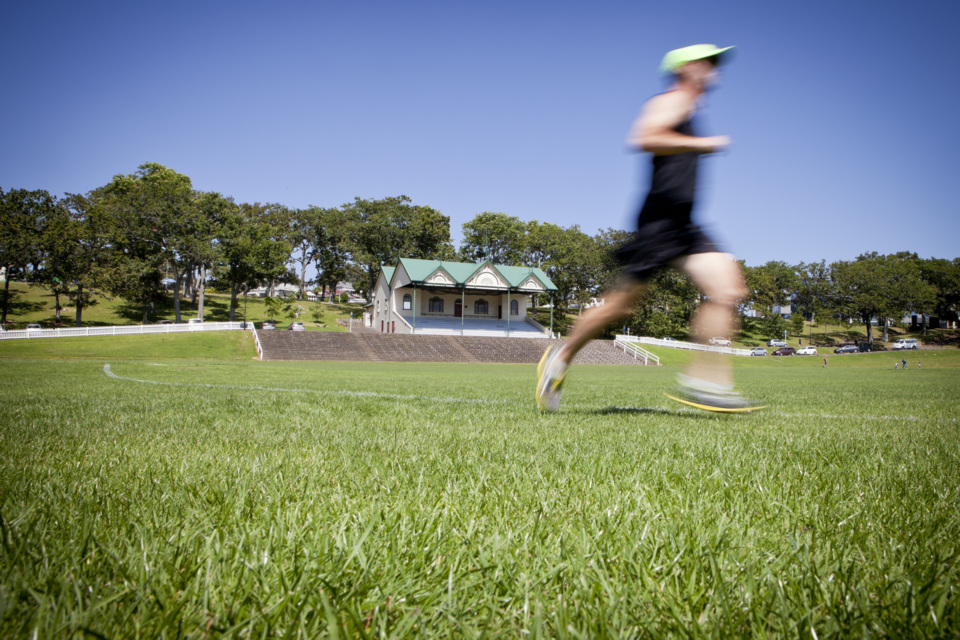 Take your exercise or yoga routine outdoors
Try something different to break the routine of exercising at home. Some inventive Aucklanders have taken to a local park with their own weights and undertaken Bergeron Beep Tests! Exercising in the open can keep your exercise routine fresh and interesting. Have a think about what you do at the gym that you can do in a local park.
The team at Auckland Council's Pools and Leisure have created some workout challenges that you can easily do in a local park so check those out here.
Do a self-guided walk
Our suburbs and local areas are full of history. By keeping it local we can stay active and learn something at the same time. The Auckland heritage walks and places webpage highlights some of the places we can visit near us.


---
Together we can get through this and grow into a stronger, more connected Auckland.
Remember to check the Health Ministry's COVID-19 webpage for all the latest information on the virus in New Zealand.