During lockdown it is important to switch off and unwind. Constantly looking at news and tuning into the 1pm briefings can be stressful and keep us at a constant 'flight or fight' state. We need to give ourselves permission to tune out and wind down.
If you are struggling with ideas for how to do that, here are some simple ways to relax and have fun either by yourself or with other people in your bubble.
Piecing relaxation together
Jigsaw puzzles can be a great way to relax and take out minds off lockdown. If you have completed the puzzles at home too many times and need something new to put together, explore the range of jigsaw puzzles from three places: the Auckland Council's Corporate Records and Archives; the Auckland War Memorial Museum; or the Auckland Zoo.
Auckland Council Corporate Records and Archives created a series of puzzles in lockdown last year and will be releasing a new one every weekday during this lockdown. Head to the At Home jigsaw page and simply select the image you want to piece together. Then choose the difficulty by selecting the number of pieces before starting. Puzzles have been created of the legacy council mayoral chains, old photographs, and original designs for buildings around the city.
The Auckland Museum jigsaw puzzles allow anyone of any age the ability to piece together some of the museum collection items or photos of the museum building all lit up in rainbow colours. Created using the same software as the puzzles from Corporate Records and Archives, you can also see how fast you can piece things together and challenge a friend or family member to beat your time.
Auckland Zoo has a series of online jigsaw puzzles that allow you to piece together some of the most favourite animals that call the zoo home.
All three places are regularly updating their jigsaw puzzles so there is plenty to keep you and the whānau relaxed whatever the weather.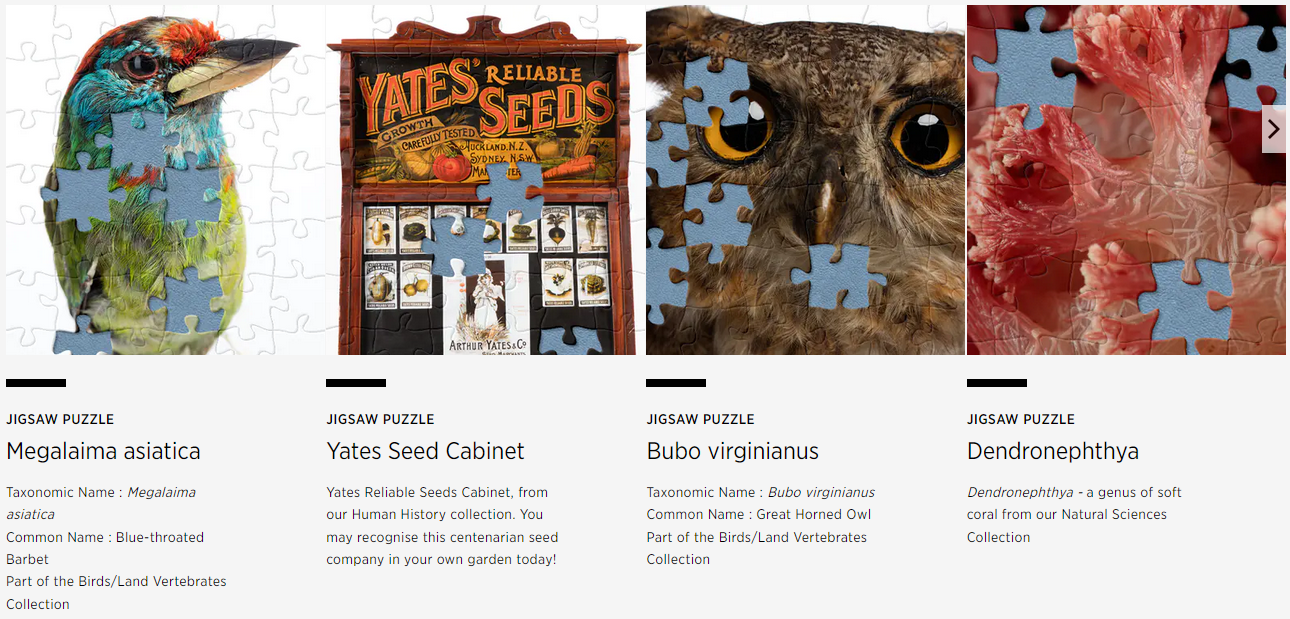 Colour your world
Sitting down and colouring a picture is a great way to relax and take your mind off things. If you have a printer there are plenty of options from the Auckland Zoo for colouring in, regardless of age. Or if you are keen to get more creative than just colouring, try drawing your own picture. Auckland Libraries have plenty of magazines and books in their e-collection to help you develop and improve your drawing and the Zoo have a series of prompts and ideas of things to draw every day. Find those in the art challenge part of the kids' activities.
Games galore
If you have overdone the board and card games you have at home or you simply want to try something new on your own, there are plenty of games online. Auckland War Memorial Museum have a number of quizzes to enjoy. It could be doing something as easy and fun as discovering which museum animal you are like, or testing your knowledge of New Zealand's amateur palaeologist Joan Wiffen, who was the first person to discover dinosaur bones in Aotearoa.
Auckland Zoo also have several quizzes to enjoy, as well as crosswords, word finds, and other online games. If you have a printer, the zoo also has some printable games like the Takahē Game, the Whio Game, and the Tasmanian Devil Game. Geared around animals and conservation, you and your whānau can spend hours playing and having fun together.