Global leaders are meeting in Glasgow to commit their countries to deliver on the goal of limiting global warming to 1.5 degrees.
Auckland Mayor Phil Goff says, "Auckland Council understands the need for urgent action on climate, having declared a climate emergency in 2019. We have taken our commitments seriously and have developed a blueprint for halving emissions by 2030, supported by an additional $152 million of new climate investment in our recent 10-year Budget which lays the groundwork for further action.
"While we have significant work underway, responding to the climate crisis will require a major departure from business as usual and will rely on further bold and ambitious action by central and local government, businesses and other organisations, as well as communities and individuals.
"It is critical that we act now. Every fraction of warming above 1.5 degrees means livelihoods and lives lost to extreme weather and global heating.
"Recent events such as severe floods and record drought are indications of some of the risks we face if we do not take urgent action," urges Mayor Goff.
What drives Auckland's emissions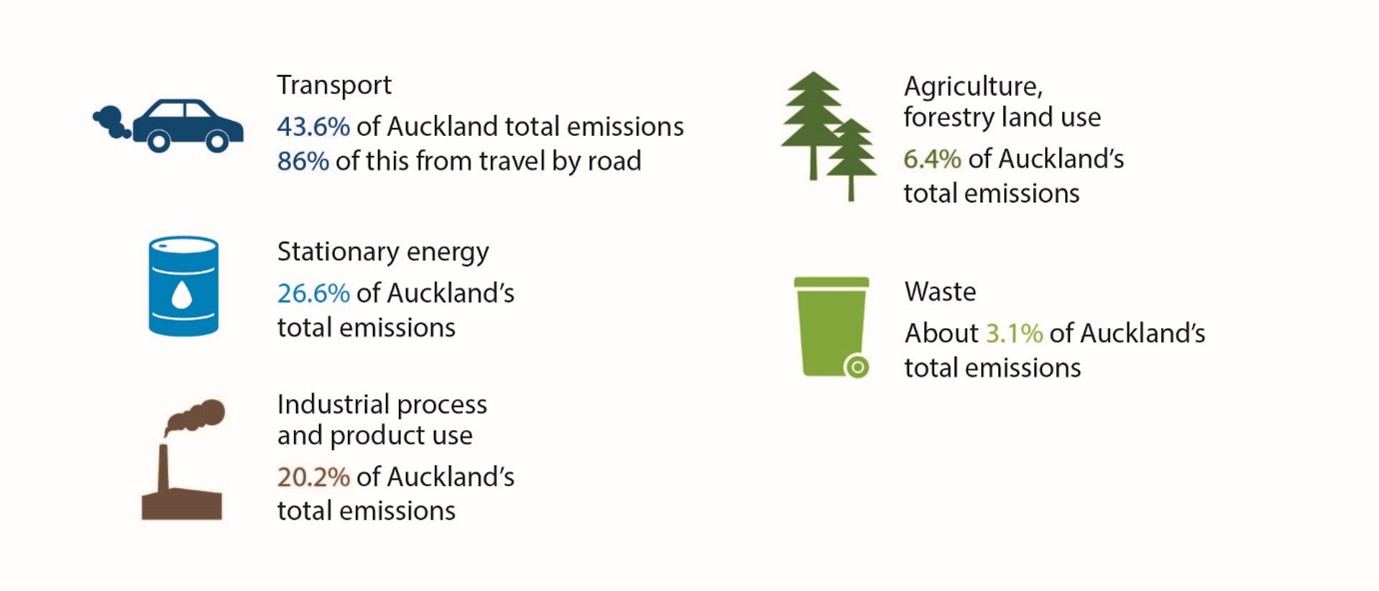 Most emissions are not created by local government, and many of the regulatory options are only available at a national level. However, we will continue to identify priority areas of action and ensure climate change is embedded into our planning and decision-making processes.
Auckland's emissions are largely made up of transport and stationary energy, accounting for 43 per cent and 27 per cent of gross emissions. To reach our emission target of 50 percent reduction by 2030, we need to reduce transport emissions by 64 per cent and reduce stationary energy by 65 per cent.
Consumption emissions reflect the carbon footprint of a nation's consumption and lifestyle choices. Household emissions (including transport) are growing and make up 71 per cent of New Zealand's consumption emissions. Without additional action to reduce emissions, they will increase 19 per cent by 2050 (to 12.4 MtCO2e).
"We need to make fundamental shifts to how we power our personal travel, how we transport freight, how much we travel, what we buy and what we waste, and how we grow as a region," says Councillor Pippa Coom.
"The council's ability to directly reduce regional emissions through our own actions is limited, so we need to maximise our impact in the places where we can, while continuing to promote change nationally and across industries," says Cr Coom.
Auckland on the world stage
Eleven cities, including Auckland, are offering some of the world's best examples of impactful urban climate action. Located in COP26's Green Zone, the Global Cities Climate Action Exhibition showcases cities' critical roles in reaching the ambitious targets being discussed at COP26.
These six examples from Auckland are being enjoyed by world leaders in the C40 exhibition:
The regeneration of the wellbeing of the Puhinui catchment and its people is highlighting the transformational work that's possible.
Take a walk along Te Auaunga / Oakley Creek where Aucklanders are restoring the 15km waterway to a more natural state and creating a walkway, providing an outstanding community asset, and a more affordable and ecologically sound solution for stormwater management.
Check out the construction of New Zealand's first state-of-the-art green hydrogen production and refuelling facility that serves port equipment, buses and cars.
Learn more about the $1 billion in green bonds.
Preview the kerbside food scraps service, where Papakura families have already kept 472 rubbish trucks full of food scraps out of landfill and turned them into compost.
Celebrate the electrification of public transport. The Puhinui Station offers faster, more frequent and easier connections to Auckland Airport via the electric AirportLink bus fleet.
Climate investments
The Planning Committee is paving the way for people to live closer to the things they want and need with more density and walkability, through the implementation of the government's National Policy Statement on Urban Development.
We have committed over $10 billion of investment into improving public transport, walking and cycling infrastructure. With additional investment, we could decarbonise public transport sooner and further expand walking and cycling options in neighbourhoods.
The Transport Emissions Reduction Group is currently working on the critical pathways to net zero emissions. They will be making recommendations on aggressive interventions that reduce private vehicle demand while increasing travel options and accessibility.
The City Rail Link underground rail line will transform Tāmaki Makaurau's transport system, carrying up to 54,000 people an hour, moving the equivalent of 16 extra traffic lanes into and through the city at peak times. The project has diverted an impressive 98 per cent of waste to landfill so far.
Water works
Auckland Council is also shoring up our water infrastructure. We have invested over $300 million, through Watercare, into resilience to droughts and extreme weather events. Many of these improvements are being made in a climate-friendly way. For example, the floating solar panel installation at the Rosedale Wastewater Treatment Plant is expected to generate around 1480 megawatts of electricity each year, with zero emissions. It's already reduced grid consumption at the site by 25 per cent since being installed last year.
Watercare is committed to a low carbon transition and is on the path to achieving energy neutrality at its wastewater plants – with investments in solar energy at its Pukekohe Wastewater Treatment Plant, at Wellsford Wastewater Treatment Plant and Redoubt Road Reservoir and more solar projects on the horizon.
The Central Interceptor is the biggest wastewater project in New Zealand's history. It will make Auckland more resilient to rainfall events. When complete in 2025, it will stop over 80 per cent of wastewater overflows from the Western Isthmus, helping to create a legacy of clean, safe, healthy beaches – even in a changing climate - for future generations to enjoy.