Fresh from visits to Papakura and James Cook high schools the Manurewa Marae team will take the vaccination bus to Randwick Park School on 12-13 October from 9am-4pm.
Manurewa-Papakura Auckland Councillor Daniel Newman says close to 500 people were vaccinated using the Shot Cuzz bus at James Cook.
"More and more people are seeing COVID-19 for what it is, a global pandemic that seeks out unvaccinated people to seed itself and damage the host.
"We are in a race and the virus is ahead. But it doesn't have to be that way because an effective vaccine is available, and we are bringing it to every nook and cranny of our community.
"The best vaccine option is the next one available. People shouldn't wait, but go and get vaccinated immediately. If they can't, Shot Cuzz will be at Randwick Park School and we need them to come and vaccinate, and receive kai too."
Randwick Park School principal Karen McMurray has laid down a challenge for a school community she says is a close are caring one.
"We want to have administered 500 vaccinations by the time 4pm rolls around on Wednesday, and I'm confident we can achieve that."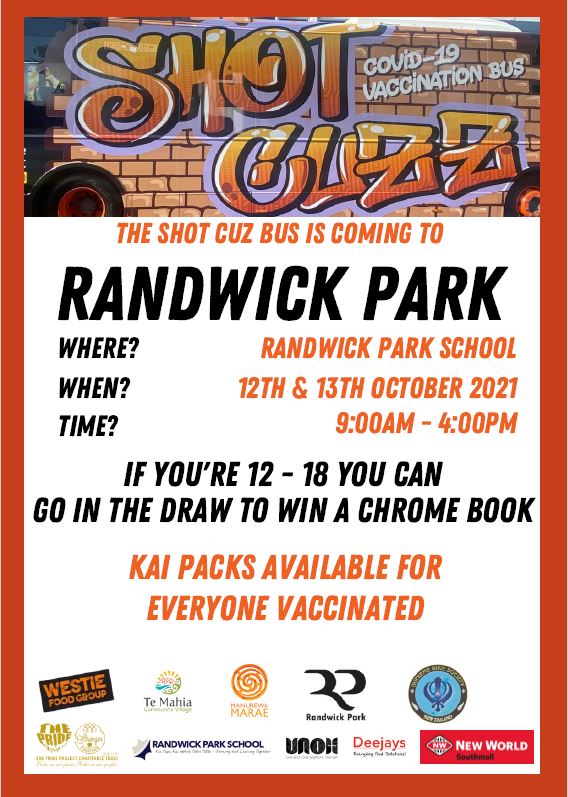 Manurewa Marae's Tarsh Kemp says her team is only interested in creating opportunities for whanau to be vaccinated.
"Access is our focus. We're working with our community and plan to head into workplaces too. If we want to reach our whanau we have to take vaccinations to the people. We just want to get out of this."
The Supreme Sikh Society, hugely active in food and welfare support through the Takanini Gurdwara, will support the event with food packages, alongside other businesses such as New World Southmall, Deejays and Westies Food Group. Both the Pride Project and Te Mahia Community Village are also assisting.
"I want to thank all our sponsors because what they are doing helps lift vaccination rates when every person who goes through provides our community with a little more security," Newman says.
"People like the clinicians, kaumatua and rangatahi from the Manurewa Marae are community heroes. We've deliberately promoted kai for a jab because we know some of our people are doing this hard."
Vaccinations are available to everyone aged 12 and over – are free, safe, and accessible.
People will be on-site to talk through any concerns people have about the vaccine.