Improved cycle paths, free riding lessons and bike repair stations are helping Aucklanders choose a more sustainable transport option.
Zane Bray estimates he and the Auckland Transport (AT) Sustainable Mobility team have, during the years, taught thousands of people – from preschoolers to pensioners – to ride a bike.
Team leader Zane warmly remembers a handful of participants who came to a learn-to-ride course and despite believing they probably couldn't learn to ride, left rollin' along.
One was a 74-year-old who, as a child, had been told by her mother that she probably didn't have the ability to ride a bike. "She decided that she was at an age where she had nothing to lose and because it was something she had always wanted to do, she gave it a go," recalls Zane.
"She was able to ride a bike after two two-hour sessions, and for years afterwards I would see her cycling around."
AT's free bike skills training courses, held across Auckland for beginners, advanced and eBike riders, are part of an ever-growing cycling infrastructure which goes beyond the cycle paths, tracks and shared pathways spreading around Tāmaki Makaurau. Signage, maps and the AT Mobile App are making it easier to find your way around, and there are also services to ensure that once you're cycling, the wheels can keep turning.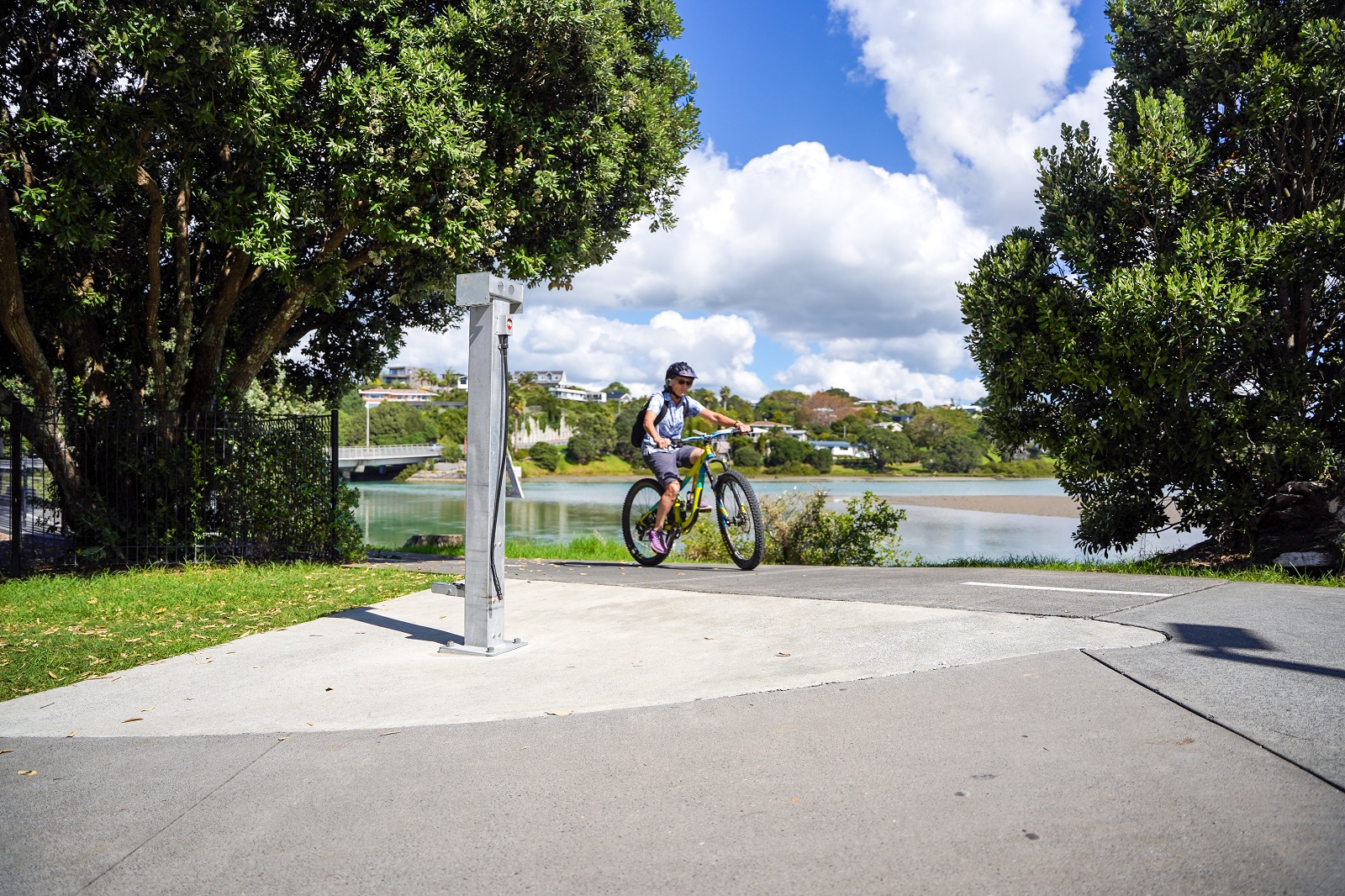 These include permanent maintenance stations where you can, for no charge, hang your bike and change a tyre, repair a bike chain or use a pump to inflate a flat tyre. The tools are cabled in to reduce the risk of theft and ensure they're on hand when you need them. AT also offers bike maintenance courses so you'll feel more confident if you have to make repairs on the go.
Bike parking is also improving at public transport hubs and in town centres. Those cycling to Papatoetoe or Papakura railway stations can use sheltered bike parks, fitted with CCTV cameras, which hold up to 20 bikes in standing racks (known as Sheffield racks) or on hanging parks. There are also double-decker parking units close to Queen Street's Aotea Square, while the red car-shaped bike rack on Leonard Isitt Drive, near Auckland Airport in Māngere, is equipped with a bicycle pump and certainly stands out.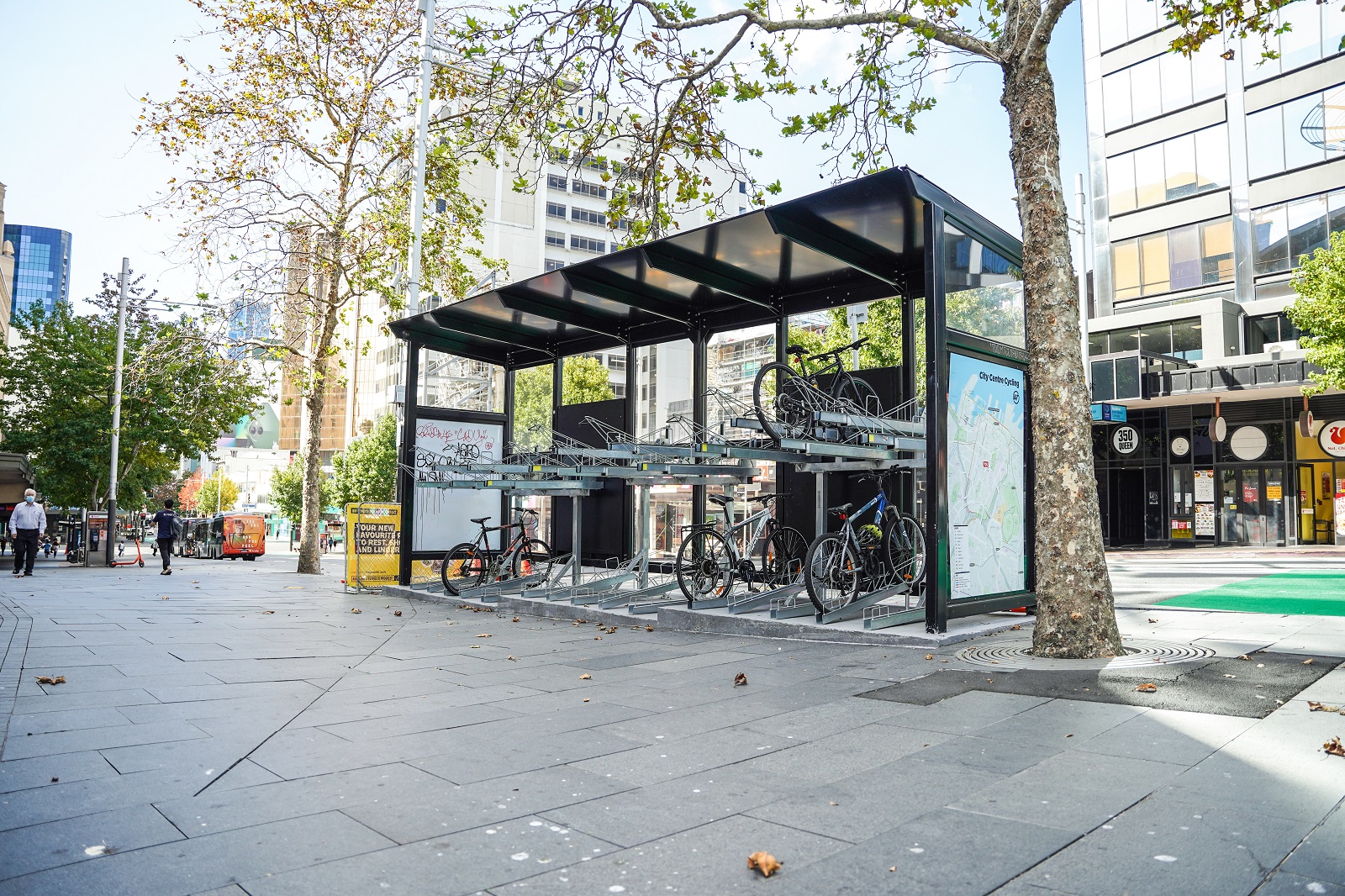 Zane says it's not only about making things more convenient for cyclists, it's about creating an environment where cycling is normalised and welcomed, and that this is signalled to the wider population. After all, bike riding produces zero pollution and aids in reducing traffic congestion, it's economical, great for health and wellbeing, and helps to create communities.
To that end, AT organises or supports a number of initiatives like pop-up bike fix-it clinics and events which help cyclists meet up and get to know each other. There are also courses especially for newly resettled former refugees run in partnership with the Māngere Refugee Resettlement Centre, and the Roskill Bike Kitchen, which arose out of a need for better transport in the Puketāpapa area (Three Kings, Mt. Roskill, Hillsborough, Waikowhai, Lynfield and Wesley) and provides bikes to those who need them.
"It's about making connections and creating community through people supporting people to ride," says Zane.
Find out more about Adult Bike Skills classes on the Auckland Transport website.