Words like iconic, breathtaking and spectacular can be overused, but when it comes to Ōmanawanui Track in West Auckland they are by far the best way to describe one of the most impressive walks in Tāmaki Makaurau.
With Mataraki about to begin, a visit to Ōmanawanui Track is a fitting winter adventure to herald the start of this distinctly Aotearoa season of celebration. Part of the Te Ara Tūhura / Hillary Trail, the track caters for everyone, from families looking for a daytrip to serious trampers on multi-day hikes connecting with other parts of the Hillary Trail.
Closed in 2018 as part of the kauri dieback rāhui in the Waitākere Ranges Regional Park, Ōmanawanui Track reopened in 2021 after a major upgrade which has made it more accessible. Work included installing 2.5km of box steps – approximately 2420 individual steps on Ōmanawanui Track – as well as boardwalks at the trig station and a unique floating one around a historic pā site. It means narrow ridges and steep terrain which characterised the track are now easier to negotiate.
Starting at Whatipū Beach at the mouth of the Manukau Harbour, Ōmanawanui Track is nearly 3km long and climbs approximately 373m, running ribbon-like between the harbour and the native forest-clad Waitākere Ranges. The track itself winds through regenerating native bush, low scrubland and past exposed rock faces to a ridge offering stunning views of the harbour and surrounding area. 
From here, hikers head down the ridgeline, past a former pā site, before once again climbing to the recently upgraded trig station lookout – the highest point – giving 360-degree views of the wind-swept West Coast and the best view of the Manukau bar, which was the site of Aotearoa New Zealand's worst maritime disaster.
Hike Ōmanawanui Track on a clear day and you may even be rewarded with vistas all the way down the coastline to Mt Taranaki. 
For more on the history of the area, including the maritime disaster of the HMS Orpheus, contact Whatipu Lodge before heading out to enquire about looking at their photos. Located next to the carpark, it is a great place to visit or stay the night after walking Ōmanawanui.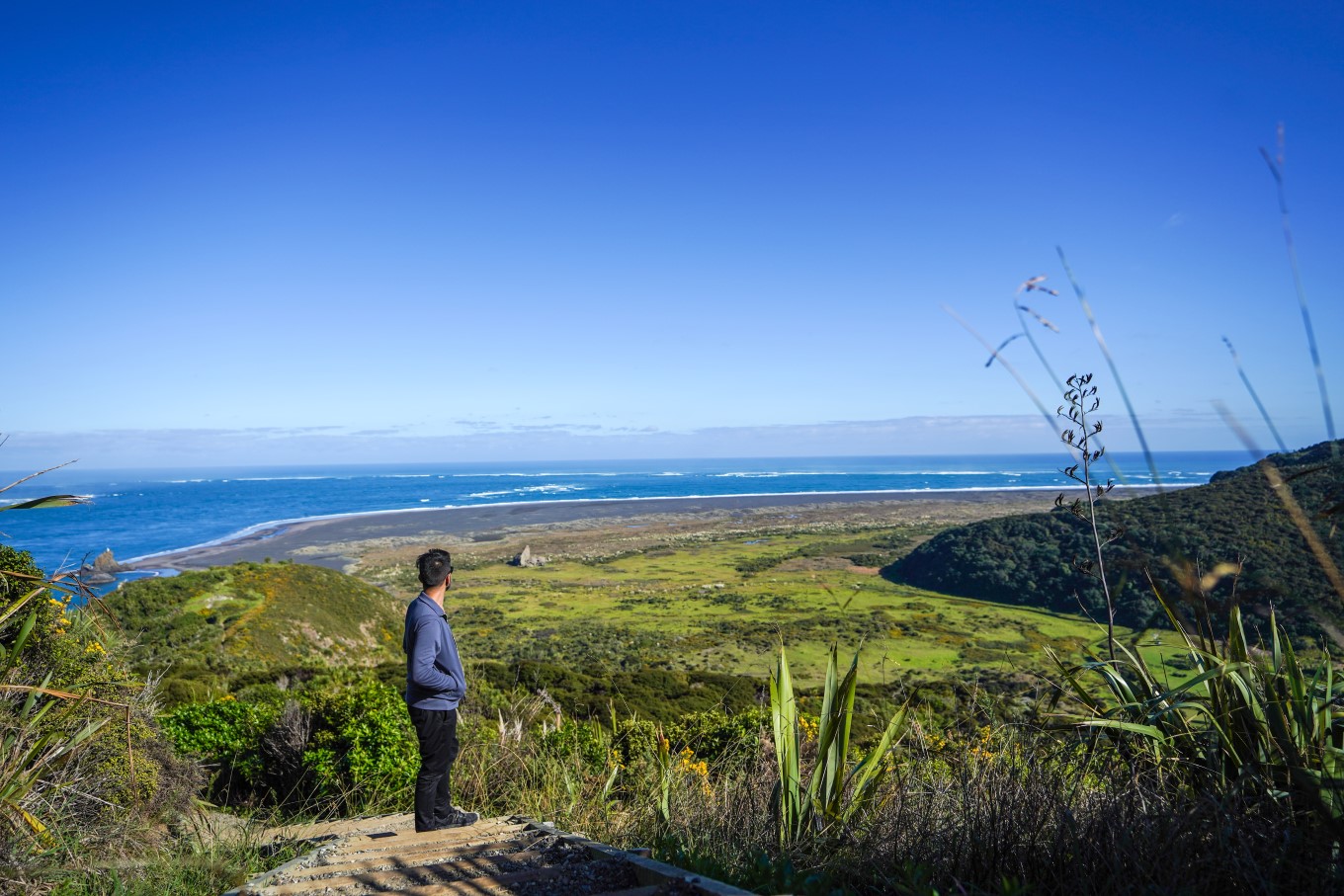 Walking the Ōmanawanui Track can take up to three hours depending on your fitness level and how long you linger over those views. Your attention may also be captured by the many seabirds who make their home in the area, regarded as being a remote wilderness area of high biodiversity value.
These seabirds such as mātātā (fernbird), taranui (Caspian tern), tara (white-fronted tern), tūturiwhatu (New Zealand dotterel), pohowera (banded dotterel), tōrea pango (variable oystercatcher) and poaka (pied stilt).
What to know before you go
Always check the weather before you go. Search specifically for the area you're going to – forecasts can vary from coast to coast and the city forecast isn't always accurate for regional areas.
Before you head off, tell someone your plans. Mobile phone coverage isn't always available on Auckland's trails, so it's important someone knows where you are.
There are 28 regional parks in Auckland, and many more city parks and reserves, all of which offer great hiking. Get active and discover Auckland's hidden gems on your next hiking trip.
For more information on how to stay safe while out and about across the region, read this article on safety in Auckland's regional parks.