Loop by painstaking loop, Lissy and Rudi Robinson-Cole are crocheting a house.
From a studio at Pukepuke / Nathan Homestead in Manurewa a full-size Wharenui Harikoa - House of Joy - is taking shape, all worked in vivid neon colours.
Auckland-born Lissy, Ngāti Hineamaru / Ngāti Kahu, grew up surrounded by a whānau of performers and weavers, and hanging out in her clothes designer father Colin Cole's salon, her passion for art grew.
But the death of her sister pushed her into a career in social services after she graduated in communications from MIT in 2010. Even so, her first fashion show, the 'I Love Lissy Collection' celebrating plus-sized women, showed at the 2012 South Auckland Pacific Arts Summit.
Two years later she met Rudi Robinson, Waikato / Ngāti Pāoa and Ngāruahine. As they prepared to marry in 2017, they dedicated their artistic partnership to their ancestors and the universe, and inspired by 'yarn-bombers', created a giant Anzac poppy in 2018 on the Princes Street motorway overbridge, before crocheting their car in 'The Joyride' a year later.
Crochet, You Stay in 2019 saw Lissy collaborating with Pasifika women as part of the 125th celebrations of Women's Suffrage, and 2020 marked the couple's first joint show, featuring carved forms and Māori crochet - Ka Puawaitia: Coming to Fruition.Since then, they have exhibited widely, holding community crochet workshops as part of every exhibition, until becoming artists in residence at Nathan Homestead last year.
"Our kaupapa (mission/purpose) is to ignite joy globally," Lissy says. "Crochet is all about joining loops, interconnecting things."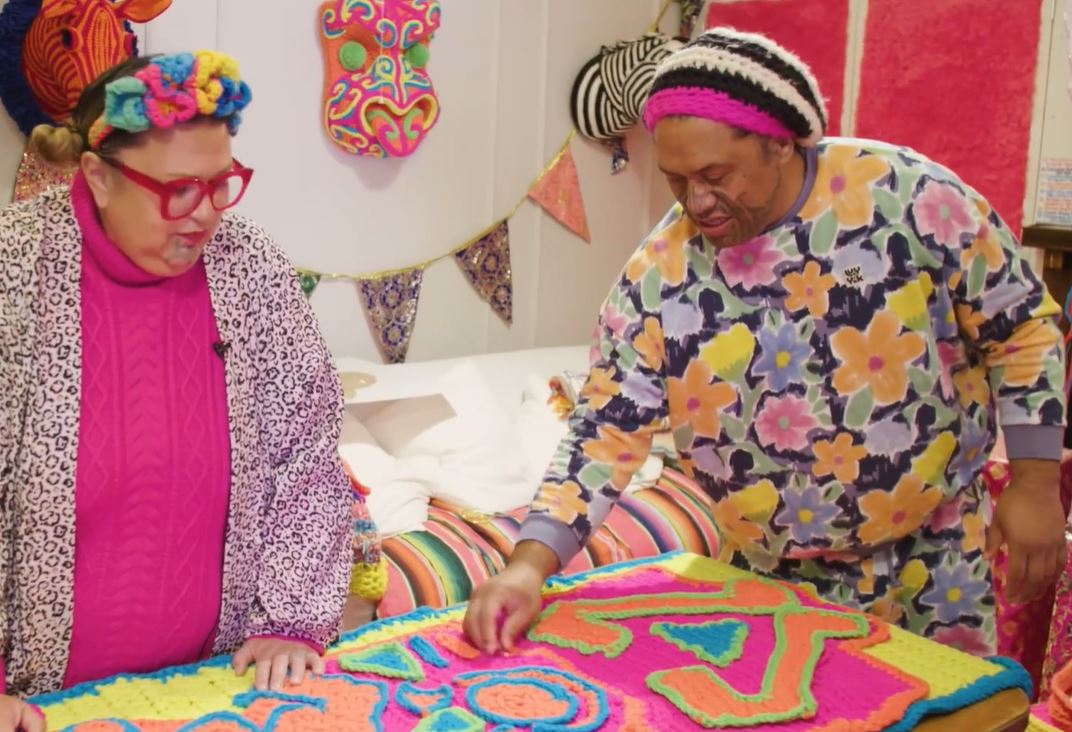 They plan to do that by touring the wharenui throughout Aotearoa and the world.
"We are the dreamers, makers and weavers of our stories, experiences, and consciousness," Lissy says.
"Through the magic of the crochet hook, we've infused and connected our whakapapa (geneaology), wairua (spirit) and experiences into our mahi toi (art works)."
Rudi says the chainsaw he grew up with born in the logging town of Kaingaroa has long given way to the crochet hook.
"Our art is about navigating through today's realities and striving to be authentic." ​
An adult education graduate, he taught welding, and in 2014 helped established the first Māori foundry at Rotorua's Te Puia Māori Arts and Crafts Institute.
Combining contemporary techniques with customary Māori carving was borne out of their unique backgrounds and histories.
You can see a Seven Sharp video with Lissy and Rudi here, and their work is on show now at the Franklin Arts Centre in Pukekohe.
Stay connected
Want to stay up to date with all the latest from your area? Sign up for the Franklin Local Board or the Papakura Local Board E-news and get the news delivered to your inbox each month.