Students from Te Kura o Puhinui / Warkworth School helped design a new playground at Shoesmith Reserve that opened in August.

Concerned about the state of the old playground next to the school, students carried out a school-wide survey about the types of play everyone wanted.

This feedback along with that of Ngati Manuhiri was captured in the design brief for the new playground being developed by Rodney Local Board.

The collaborative project involved 96 students, Ngati Manuhiri representatives and council staff who all contributed to the final design approved by the local board.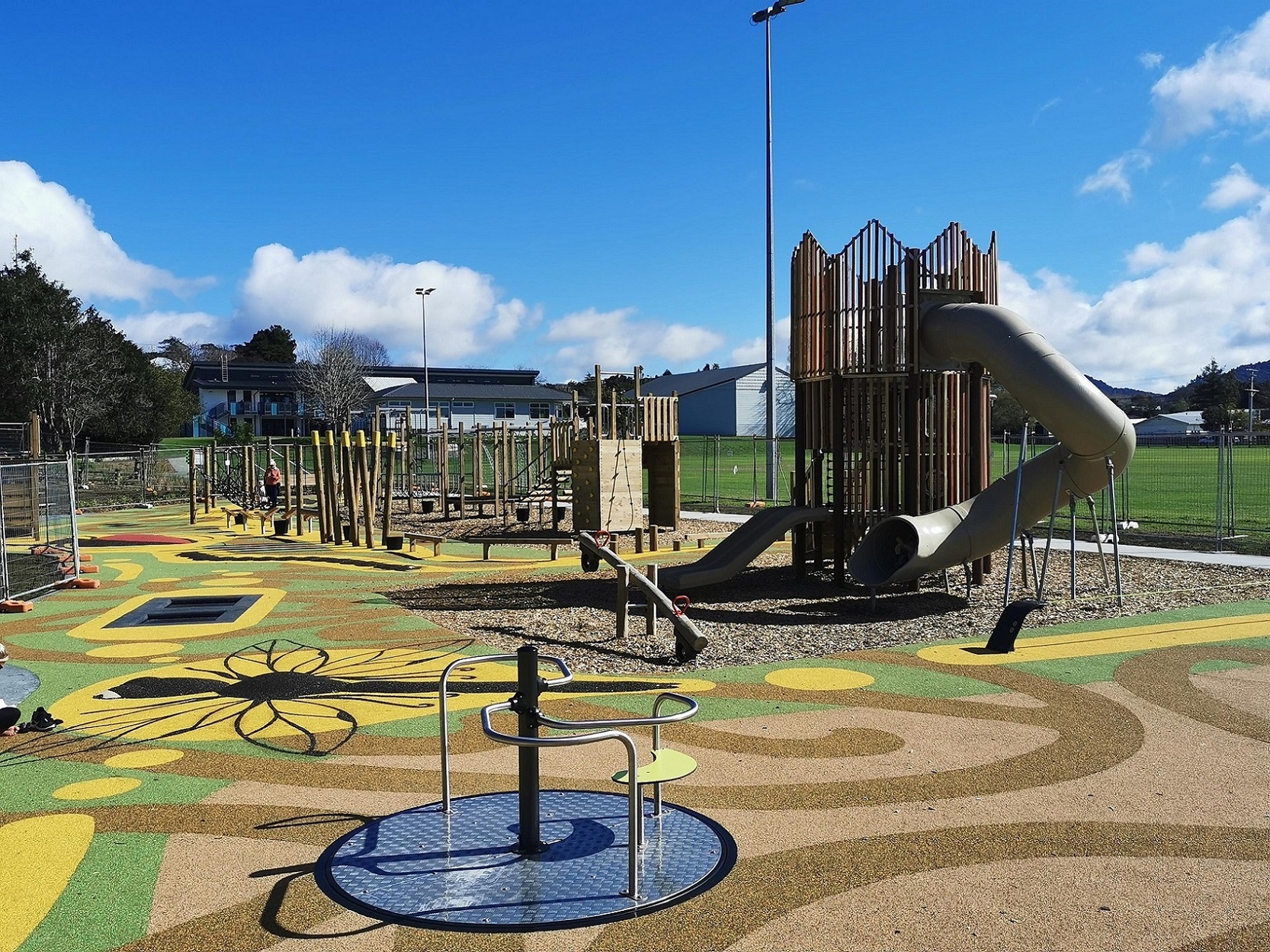 A nature theme carries through the playground with artwork illustrating a story of significance provided by Ngati Manuhiri.

Tāne battles te aitanga pepeke / the insect world to retrieve three baskets of whatukura/ sacred knowledge from the heavens. The insects were sent by his brother Whiro, who wanted the baskets for himself. Tāne repelled their attacks by calling on the wind to blow them away. The winds blew the insects back down to earth where they remain today.
Artwork elements feature Tāne on the climbing tower and bugs such as the wetakatipo / spider, te hara / centipede and the kapowai /dragon fly built into the playground's surface.

Students wanted to challenge their strength and skills with demanding physical equipment, and a training circuit is part of the playground.

The playground's large footprint accommodates several play areas for different ages.

Features include:
a wide concrete path for pedestrians, bikes and scooters
a play tower with slides and a see-saw
swings, a spinner and rocker
a picnic area with tables
a training circuit with trampolines, a tightrope, a rotating beam, ninja wall and posts, and climbing nets.
Stay up to date
Want to stay up to date with all the latest news from your area? Sign up for your Rodney Local Board E-news and get the latest direct to your inbox each month.