We've picked ten leafy spaces for you to settle in for a lunchtime snack in the open air, breathe in some well-deserved chill-time and take a moment to smell the roses, all within a kilometre of the Auckland Town Hall.
Some are small but perfectly formed pocket parks and others are vast swathes of rolling green space. Some have been enjoyed by Aucklanders and visitors for more than a century and others are brand new.
Myers Park
Nestled between Karangahape Road and Mayoral Drive a great little oasis awaits. Take a stroll through the park and absorb the beauty of diverse trees including Puriri, a Moreton Bay Fig and an avenue of palms. With a super-fun playground, Myers Park is a great place for the kids to run around.
Diary Saturday 4 March for a family day out. Ditch your shoes and settle in under a tree with a picnic for the family at our Myers Park Nature Play on 4 March, 2 April and 16 April.
Albert Park
Just behind Toi O Tāmaki (Auckland Art Gallery), Albert Park proudly watches over the city centre. It is one of the largest expanses of green space close to the heart of Auckland and is a great place to sit under an old majestic tree or on the steps of the beautiful Victorian band rotunda and relax.
Pukekawa / Auckland Domain
A well-known and much-loved Auckland park, this is also the oldest. Developed around the Pukekawa volcanic cone, the Domain has sports fields, nature walks, sculptured gardens, band rotunda, a duck pond and the Wintergardens to capture your imagination and enjoy.
Amey Daldy Park
Amey Daldy Park was opened little more than a year ago and it carries the name of one of New Zealand's most celebrated suffragists. It's a little green oasis in the city, where parents can kick back on the grass while children run, chase and explore the rolling landscape. It's the perfect spot to pull up with a coffee or an ice cream on a sunny day and plan many more fun things for the kids to enjoy at Wynyard Quarter.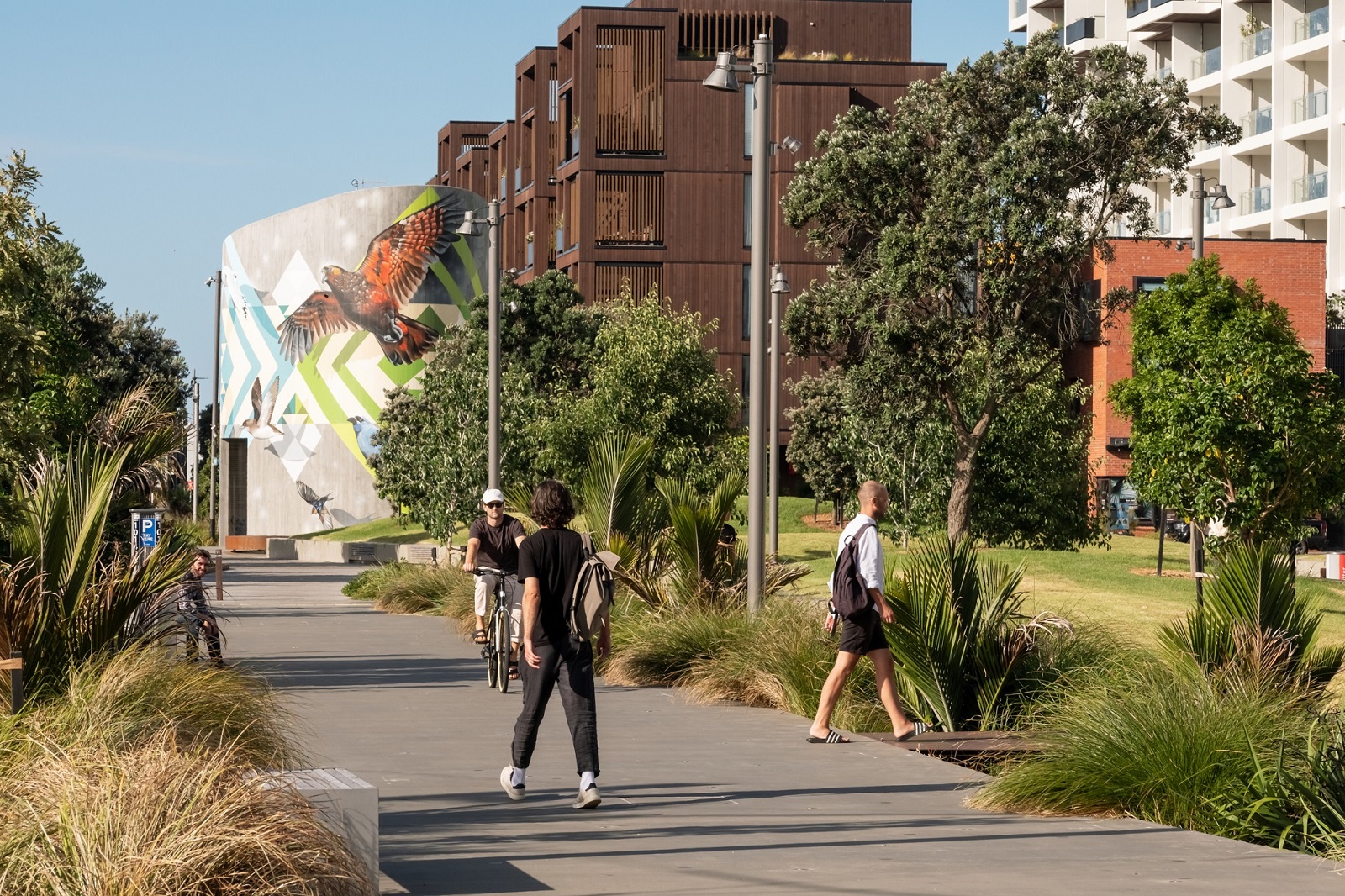 Fort Street pocket park
Native planting is seeing new growth, timber seating is being well used and the bike racks are so new they're still shiny. This is Auckland's newest city centre pocket park, situated where Fort Street meets Queen Street. Instead of the traffic hotspot it once was, it's now a picturesque place for city workers and visitors to take some time for a lunchtime sandwich with the feel of grass under their feet.
Victoria Park
Situated at the western edge of the city centre this iconic park is perfect for anyone working in Wynyard Quarter to get out of the office and reconnect with nature. The path skirting the edges of the park is great for a run or walk.
Western Park
Nestled between the western edges of the city centre and Ponsonby, this park is well known for the distinctive sculptural artworks in the upper part beside Ponsonby Road. This is also one of Auckland's oldest parks and is a short walk from the western part of Karangahape Road or upper Nelson and Hobson Streets. The large part field in the middle of the park is a great place to get active with some friends. 
Constitution Hill / Alten Reserve
Across the road from the Auckland High Court, Constitution Hill drops down to the eastern end of Beach Road. With some well-established trees and a few park benches this is a great place for reconnecting with nature.
Parliament Reserve
Tucked behind the Auckland High Court this reserve is the site of New Zealand's first parliament building. Pōhutukawa trees mark what used to be the entrance to the old building and provide lovely shade on hot days. There are plaques and a board with history to learn something, or simply use one of the park benches for reflection.
Emily Place Reserve
Located at the end of Princes Street, this little reserve sits above what used to be Britomart Point and is where the original St Paul's Anglican Church stood. The mature pōhutukawa trees provide a nice backdrop for sitting, meditating or simply taking notice of your surroundings.
To find a park near you visit the park finder page on the Auckland Council website.