Māngere Centre Park playground is shiny and new again, and ready to provide a ton of fun.
A ceremony to bless the newly spruced-up playground was officiated over by Māngere-Ōtahuhu Local Board Chair Tauanu'u Nick Bakulich and Reverend Maua Sola from PIC Mangere recently.
"We've looked forward to seeing this project finished and are thankful it's been delivered at this time," Chair Bakulich says.
"It would not have happened without our contractors and council staff bringing it to life. Every cent has been worth it."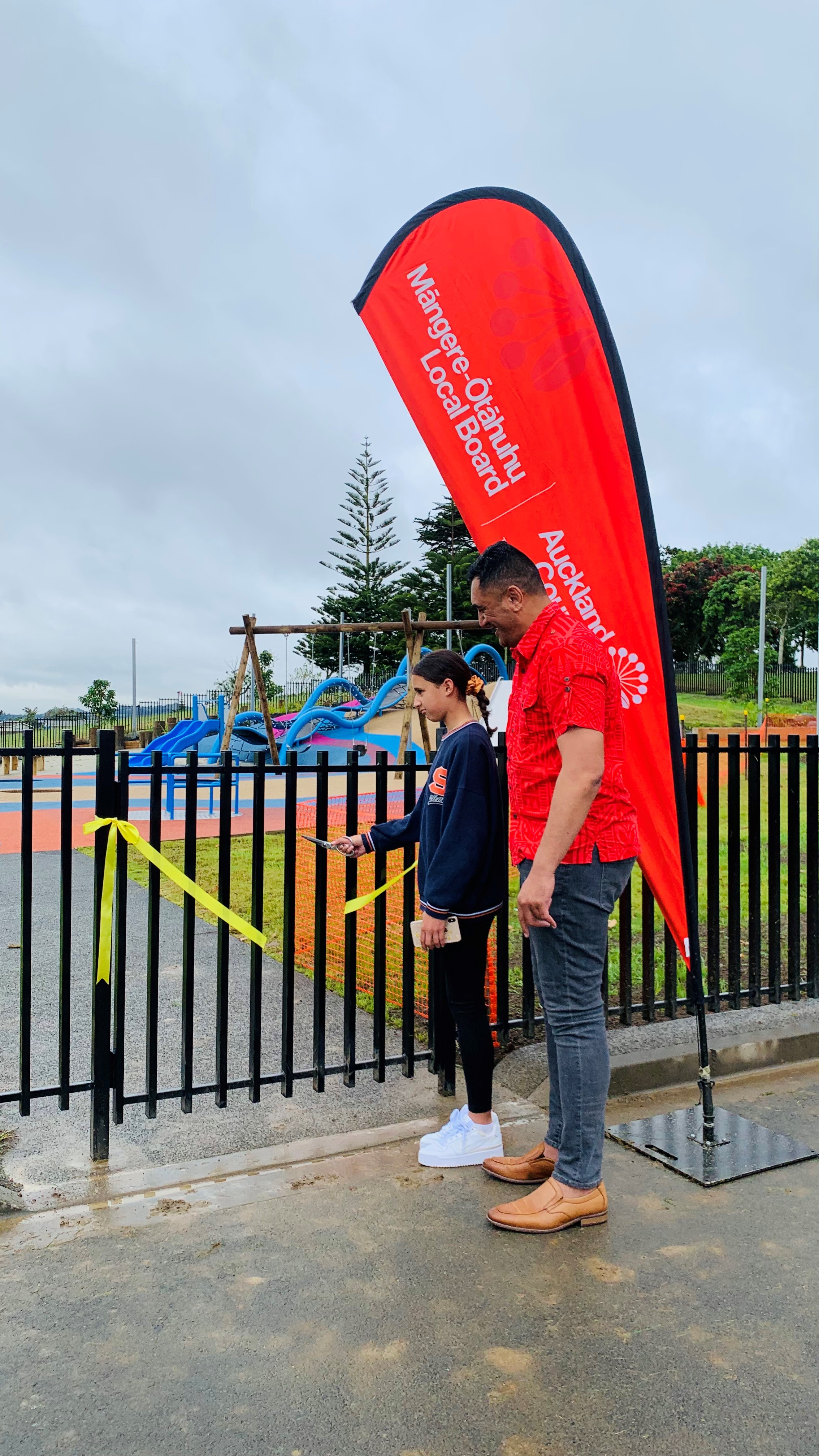 Manager Area Operations – Parks and Community Facilities, Bill Teaukura acknowledged the board's role in both funding and support to enable the playground to be renewed.
"I'd like to thank mana whenua Te Ākita Waiohua, local community, schools and local sports clubs for their involvement," says Teaukura. He also acknowledged the project team and contractors City Care and Park Central for the success of this project.
Now the ribbon's been cut, it's playtime. The all-abilities play space caters for a large age range, from preschool through to 12-year-olds.
It comes with a wheelchair-accessible carousel and a range of play elements. A waterfall-like climbing structure bursts over a slope, and vivid sky blue and bubble-gum pink surfaces host swings and slides.
Inspired by Uenuku, god of rainbows, the playground's colourful design was executed with valuable input and context from local iwi Te Ākitai Waiohua.
Centre Park's play space was designed and constructed with unprecedented features. The use of its wet-pour rubber surfacing with a gradual gradient of colours and its key structure built into a slope are the first of its kind in New Zealand.
Cool fact, the rubber surfacing is made of recycled sneakers.
The renewal project took six months of construction, despite delays, the effects of the pandemic and unfavourable weather conditions. The last piece of the playground is a shade sail, which is on its way.
Stay up to date
Want to stay up to date with all the latest news from your area? Sign up for your Māngere-Ōtāhuhu Local Board E-news and get the latest direct to your inbox each month.