Auckland stretches across a geographically diverse area uniquely positioned between two harbours, meaning our coastal areas are peppered with beautiful beaches. Here are five stunning shorelines that are sure to keep you cool, whether you're swimming in the sea or kicking back in the shade. 
Explore rock pools at Anchor Bay, Tāwharanui Regional Park
Anchor Bay is a crisp white arc of sand studded with rock formations, creating sparkling pools where sea creatures lurk. The pristine water here also makes for excellent snorkelling. From the bay, you can explore Tāwaharanui's various trails and spot native birds like kākā, pāteke and even takahē.
To make the most of your visit, stay at the Tāwharanui campground. If you venture out on the park's walking trails in the evening, you might even spot a kiwi!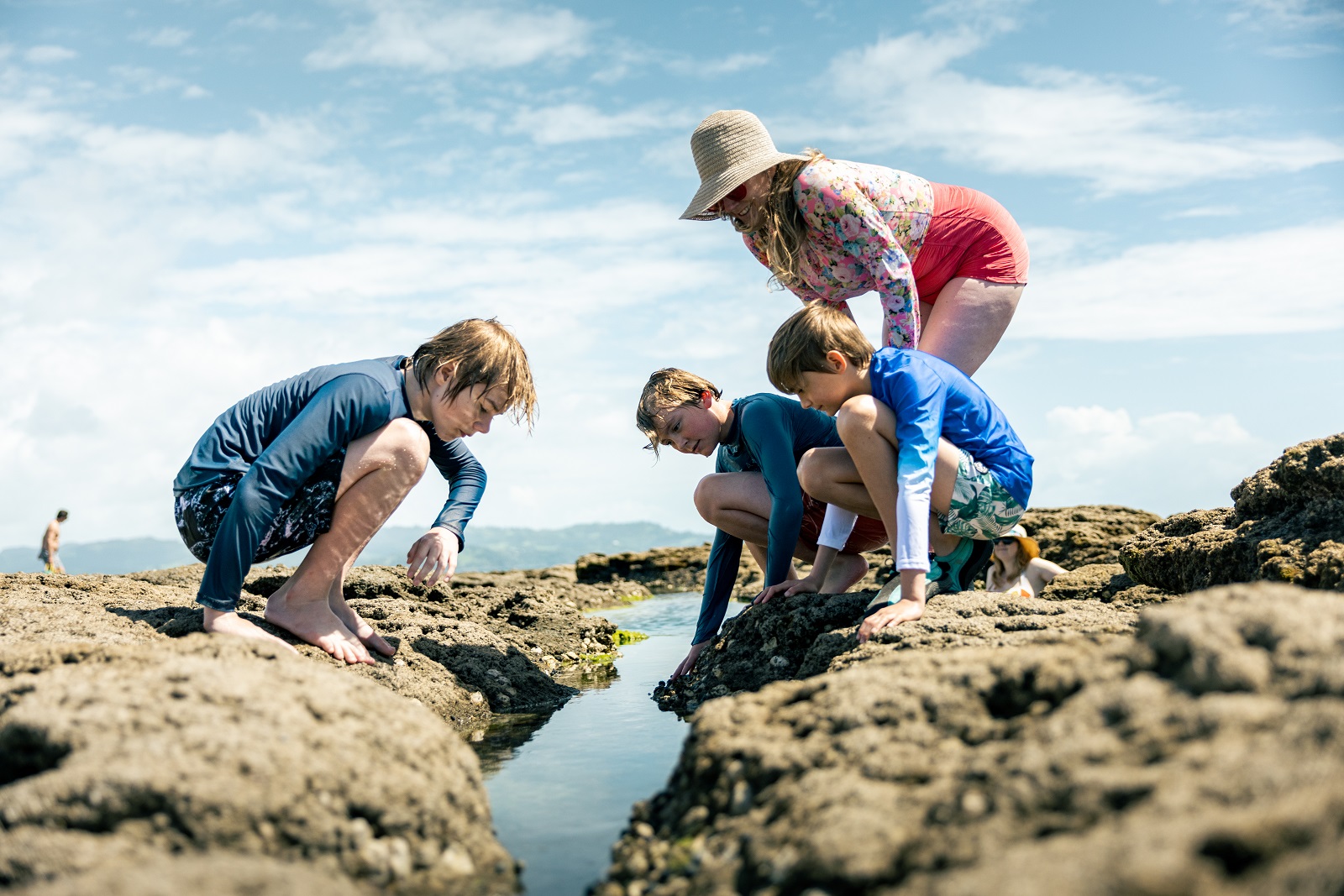 Enjoy a beach getaway in Ōrewa
Long and lively Ōrewa Beach is a top choice for families. There's plenty of space to set up chilly bins, towels and beach umbrellas, and the gentle waves are great for boogie boarding. You can also enjoy views as you amble along the Te Ara Tahuna / Ōrewa Estuary Path.
Starting at the southern end of the beach, the 7.6km trail can be walked or cycled by all ages – and it also loops past the skate park, which can be a fun stop for kids. Ōrewa Holiday Park, located mere steps from the sand, offers camping and cabin accommodation for an extended trip.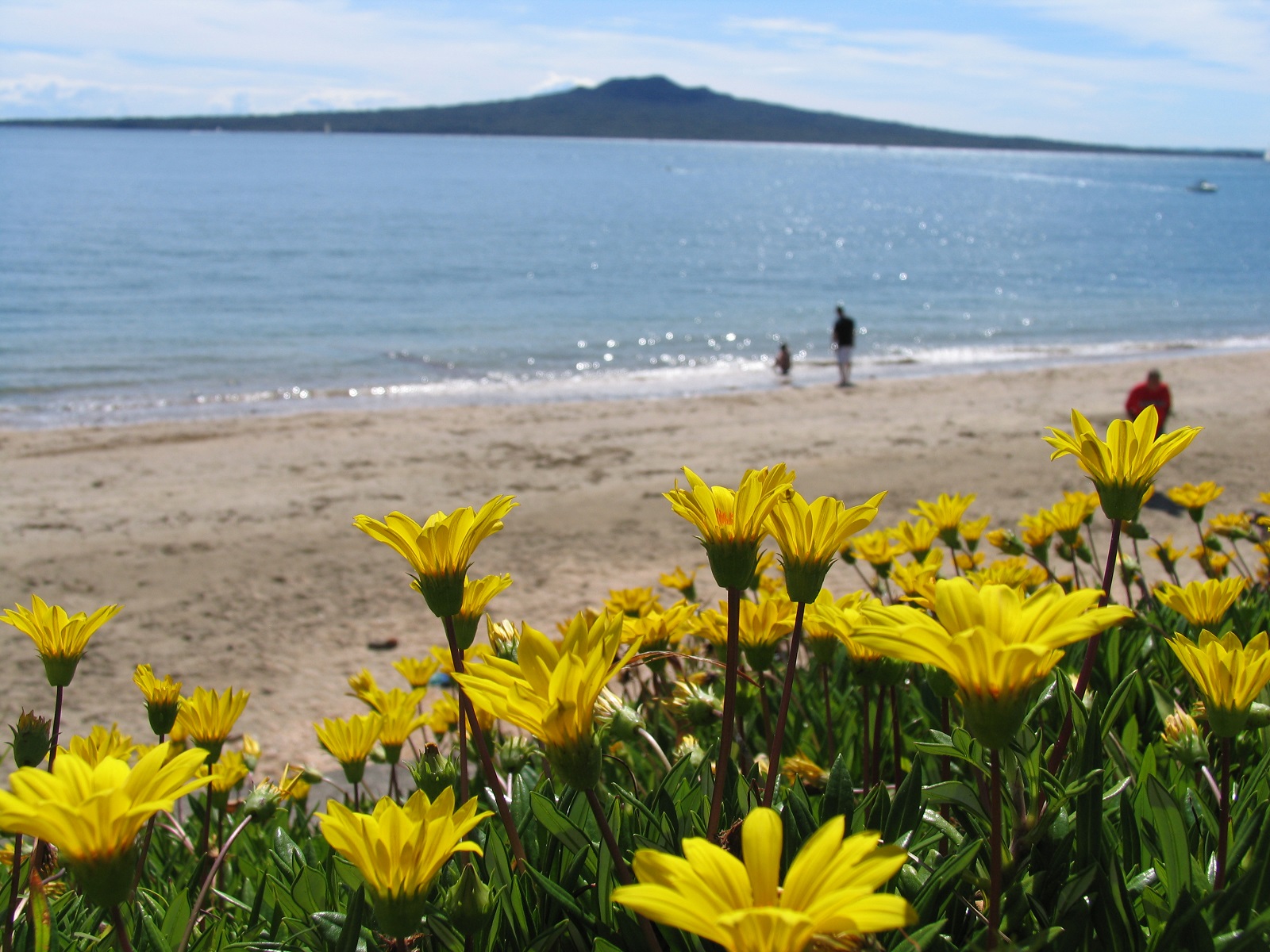 Relax in style at Cheltenham Beach, Devonport 
Cheltenham Beach is as charming as it sounds. With a little row of colourful houses at one end and Maungauika / North Head at the other, this is one of the best city beaches in Auckland. Sandy and sheltered, it offers safe swimming and clear views of Rangitoto.
Shady pōhutukawa trees line the shore, making Cheltenham Beach an ideal spot to soak up the sunshine.
Picnic and swim at Coyle Park, Point Chevalier 
Coyle Park features spacious grassy areas, gnarled trees gripping impressive cliff faces, and expansive harbour views. This family-friendly park also has a playground with a flying fox and Spacenet.
Short paths from Coyle Park lead down to Point Chevalier Beach, where calm, shallow waters lap the golden sand. Dramatic tides here mean the beach is best for swimming at mid to high tide.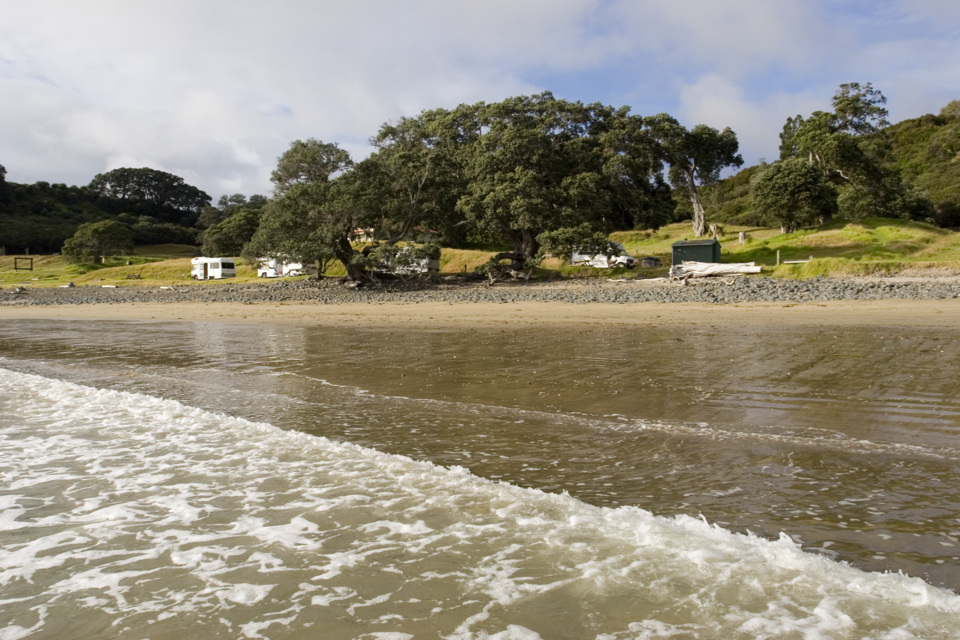 Beach and lagoon hop at Tāpapakanga Regional Park
This historic coastal farm park overlooks the Firth of Thames and is about an hour's drive from central Auckland. Swimmers here are treated to not one but two divine options for dips. Make a splash in the gentle surf at the pōhutukawa-edged beach, then wash the salt water off in the refreshing lagoon that runs into the sea.
Go for a day trip or book a tent site in the Beachfront Campground. Another option is to head up the hill to pitch your tent or park your campervan at the Seaview Campground – the views from the nearby lookout are spectacular.
Visit aucklandcouncil.govt.nz/holidayplaces for accommodation options across the region.
Check before you swim
Before you take the plunge this summer, check out the Safeswim website for up-to-date information on water quality, wind, waves and tides as well as jellyfish swarms and other hazards. Safeswim is a fantastic tool to help keep you and your whānau safe.
With long summer days finally here and your favourite swimming spot calling, now is a great time to think about how to stay safe around the water.
Stay safe and have fun in the water this summer by following these tips.