Climate action will be top of the agenda when the Albert-Eden & Puketāpapa Eco Festival returns this March. With an impressive programme of events, the aim of the festival is to build awareness and create localised solutions for climate action.
The festival runs from 18 March to 16 April 2023 and is funded by the Albert-Eden and Puketāpapa Local boards.
Both boards are keen to see climate action initiatives that build community resilience and ways to reduce emissions, which is especially important given the recent adverse weather events in Auckland.
Albert-Eden Local Board Chair, Margi Watson, says the board is committed to preparing their community to be more resilient and to be able to improve the way we live to adapt to environmental impacts.
"The Eco Festival is a fantastic programme that provides the community with food for thought on how to do things differently for everyone's benefit.
"By making positive changes, we'll improve our community health and wellbeing and be closer to meeting our goal of halving carbon emissions by 2030 and be carbon zero by 2050."
Puketāpapa Local Board Chair, Ella Kumar recognises the importance of taking local action.
"Climate change affects the whole ecosystem and to respond effectively, it will need the participation and support of all our communities. That's why we're really excited for our local Eco Festival and we encourage community groups and residents to get along and be part of the action."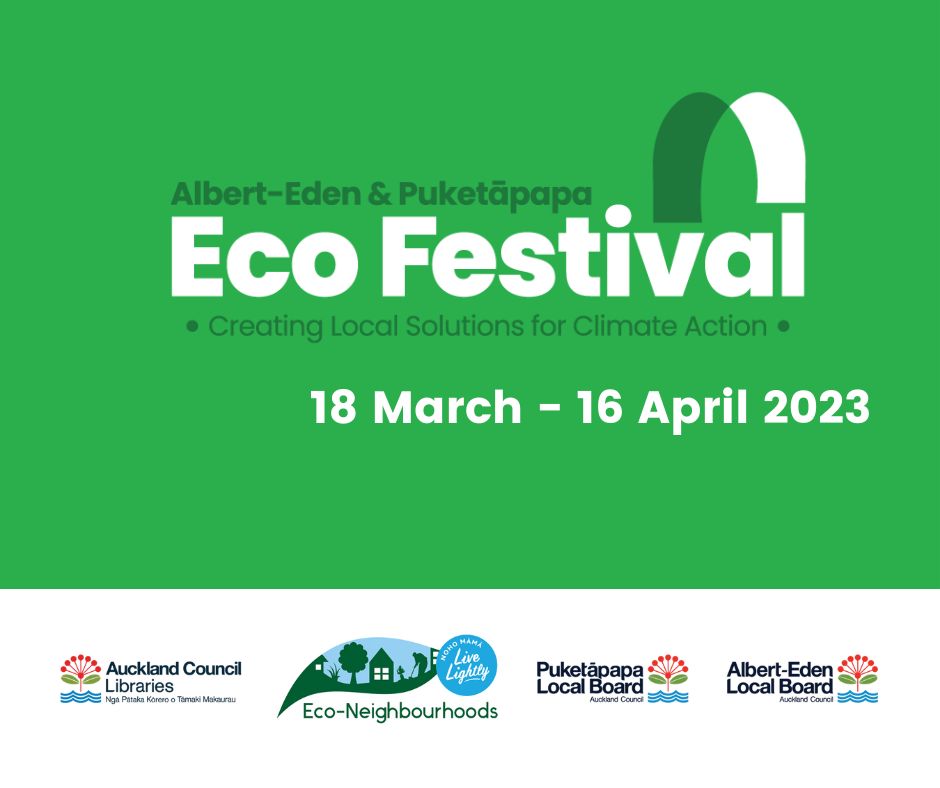 What to expect from the festival
With over 100 events to get to, there are ample opportunities to learn and try new and fun projects and hobbies, meet heaps of clever people and build your networks - all for the benefit of your neighbourhood and environment.
From garden parties, learning to make sauerkraut, building worm farms, sewing repair cafes and solar 101 home set-ups to bike repair kitchens and so much more - the programme is jam-packed with things to do and see. You'll find the full programme here [PDF].
Stay in touch
Look out for updates on the Albert-Eden or Puketāpapa Local Board Facebook pages. You can also receive our monthly e-newsletter updates in your inbox – for Albert-Eden local news sign up here or register for Puketāpapa local news here.