Auckland Council and the Auckland RSA (Returned Services Association) have come together to provide opportunities for all Aucklanders to honour military veterans this Anzac Day.
Anzac Day pays tribute to those who served and gave their lives in the Great War.  In the years since World War I, New Zealand troops have answered the call to serve in conflicts around the world.
As a result, Anzac Day has evolved into a day of remembrance for all who have served and sacrificed their lives in conflicts New Zealand has participated in.
Mururoa 50 years on
2023 marks a significant anniversary for Mururoa veterans. It is 50 years since the New Zealand government under Prime Minister Norman Kirk sent two Royal New Zealand Navy frigates into the testing zone of Mururoa to be the country's official protest vessels and to draw the world's attention to French nuclear testing.
The HMNZS Otago arrived in June 1973 followed two weeks later by HMNZS Canterbury. While a peaceful mission, sailors on board were witnesses to two atmospheric nuclear tests.
Local parades and civic services
This year sees the return of a full suite of services after several COVID-disrupted years with more than 80 parades and services scheduled to take place in communities across the region.
To find a service in your neighborhood visit ourauckland.nz/anzacday
Please remember to check the website regularly for any changes to events.
The public is invited to attend the Anzac Day Dawn Service at Tāmaki Paenga Hira Auckland War Memorial Museum in the Auckland Domain. The service begins at 6am Tuesday morning, 25 April.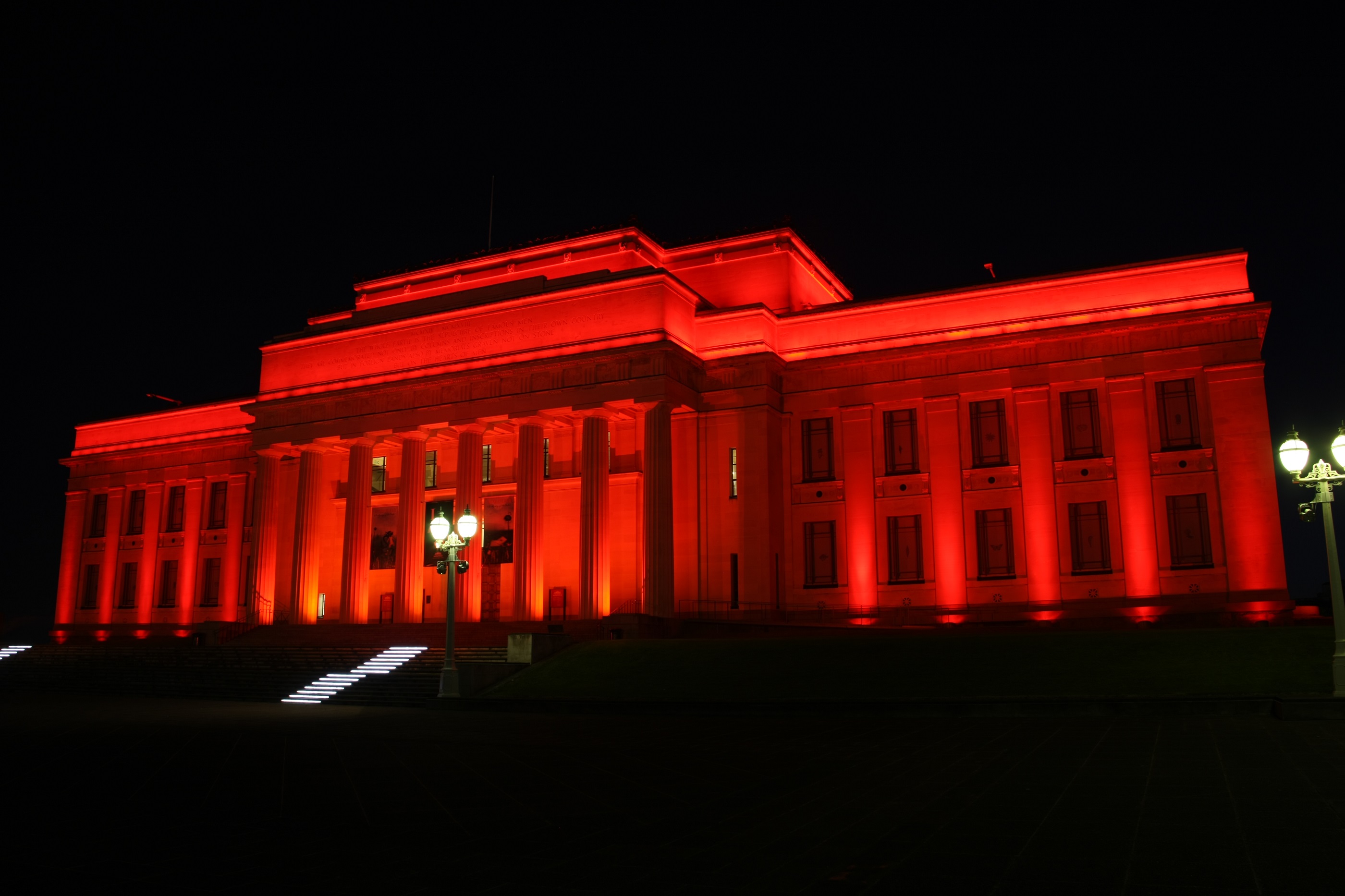 Lighting up in honour of Anzac Day
In the lead up to Anzac Day, key locations across the centre of Auckland will glow poppy-red in support of the RSA annual Poppy Day appeal on 21 April. Learn more at rsa.org.nz and wear your poppy with pride.
Vector Lights on the Auckland Harbour Bridge will light up 19-20 April 6pm to midnight for Poppy Day and 21-25 April 6pm to midnight in commemoration of Anzac Day. Click here to watch and listen to the show.  Vector Lights will be lit again from 5-7am to usher in Anzac Day morning.
Tāmaki Paenga Hira Auckland War Memorial Museum will be lit 19-25 April (including Anzac Day evening) from dusk until dawn.
Other key landmarks around the city centre that will be lighting up in support of Anzac Day include the Sky Tower, Te Ara I Whiti, The Lightpath, Queen Street Lights and Eden Park
Warbirds over Tāmaki
On both Poppy Day and Anzac Day, the New Zealand Warbirds Association will be doing a flyover across the Tāmaki Makaurau.
This will start with a pass over Tāmaki Paenga Hira Auckland War Memorial Museum before heading over the city centre. The flyover will then travel over suburbs across the region.