Nearly 200 North Shore seniors have been building their digital confidence with free, one-on-one technology support sessions offered through the Digital Seniors pilot programme. 
Devonport-Takapuna Local Bard has part-funded the pilot which offers regular weekly drop-in sessions for older people at hubs across the North Shore, where they can ask questions and receive practical support from trained volunteers in a safe, friendly environment on anything from internet banking, online safety, making video calls or setting up their phone. 
"Digital Seniors is an incredibly important programme," says Local Board Chair Toni van Tonder.
"Building confidence with technology can have far-reaching benefits for seniors and helps them to connect with others who are also feeling left behind by rapid technology changes. Our board considers this to be an essential programme to support in our area."  
Since the soft launch of the pilot in late 2022, over 174 people have received one-on-one support sessions averaging 45 minutes long across North Shore hubs in the Devonport Community House, and the Takapuna, Birkenhead, Glenfield and East Coast Bays libraries. 
The successful Digital Seniors Charity originated in the Wairarapa in 2018. The North Shore pilot is being implemented by Digital Seniors Community Manager Fiona Colbert in conjunction with Auckland Councils Connected Communities team who provided $60,000 with an additional $10,000 each coming from the Devonport-Takapuna and Upper Harbour local boards to establish the programme in libraries in North Auckland.  
"A huge thanks to Devonport-Takapuna Local Board for helping to support this pilot initiative in the North Shore. Digital Seniors not only build the confidence of our older people in the community with digital technology, but it also increases their social connection and health and wellbeing too," says Connected Communities Digital Literacy Specialist Jo Cocker.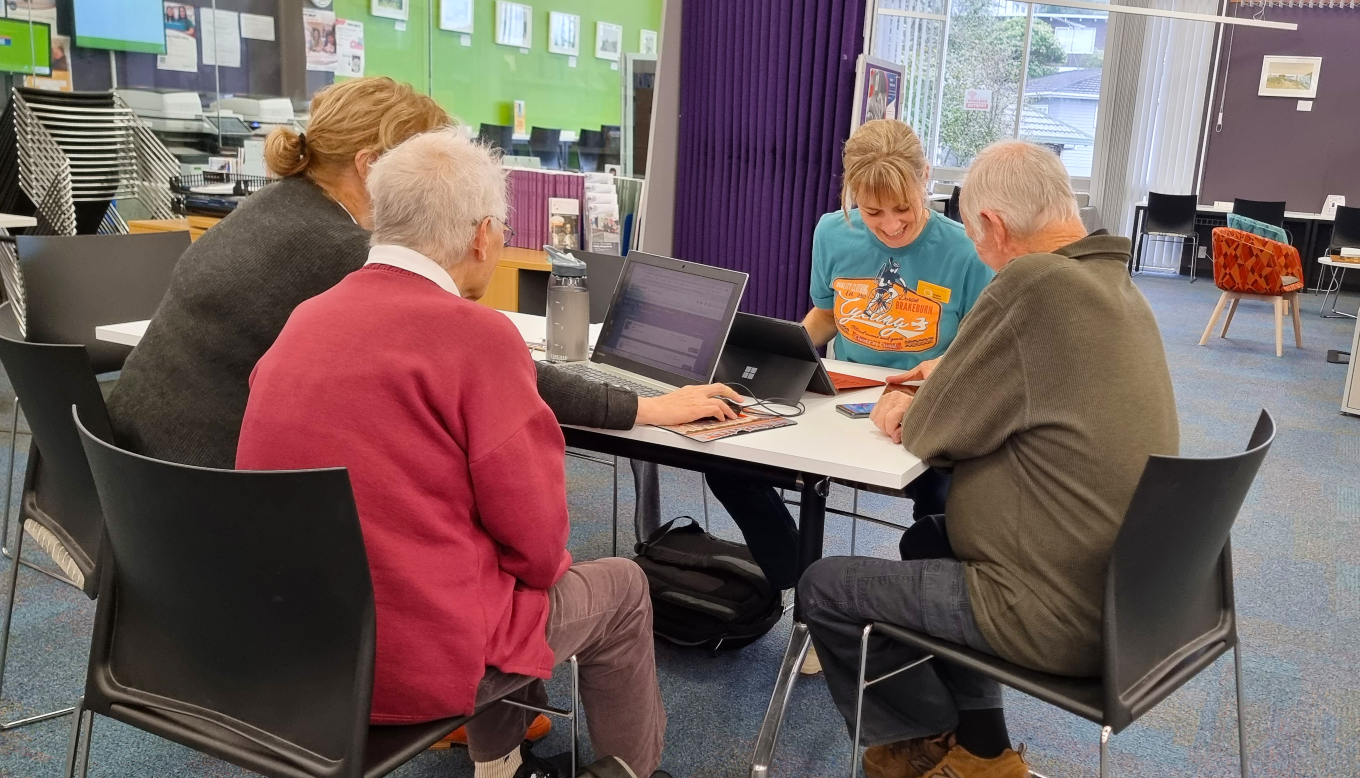 Digital Seniors differs from most digital literacy classes in that participants can drop in without committing to a course of several weeks and get the help they need, when they need it. The pilot is supported by an advisory group of representatives from local Aged Care service providers and community organisations. By linking with the wider aged care ecosystem Digital Seniors can provide individualised digital support whilst increasing awareness of and access to wraparound aged care services and support.
Feedback from North Shore seniors attending the sessions has been overwhelmingly positive.   
"You make the Hub a safe space where we feel valued and not ashamed that we don't get it immediately. The funding better not get cut to another service like this just as it gets going; we need to know we have somewhere to go", one participant said. 
North Shore Digital Seniors hubs are available now at:  
Birkenhead Library – Thursdays 1-3pm 
Devonport Community House – Fridays 10am-12pm 
East Coast Bays Library – Tuesdays – 10am-12pm 
Glenfield Library – Wednesdays 1-3pm 
Takapuna Library – Saturdays 10am-12pm 
Another hub is currently being set up in Albany. If you have two hours to spare and an interest in learning more about volunteering with Digital Seniors, call Fiona Colbert on 0800 373 646.
Stay up to date 
Want to stay up to date with all the latest news from your area? Sign up for your Local Board E-news and get the latest direct to your inbox each month. 
 
Sign up for the Devonport-Takapuna E-News.