The past and the present collide in the central city's vibrant laneways and side streets where freshly renovated historic buildings house elegant boutiques, sophisticated galleries and cafes and bars.
Many of the roads have been transformed too. Shared paths for pedestrians, scooters and cyclists, and limited vehicular access in most, foster a leisurely vibe. Add to that new outdoor seating, attractive native plantings and artworks, and each space becomes an inviting destination to meet up with friends or to take a moment for yourself and savour a coffee while soaking up the vibe.
Galway Street
Part of the urban renewal project which has made the Britomart precinct a jewel in Auckland's crown, Galway Street's evolution is now complete.
The last stage of this stylish east-west border of Britomart was delivered by Auckland Council and opened in March.     
Two of the street's most venerable buildings – the former P. Hayman & Co. warehouse and the Kronfeld Building – have been refurbished, seismically strengthened and merged to become the Hayman Kronfeld Building.
John Currie, the architect who designed the original buildings in the 1890s, would be impressed at how state-of-the-art heritage restoration and contemporary architectural practice have been combined to ensure historical features remain alongside advanced environmental systems.
A popular bakery is located in the newly finished building, complementing the array of restaurants and bars that also call Galway Street home, and maintaining the building's food-based history – Prussian businessman Gustav Kronfeld and his Samoan wife Louisa were produce merchants whose warehouse was housed within their namesake building.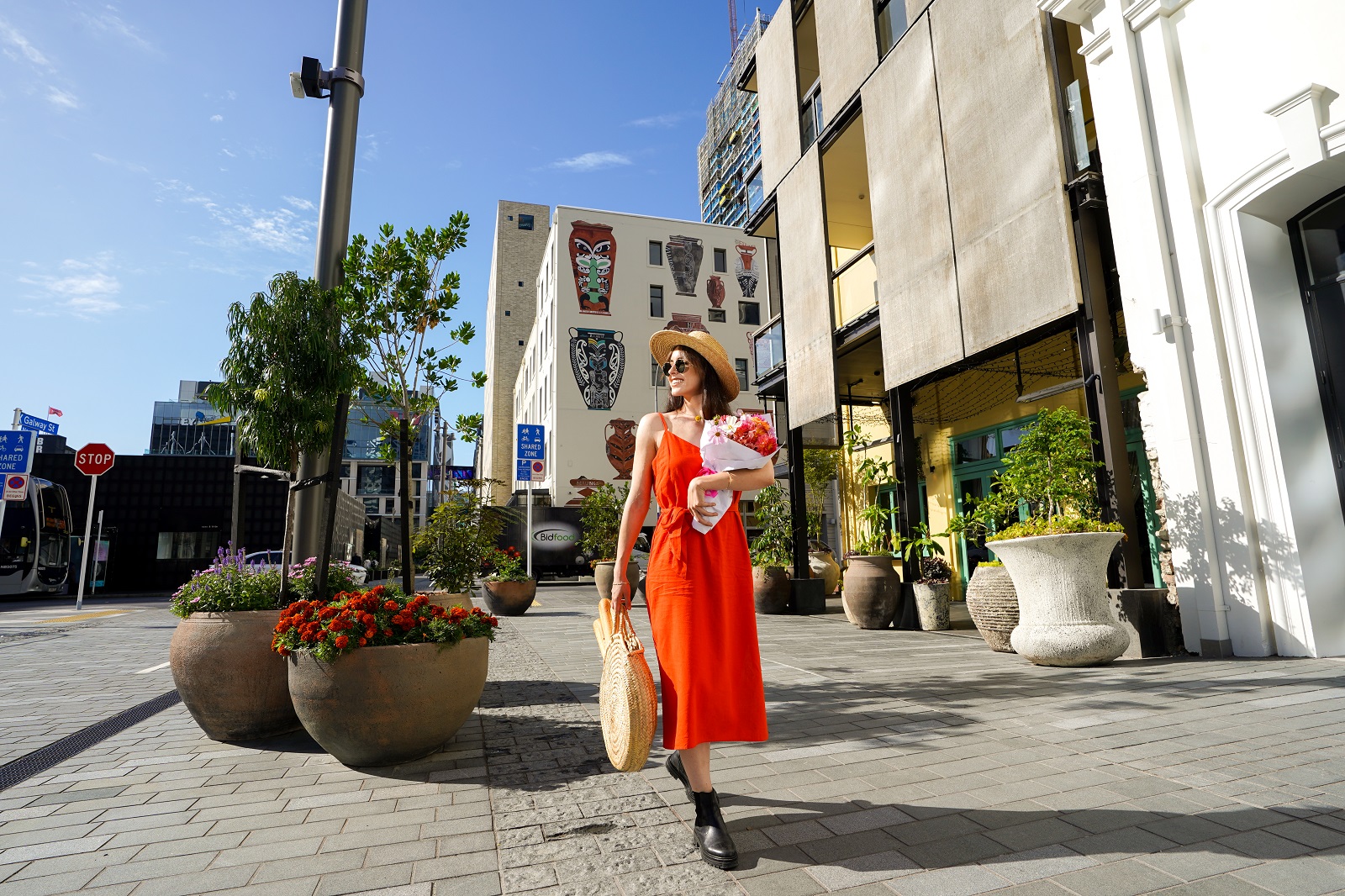 Vulcan Lane
Rich in history, Vulcan Lane owes its name to the Vulcan Forge established here by blacksmith James McLeod in 1846. The former businesses may have been replaced by bookshops, bistros and boutiques, but two buildings from James' era remain. The Queen's Ferry and The Occidental date from the 1850s and 1870s respectively and are still popular places to enjoy a drink.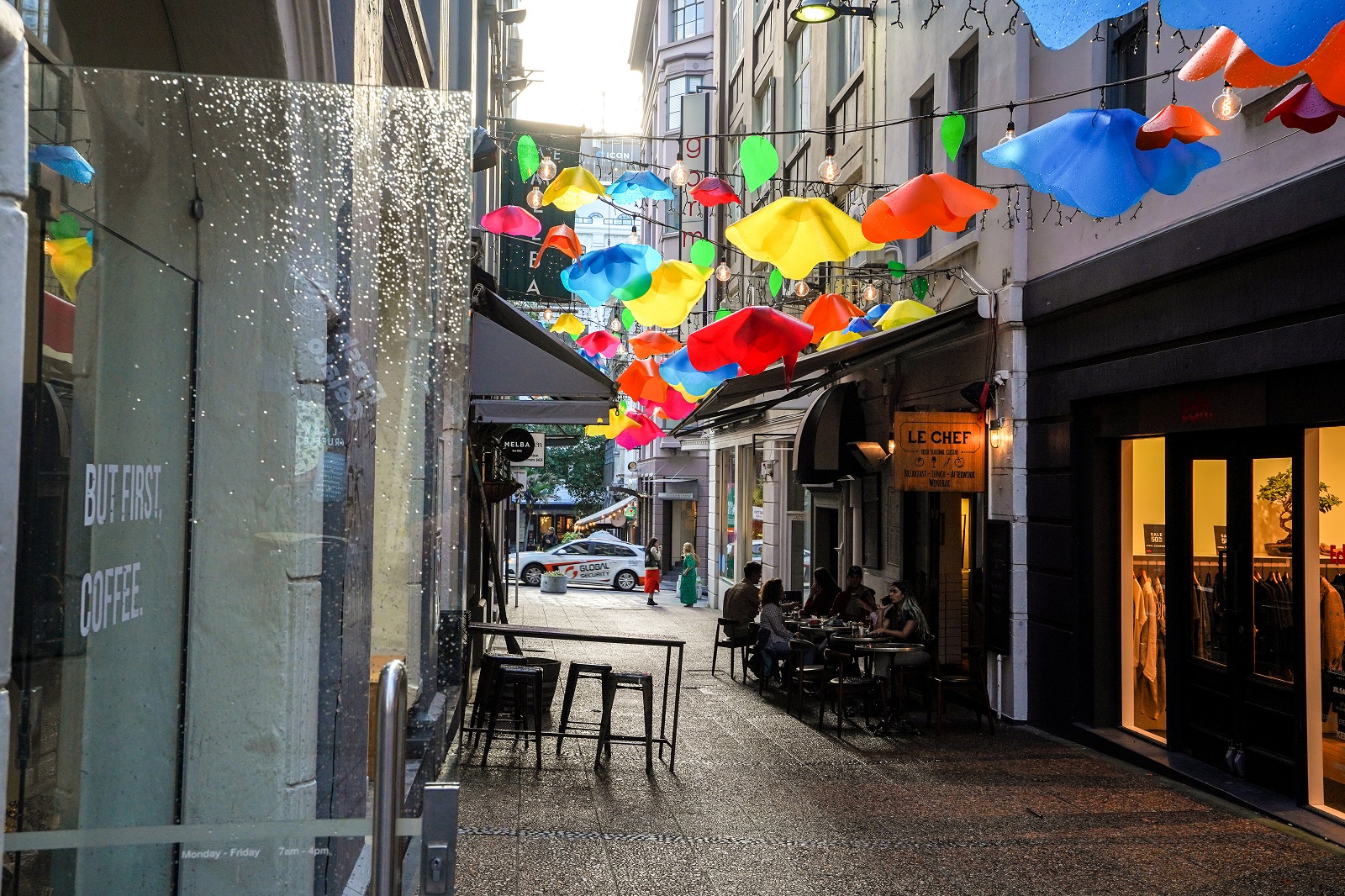 Lorne Street
Home to Auckland Central City Library, Lorne Street is also a favourite spot for dumplings and bubble tea. Crossing over Wellesley Street, it offers a pleasant shortcut to Auckland Art Gallery Toi o Tāmaki via Khartoum Place – home to the Women's Suffrage Memorial, which is made from more than 2000 brightly coloured tiles.
Federal Street
If you're after destination dining, then head to the Sky Tower end of Federal Street – it's packed with first-class bars and restaurants and festooned with twinkling fairy lights. The revamped southern end of the street – completed and opened by Auckland Council in 2022 - offers a quieter and more contemplative spot, with the Auckland City Mission and St-Matthew-in-the-City as neighbours. A tree-lined and community-focused shared space, the design references compassion, community, home and wellbeing.