When walking around, we often keep our gaze at eye level. But if you're exploring Auckland's Quay Street and find yourself next to downtown public space Te Wānanga, you may want to look up to see one of the city's most significant monuments in all its glory.
The WWI Memorial Beacon is the earliest known monument to the Great War erected in Aotearoa New Zealand, with a history that reveals much about change over time,with the spire and glass orb re-created to capture its essence.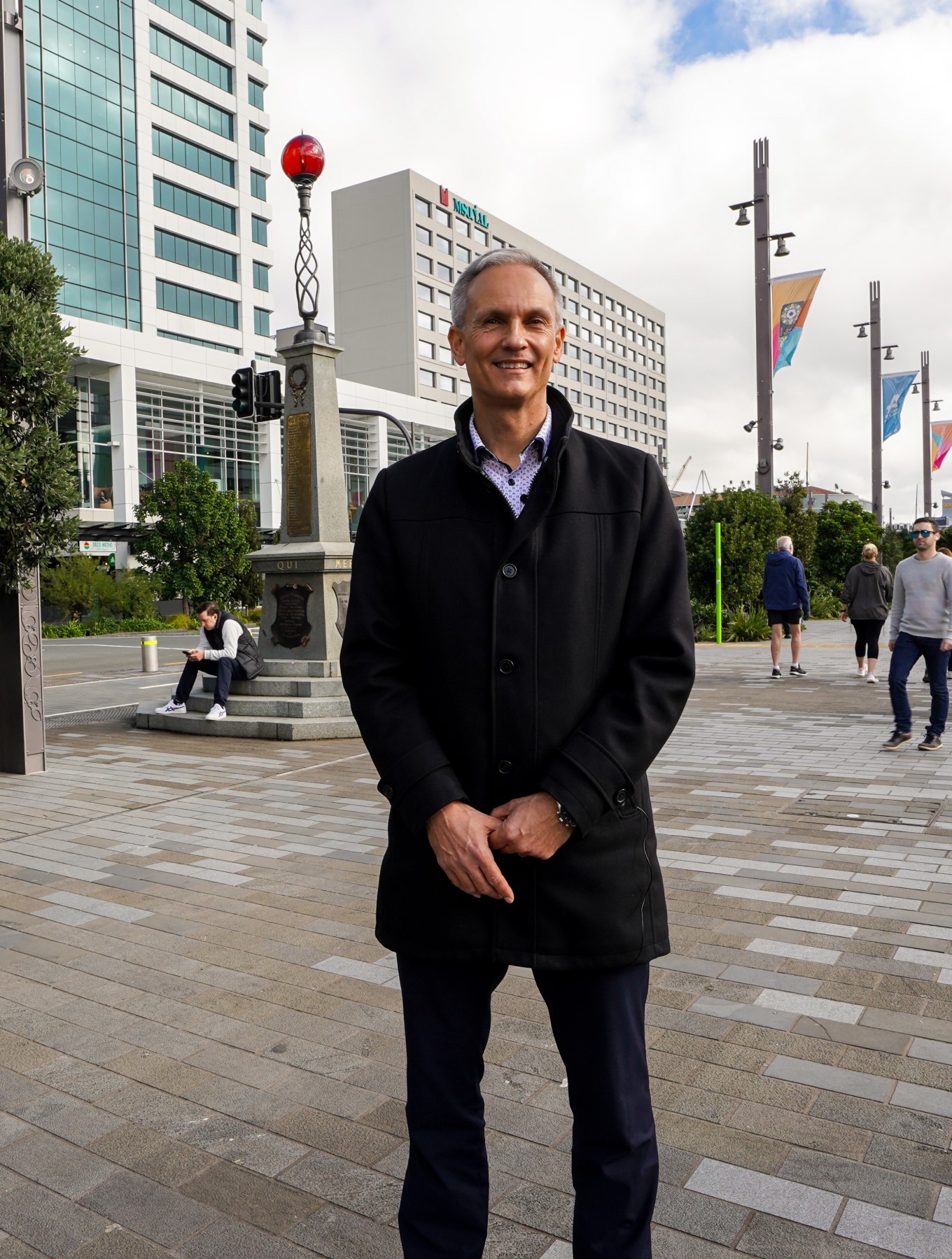 Eric van Essen, Director of the Downtown Programme, says restoring and relocating the memorial beacon started as one of the smaller parts of the downtown revitalisation. He believes, however, that the poignant story behind it and the public's affection for it makes it one of the more rewarding parts.
Installed by the Auckland Harbour Board (AHB) for £250 (approximately $750,000 today) and designed by engineer W.H. Hamer, the monument consisted of a Coromandel granite obelisk topped by a decorative ironwork spire and an electric glass lamp – much of the country was only just switching on to electricity. In a December 1915 edition of The Auckland Star newspaper, it was also noted that "its base had been made so uncomfortable as to render it impossible for loafers to sit around".
The memorial commemorated AHB employees who enlisted – unlike other memorials, which tended to remember only those who died in battle – but the beacon gave it utilitarian value by providing much-needed illumination to guide boats when light was in short supply.
First lit on 17 December 1915 as troops left for Gallipoli, it became a beacon of hope, and when the Treaty of Versailles peace agreement was signed in 1919, the monument was draped in lights. But its own fortunes dimmed.

Foreshore reclamation saw it moved and, in the late 1960s or early 70s, it was dismantled and put into storage to make way for the downtown shopping centre. Commemorations of war and sacrifice were becoming increasingly marginalised and the AHB needed money to extend its own operations.
In 1999, the obelisk was found in a Ports of Auckland (previously AHB) storage shed – minus the ironwork and orb. Thanks to funding from an anonymous Jewish German immigrant, the memorial was restored without its spire and orb and placed outside the New Zealand Maritime Museum.
Some 20 years later, the decision to fully restore it and return it to a prominent position saw contemporary craftspeople poring over grainy black-and-white photographs of the original monument, researching techniques used by early 20th century artisans and producing 3D scale models to guide them.
In Taupō, glass artists combined two colours of liquid glass to recreate the 500mm-diameter hand-blown red orb. In Devonport, steel artisans used 3D technology to model steelwork to scale, superimposed heritage photos and embarked on a detailed bronze turning and casting process to recreate the spire.
Brent Withers, from DPA Architects, oversaw this work and says it left them in awe of the turn-of-the-century craftspeople who created the original.
Late last year, the final step in the process was completed. Supported by engineers, architects, artisans and contractors with trucks and cranes, the spire and orb were placed atop the restored WWI Memorial Beacon on Quay Street.
Auckland Council helped returned the monument to its former glory and to its original location on the waterfront – one of the final elements in the delivery of the Downtown Programme.
Its restoration and relocation now symbolise remembrance, unity and the enduring spirit of the people of Tāmaki Makaurau.