Significant progress has been made across the Auckland region over the last month on permanent repairs to storm damaged roads.
With over 2000 slips and issues reported across the region following the January and February weather events, there is still a long road of repairs ahead.
The overall programme of repairs to more than 500 medium-large scale slips and issues is expected to take 2-3 years to be completed.
In northern parts of Auckland, rural areas experienced 363 sites of slips or damage – of which 140 minor slips and nine major slips have already been completed. In urban areas, there were 48 sites of slips or damage, of which one is complete.
Below are a selection of photos highlighting just a small portion of the great work the construction and maintenance teams are doing in these areas. We will look to show progress in other areas of Auckland in future newsletters.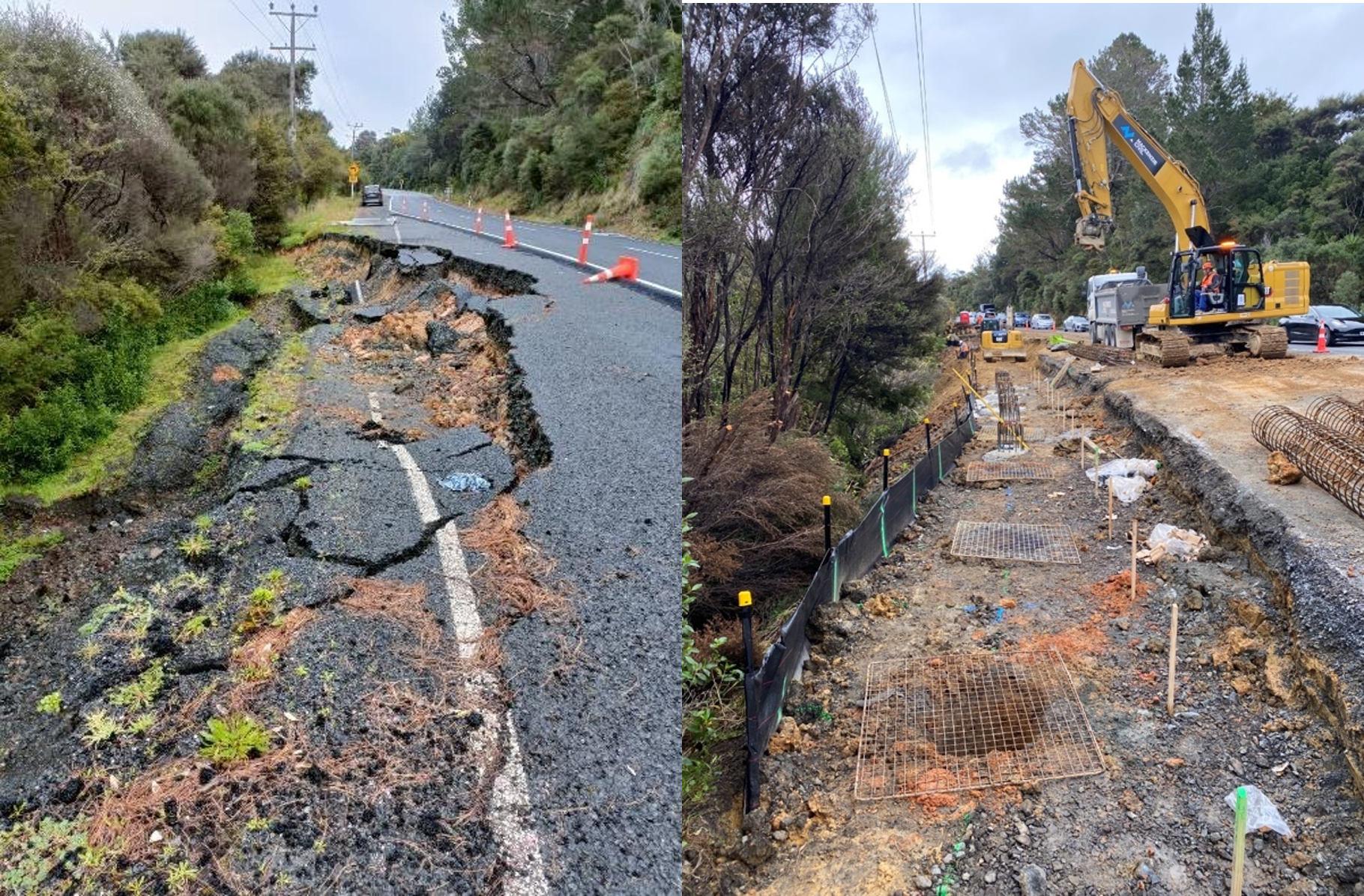 Permanent repair at Mahurangi East Road began on Monday 28 August. Piling works are already underway – with holes for the piles visible in this photograph.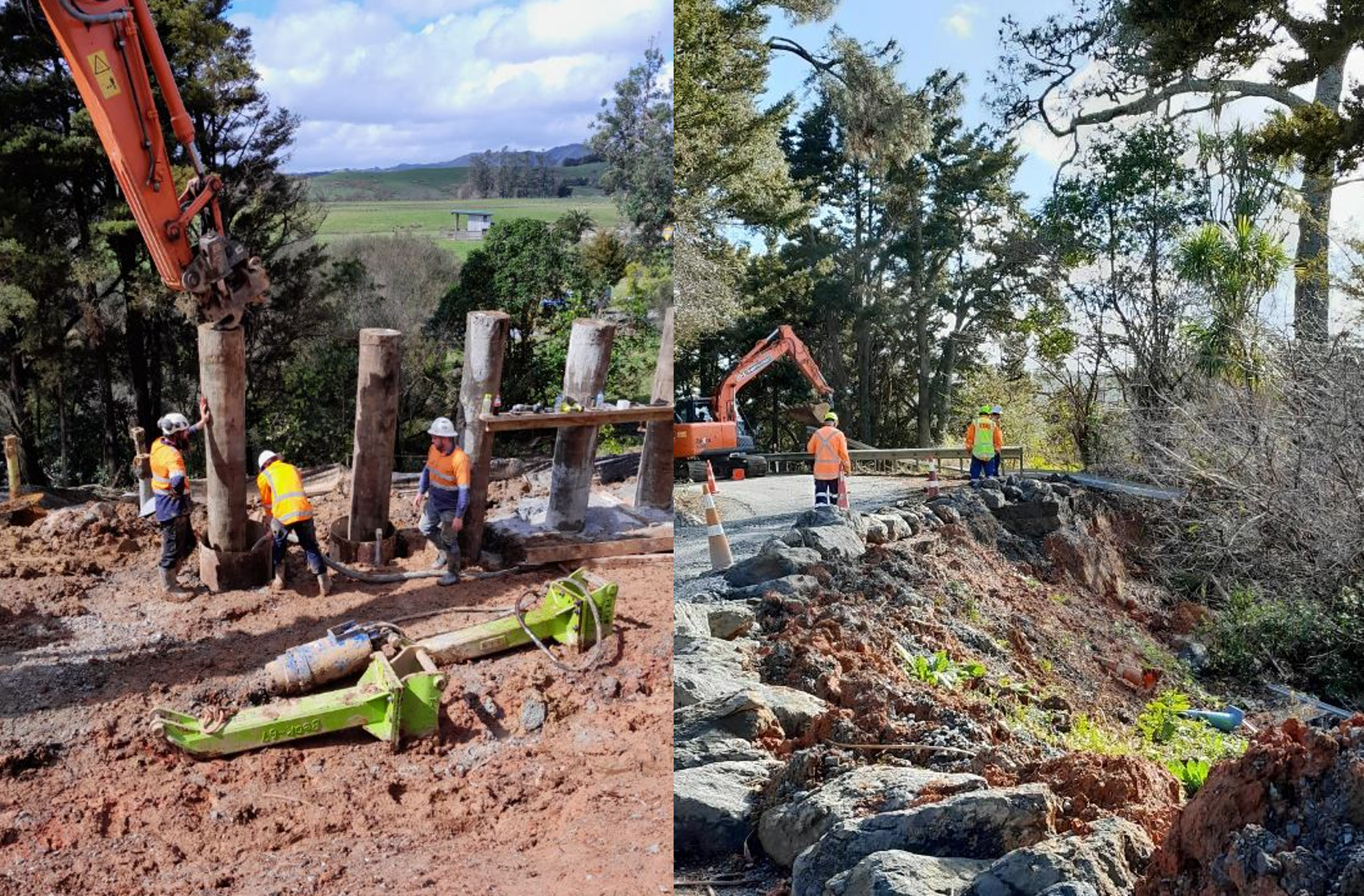 At Tauhoa Road, Tauhoa (west of Warkworth), piling works are underway to stabilise the roadway. This will involve an impressive 36-meter timber pile retaining wall, composed of a total of 24 poles.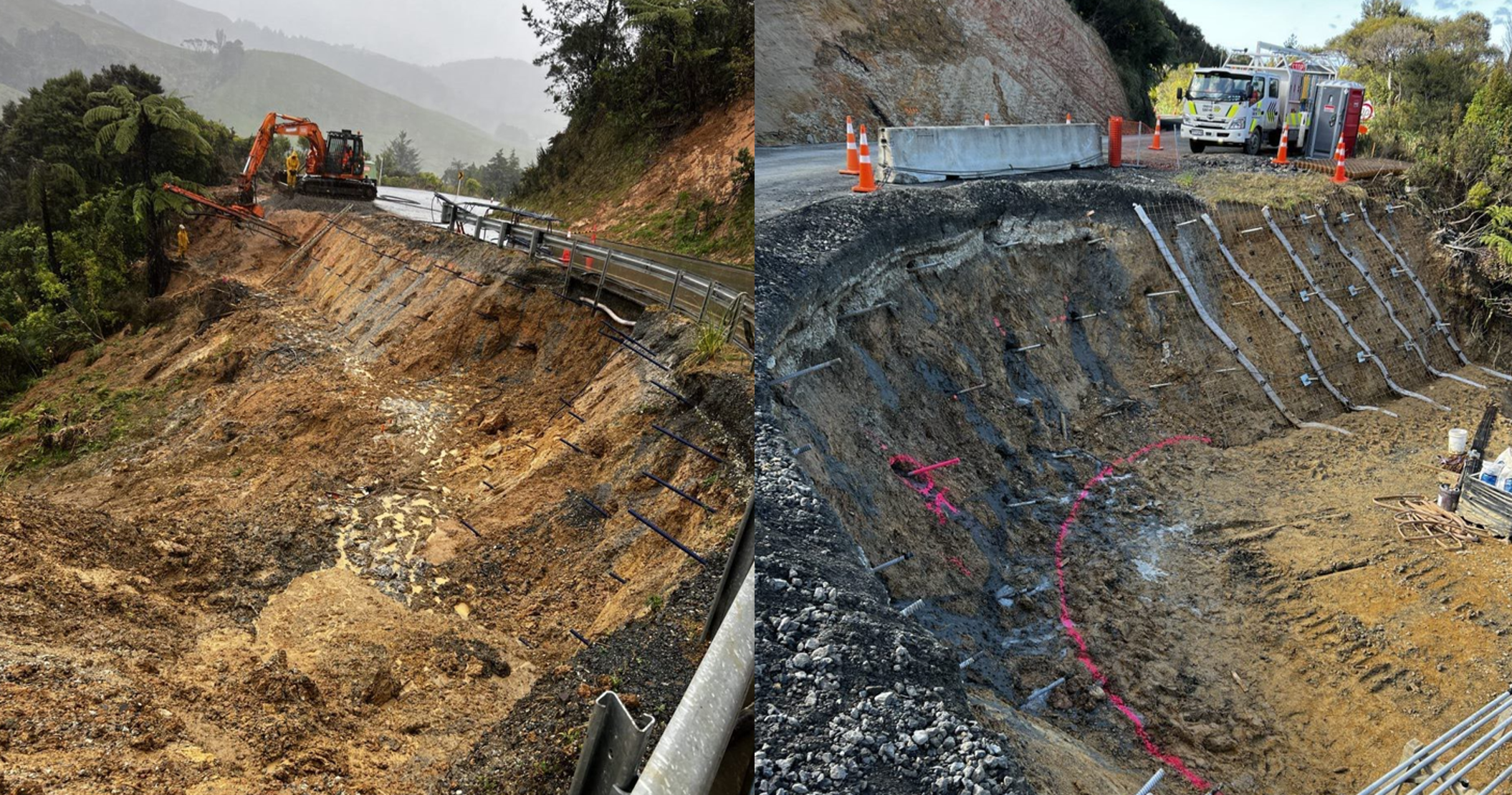 On Ahuroa Road, several major slips have completely closed the road through to Puhoi, two of which are shown above. The tiny settlement of Ahuroa now have an extra hour's journey to connect back to Puhoi – previously just a few minutes. Progress to date includes soil nails (acting like anchors) ready for steel mesh and/or shotcrete (sprayed on concrete).
Paremoremo Road, Paremoremo also has a number of very large slips across four sites. At this slip site, all of the concrete columns have been completed now, ready support the backfilling which will occur over the coming months.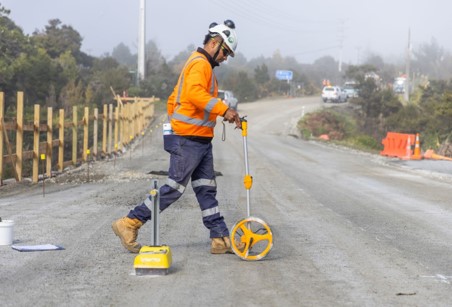 On Glenvar Road, Torbay, the team have made fantastic progress with the road sub-base now largely in place. Over the next month or so, the focus will be on road surfacing and barrier installation.
East Coast Update:
Significant repairs are due to start on East Coast Road on 18 September 2023. 
Start date: Monday 18 September Time to complete: 13 Weeks (weather dependant)  Hours: 7am to 7pm, Monday to Saturday 
This work includes building a retaining wall and kerb, and maintenance to gutters and pavement. For safety reasons, Auckland Transport (AT) will install a steel barrier before any work begins. Signs, barriers and road cones will also be put in place a day before the retaining wall work begins. 
Please park away from the work area during the working hours above. AT may need to tow vehicles parked in the work area to a safe position a short distance from the work site. Every effort will be made to locate the owner before towing.  
This work involves heavy machinery which can create noise, vibration, and dust. All efforts will be made to minimise these disturbances as much as practically possible. We'll park our equipment near the worksite, behind the barriers, during this time. To ensure the safety of you and your whānau, please keep young children and animals well supervised and away from the work area.  
While these repairs are underway, we recommend that you plan your journey ahead of time as changes to the road layout and access may cause minor delays. To keep you and our team safe, please be patient and follow the instructions of the onsite traffic control team. 
To report an issue or lodge a query with any of the above, please contact AT on 09 355 3553. 
Stay up to date
Sign up to the recovery e-newsletter to get the latest updates direct to your inbox.