Struggling to make ends meet is stressful, particularly when food prices make essential staples such as fruit and vegetables a luxury item for many. The assumption that "growing your own" is the solution is not as straightforward as it sounds, but three kai sovereignty initiatives across Auckland are helping feed their communities while developing skills and knowledge.
Homegrown support (and chickens!) with Rākau Tautoko
Rākau Tautoko garden advisor Tricia Joe says that for many, growing your own food isn't as simple as digging up your lawn.
"When you haven't experienced gardening and you don't have any tools whatsoever, it's pretty hard to just go out and dig and know where to go – you just don't," Tricia says. "It'd be like me saying, 'Why don't you make your own wedding dress or suit? It's just a few straight lines.' It's not that easy."
Rākau Tautoko is a social enterprise of skilled practitioners working together to strengthen communities, with Tricia teaching locals in Glen Innes and Mt Wellington how to grow their own food. This includes installing raised gardens filled with fresh soil, equipping them with the right tools and providing ongoing visits to help them successfully grow throughout the year. This Māori-led project was supported through funding from the Auckland Climate Grant
An important part of the process is making sure people are growing what they like to eat, but Tricia also wants to provide choices that "are not only giving them success, but the best bang for their buck". So instead of residents planting six cauliflower or broccoli – which take months to grow and need quite a bit of space – they're opting for things like perpetual spinach, different varieties of lettuce and bok choy with strawberries around the edges for the children. "They're eating out of those plots in four to five weeks."
The initiative even provides chickens, raised by Tricia at her Patumahoe home. As well as helping reduce food costs, Tricia says that learning how to look after an animal is a positive experience for children. Residents are given a coop, food for the first couple of months, an automatic feeder, a drinker and wood shavings. "I always make sure that they pet the chicken and I explain how to hold them," she says. "They do fall in love with them."
Tricia mentors each family for three of four months, but is always on call to guide them into what they can grow next. "We want to give people support," she explains. "Not just give them a garden and say, 'You go ahead and do it.' It's that long-term success that's important and that will make a difference."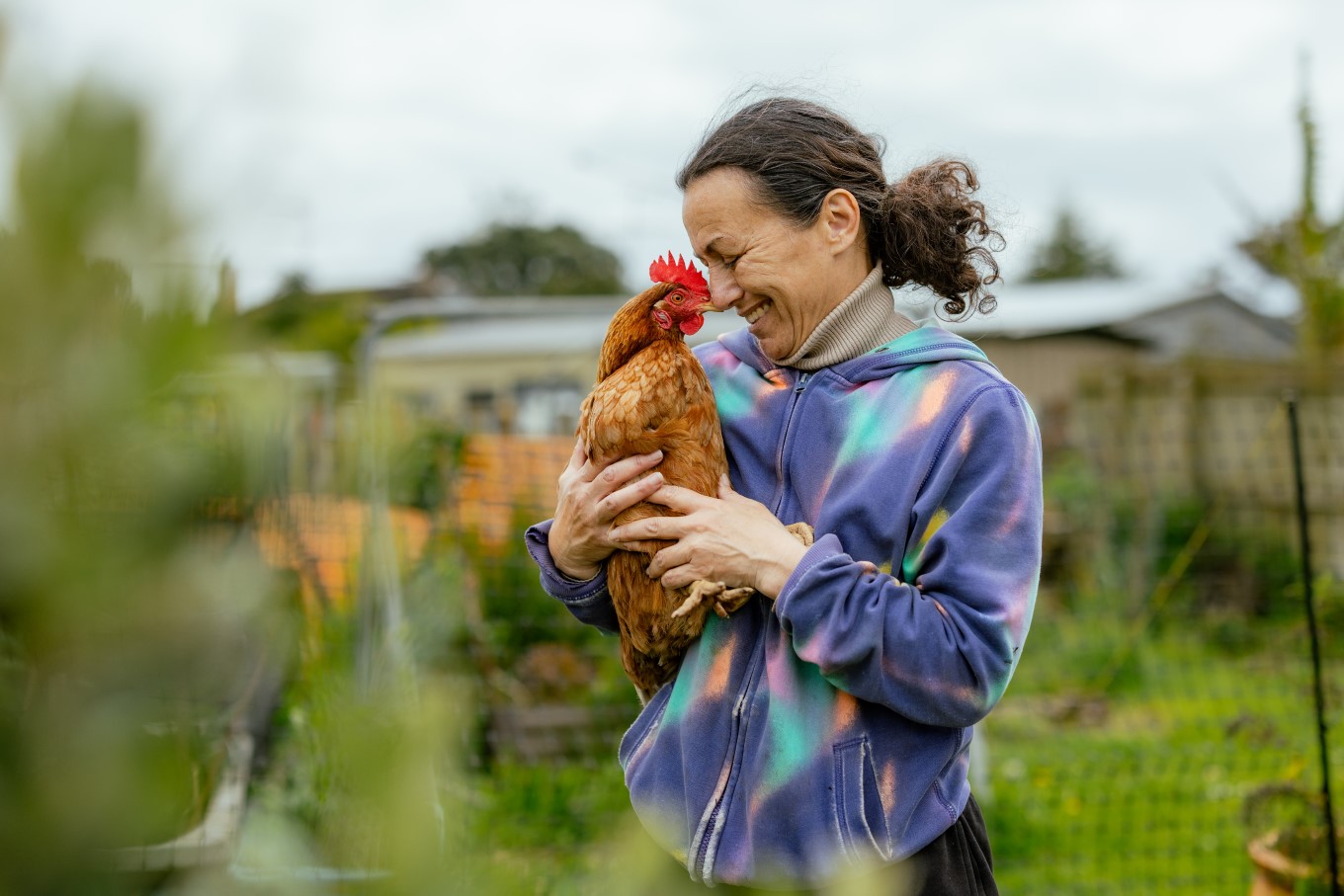 Bananas and bokashi at Hope Teaching Garden
On the banks of the Whau River in New Lynn lies EcoMatters' Hope Teaching Garden, a place where the community is welcome to visit and learn gardening skills while spreading the kaupapa of growing local kai.
One of their initiatives is a bokashi drop and swap service. Bokashi is an efficient food recycling system where food scraps are effectively pickled through a form of fermented composting. Participants in the scheme are given a bokashi bucket and everything else they need to get started. Once their bucket is full, they drop it back and pick up a clean one. The nutrient-dense fermented food scraps are buried in swales (a type of trench) where they are gobbled up by banana plants.
"The bananas are such a heavy feeder that the food scraps are absorbed in a couple of weeks," says coordinator Amanda Hookham-Kraft. "They're eating up all the food and we're producing a food source as well."
Along with individuals and households using the bokashi service, four schools are involved and businesses along Rosebank Road are also starting to participate.
The Hope Teaching Garden also has an outdoor kitchen where freshly harvested fruit and vegetables from the garden can be prepared. Amanda says engaging with the full food-growing cycle helps reduce food waste.
"If we're growing the food, harvesting it and putting that time and care into it, then we have a lot more awareness of how much we need. There's a deeper respect and understanding."
Visit www.ecomatters.org.nz/hopegarden or email food@ecomatters.org.nz to find out more or get involved.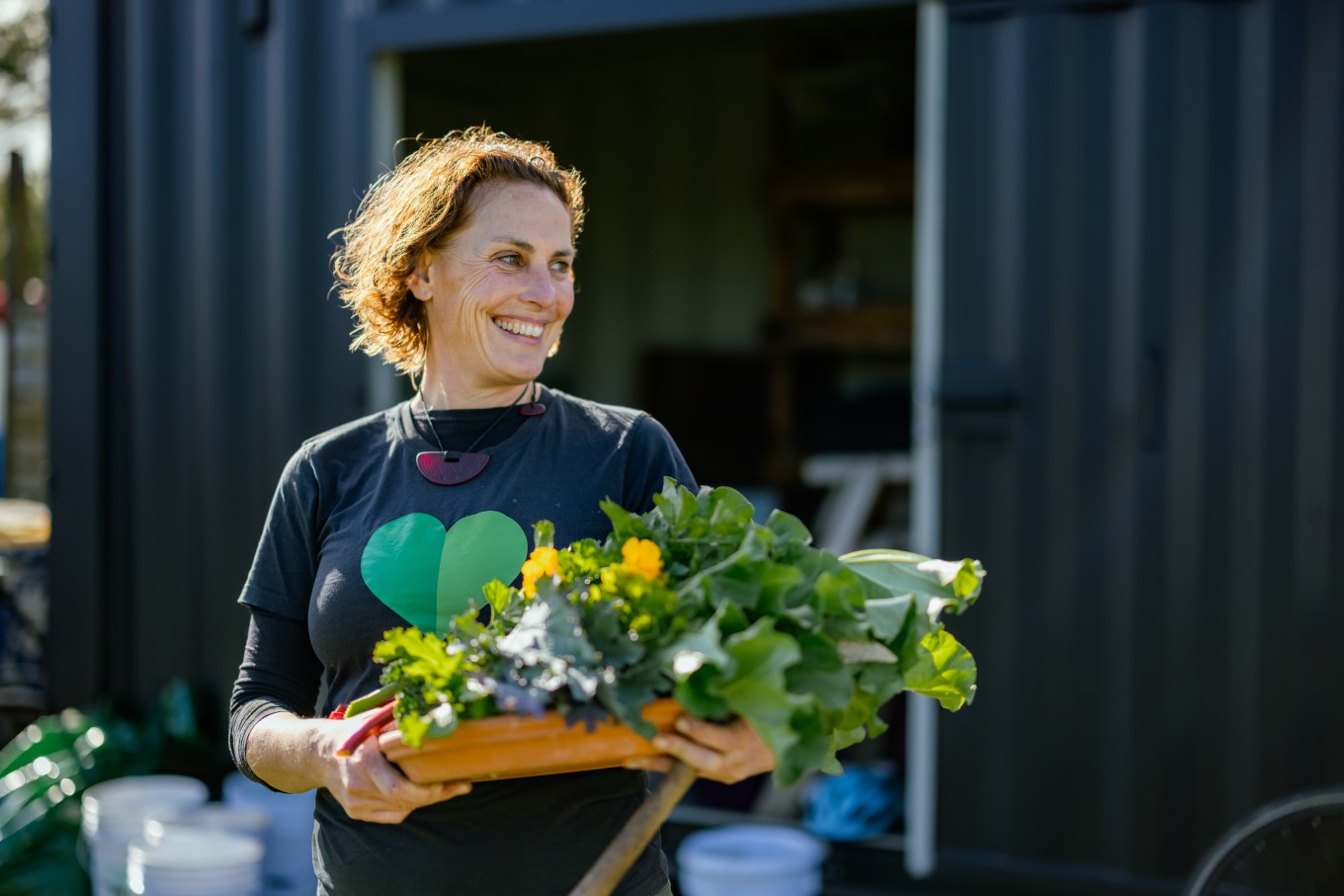 Awhi Mai Te Atatū: Growing as a community
Behind a church in Te Atatū Peninsula, the site of an old unused playground is being transformed into a productive māra kai (food garden) for the community with funding from the Auckland Climate Grant.
Thanks to different community groups working together, including Te Atatū Peninsula Community Trust and Te Atatū Marae, garden coordinators Lila Kuka and Dalton Neho were offered the space by Pastor Brian Spicer. Since April, two lots of cover crops have been grown in the soil in order to regenerate it and make it fertile.
"We want to show that even marginal land can be turned into food-growing space, and that we can do it collectively," says Lila. "We would like to see māra kai everywhere because there are so many benefits – for the environment, our wallets, our mental health, our physical health. It's food sovereignty."
Every Friday volunteers come and work in the garden, carrying out a range of tasks from weeding to planting seedlings that Lila grows in a tunnel house Dalton made from upcycled materials.
"We always start with a karakia (prayer), we whanaungatanga (create a sense of belonging through connection), we do the mahi, and then we always eat together. That's part of showing the value of manaakitanga (hospitality) and looking after people," says Lila.
While the kai grown will eventually go wherever it's needed in the community, at this stage it will be shared with local social service agency Care Waitākere Trust, which offers counselling services to the community free of charge and advocates for people in financial strife, including providing a food bank. The rest of the food produced goes to the kaimahi (workers) who come along and help.
Te Atatū local AJ has been helped out by Care Waitākere during a time of financial hardship and has used their food bank a couple of times. Now he's helping out as a volunteer in the māra kai. "I want to give back to the community I've received so much from, because karma goes around."

If you're interested in growing food with your community you may want to consider applying for an Auckland Climate Grant. Information on upcoming funding rounds is available here: https://livelightly.nz/auckland-climate-grant/