Set between two harbours, Auckland has abundant kayaking spots. Nothing beats the serenity of being out on calm water on a sunny day, so grab some gear and enjoy a paddle at these safe, fun places to go kayaking around Tāmaki Makaurau.
Puhoi River
For a picturesque day out, kayak from the historic Puhoi Village downstream to Wenderholm Regional Park. This stretch of river is roughly eight kilometres long, with a flat and gentle flow, meaning you won't encounter any rough rapids or tricky currents. The river is also tidal, so time it right and you can ride the outgoing tide downstream.
Paddling down the river, you can soak in views of mangroves and native bush. Once you arrive at Wenderholm, top off the day with a picnic in lush, green surroundings.
Puhoi River Kayaks can provide you with all of the gear you need if you don't have your own kayaks and lifejackets.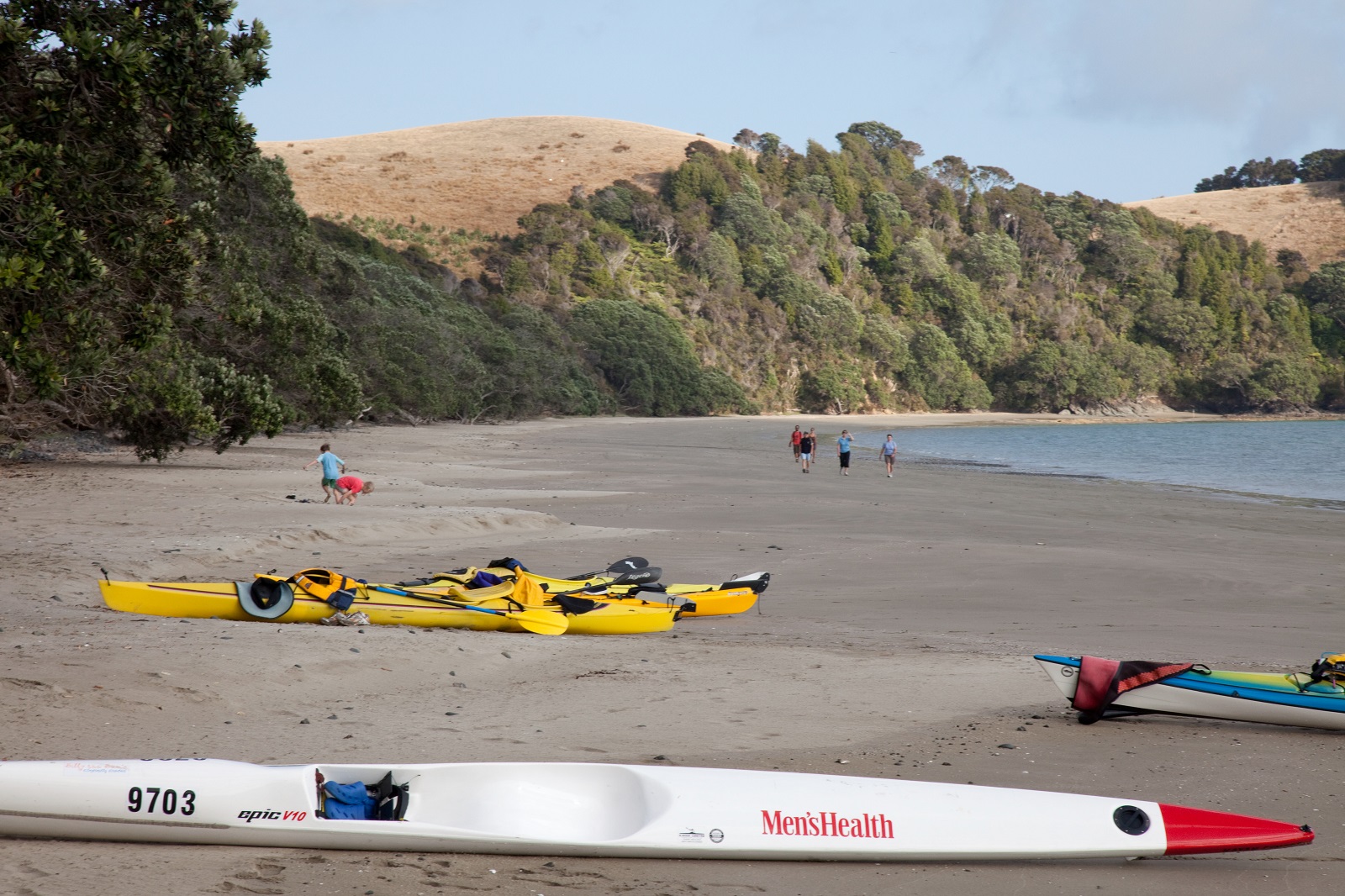 Te Ara Moana Kayak Trail
Te Ara Moana - which means 'the sea-going trail' - is a route once paddled by local iwi, as they ferried kai and other goods between settlements. Follow in their paddle strokes around Auckland's southeastern coastline, from Ōmana Regional Park to Waharau Regional Park.
The whole Te Ara Moana kayak trail stretches over 50 kilometres. Adventurous kayakers can complete the trip in a five-day self-guided tour, staying in beachfront campgrounds along the way. If you only have one day or an afternoon to spare, you can also tackle individual sections on epic day trips.
The five sections are Ōmana to Duder, Duder to Waitawa, Waitawa to Tawhitokino, Tawhitokino to Tāpapakanga, and Tāpapakanga to Waharau. Each leg of the journey encompasses natural wonders, wildlife, and local history.
Ōrākei Basin 
Ōrākei Basin is a pretty lake set into a volcanic crater. Head to the western side of the basin where you'll find good access for kayaking. The water is fringed with greenery and is exceptionally quiet despite being close to the centre of the city.
Paddling around the edge of the basin is a fun alternative to walking the Ōrākei Basin Path. It's a particularly stunning spot early in the morning or later in the evening as the sun is setting.
When it's windy or choppy out on the Waitematā Harbour, Ōrākei Basin will often still have sheltered, calm waters. It's a great option if you're kayaking with children or trying kayaking for the first time.
Check before you swim
Before you take the plunge this summer, check out the Safeswim website for up-to-date information on water quality, wind, waves and tides as well as jellyfish swarms and other hazards. Safeswim is a fantastic tool to help keep you and your whānau safe.
With long summer days finally here and your favourite swimming spot calling, now is a great time to think about how to stay safe around the water.
Stay safe and have fun in the water this summer by following these tips.