Whether you want to head north, south, east or west, you'll find scenic running trails winding through Auckland's parks and reserves. Escape busy streets and discover pockets of native bush, coastal views and refreshing green spaces when you tackle these running trails.
Go east: Mangemangeroa Reserve, Somerville
Mangemangeroa Reserve is an area of cultural and ecological significance, named after mangemange, a climbing fern once used by Māori as twine. The peaceful reserve is an excellent running destination. The standout trail is the five-kilometre Mangemangeroa to Shelly Park Beach Path, which follows the Mangemangeroa Creek through the quiet, green valley.
The trail features a variety of scenery as well as some steps and short steep sections to keep things interesting. Along the way, you'll run through native forest, before emerging onto coastal sections where you will pass estuary and salt marsh habitats, and finally cross patches of farmland. For the best views, take the short detour to Archie's Lookout.
Go north: Takapuna to Devonport Path
Between Devonport and Takapuna is a 12-kilometre series of paths linking parks, mangroves, and quiet residential streets. Start at The Strand in Takapuna and head down Lake Road, past the historic O'Neill's Point Cemetery and finish in Devonport village - or reverse your route and finish in the lively heart of Takapuna, where you can enjoy a coffee in the sunshine or go for a more sedate stroll on the sandy beach.
Either way you'll enjoy jogging along bridges, boardwalks and paved routes with views of the Waitematā Harbour, mangrove wetlands, Auckland City and the Harbour Bridge.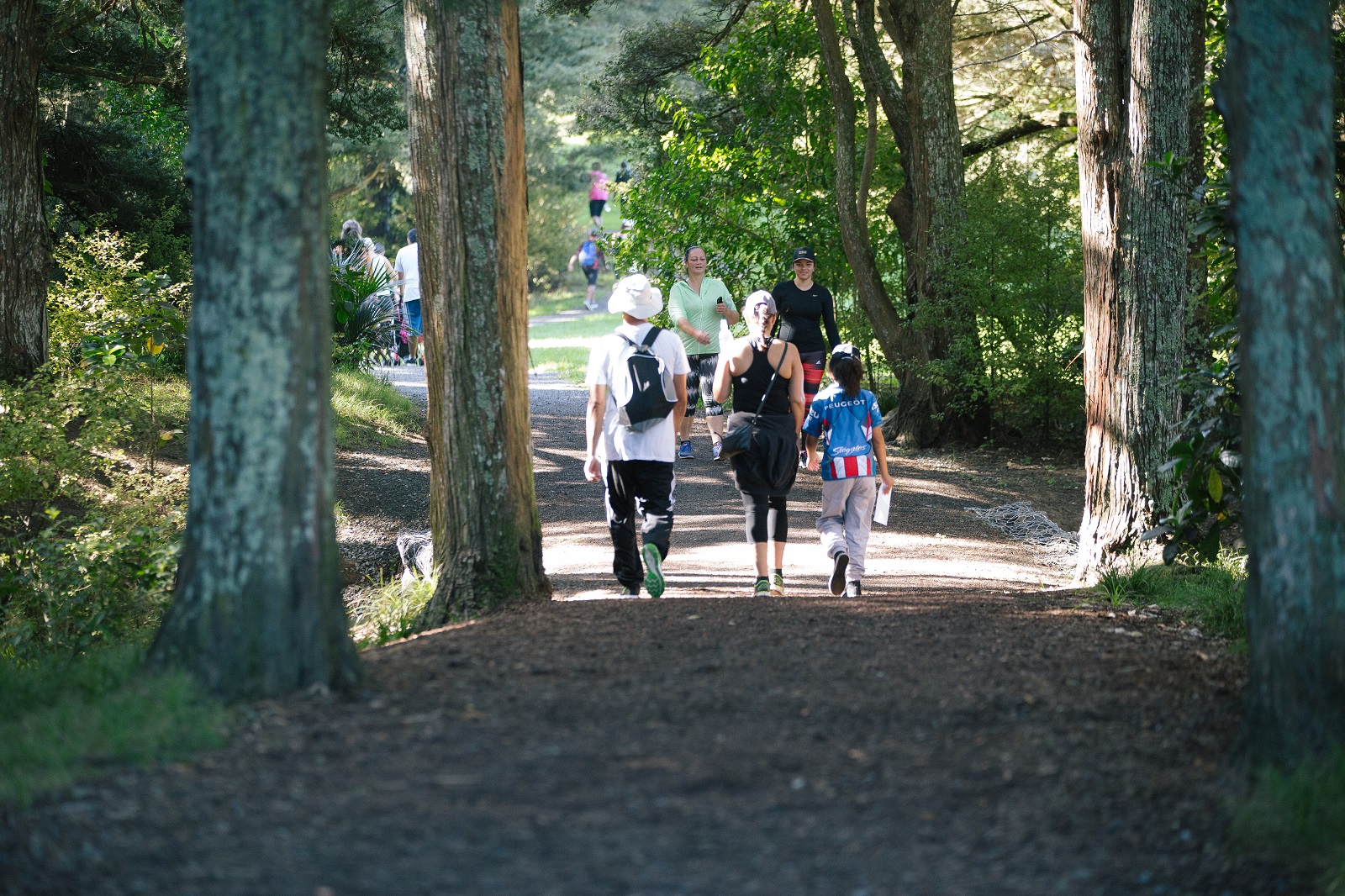 Go south: Puhinui Stream Forest Trail, Manukau
A lush bush-lined trail linking Tōtara Park with the Botanic Gardens, the Puhinui Stream Forest Trail is perfect for runners who want to take deep breaths of fresh, clean air. The established native trees that surround the trail keep the air cool, even in summer.
The trail is a four-kilometre loop, with a set of stairs at the midpoint for an extra challenge.
Go west: Exhibition Drive Path, Titirangi
The six-kilometre Exhibition Drive Path is a level and easy running trail through the dense green of the Waitākere Ranges. The scenic trail has lovely views over the Manukau Harbour and Lower Nihotupu Reservoir. Later in the afternoon, the lowering sun streams through the native bush for a beautifully golden dappled effect on the track.
For a longer run, you can combine this trail with the Beveridge to Arataki Path, which carries on to the Arataki Visitor Centre.
Keep our kauri standing 
Kauri dieback in Auckland is a serious problem and it's important we all play our part to prevent the spread of the disease.
If you enter or leave a forest/area with native trees anywhere across the region, here are three easy steps you need to remember:
Scrub– clean all soil off your footwear and gear.
Spray– your footwear and gear with disinfectant at every cleaning station you encounter. Kauri dieback can be spread by just a pinhead of soil.
Stay– on open tracks and off kauri roots.
Always check the Auckland Council kauri webpage before going for a walk to find out what tracks are currently closed.