Today, 25 November 2022, marks a significant milestone in the life of Queen Street, as the upgrades from Mayoral Drive to Shortland Street are complete, and Aucklanders and visitors can experience a more people-friendly, green and spacious street.  
Auckland Council, in collaboration with Auckland Transport and mana whenua, has converted traffic lanes into expanded space for people walking or on wheels, dotted with over 200 planters filled with native foliage and more seating for people to use while waiting for the bus or enjoying their lunch.   
Auckland Council's Head of City Centre Programmes Jenny Larking explains the intent behind the Wai Horotiu Queen Street Project and the work completed on Queen Street. 
"This project is yet another demonstration of how we are tilting the balance from a car-focused city centre to one that prioritises pedestrians.  
"By introducing mitigants to reduce general traffic and improve public transport access, expanding the footpath space and introducing more seating and greenery, we are showing pedestrians that Queen Street is a place for them – a safer, more vibrant place to enjoy," says Larking.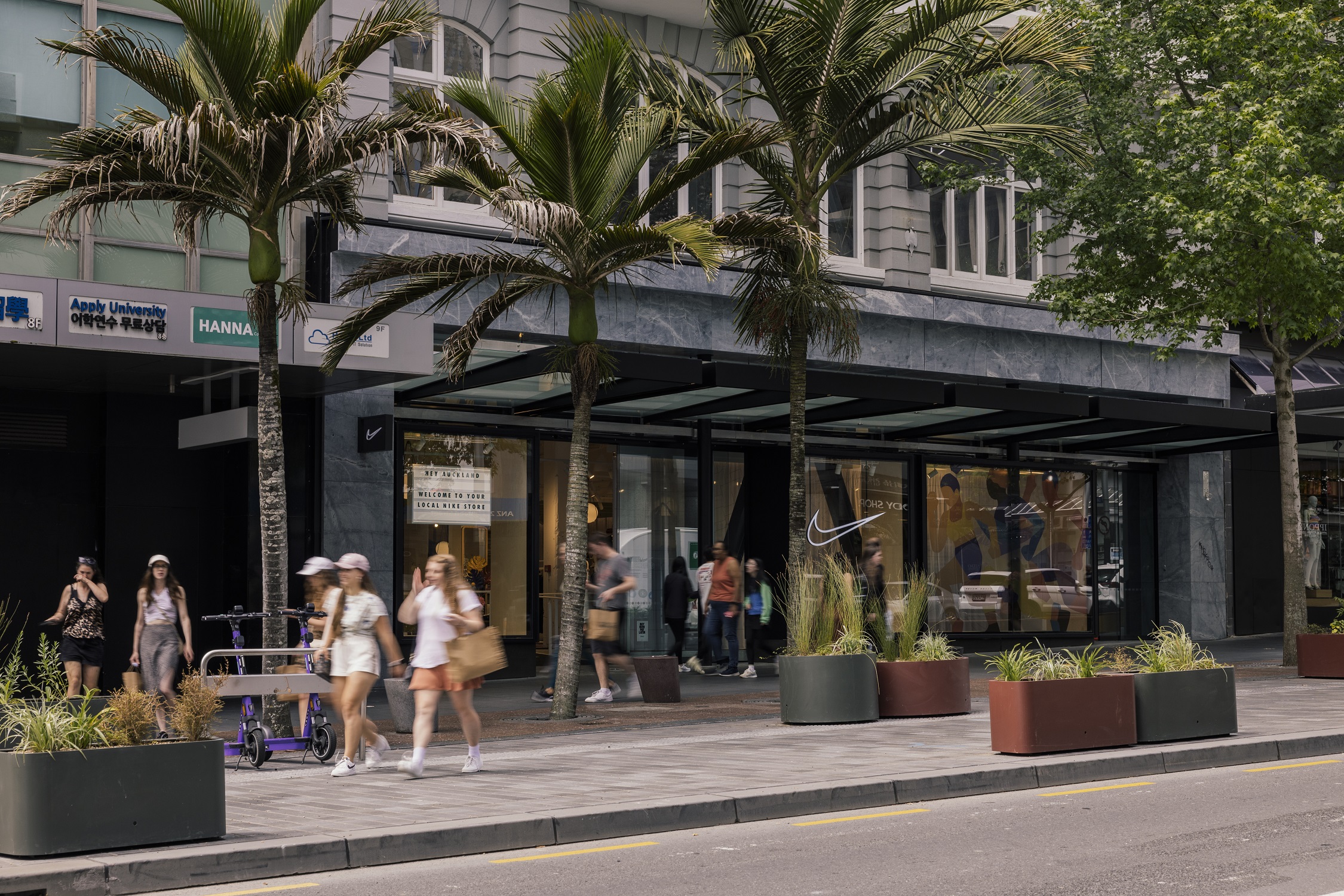 What used to be one lane of traffic has been transformed into the Waihorotiu path, a multi-use path closest to the road for people walking, people on bikes or riding e-scooters. Faster bike riders need to continue to use the road. 
The Waihorotiu path is in addition to the original footpath space closest to the shops, which can continue to be enjoyed by shoppers, and those wanting to move at a slower pace.  
The design is informed by the City Centre Masterplan, the 20-year vision that sets the direction for all the projects transforming the heart of our city and waterfront, creating a more liveable, world-class, connected city centre that is distinctly Tāmaki Makaurau.
Queen Street business owner, Ian Cavit of furniture store, Studio Cavit Luxury says the upgrades to Queen Street and the waterfront make the city centre an attractive place for new businesses.  
"Queen Street is becoming more attractive, and I like that the additional space encourages more foot traffic. 
"It has probably been a while since a furniture store has been on Queen Street. I was very persuaded by what is happening in downtown, in Britomart and Commercial Bay, and this part of Queen Street and the facilities that are now here. 
"I think there is a bit of a domino effect and people will realise the city centre is a nice place to shop and be in, with more cafes and restaurants and people walking," he says. 
Returning from Sydney, Ian says Auckland's city centre has something unique to offer. 
"Sydney is a bigger city but I don't think Sydney has the soul that Auckland is starting to generate with the facilities you have down here: Commercial Bay, the Viaduct, North Wharf. It has become a really pleasant area."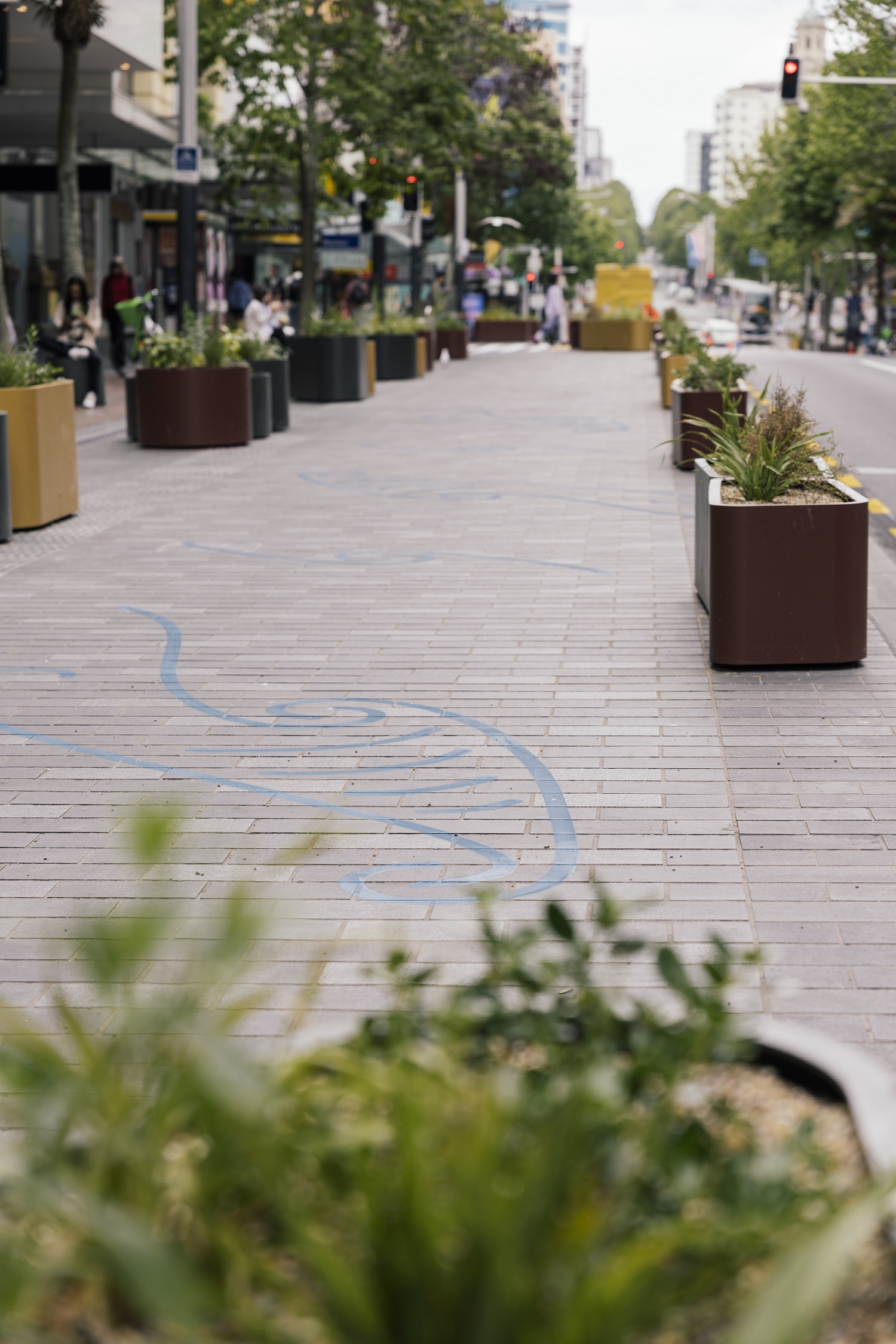 Partridge Jewellers announced the opening of their third store in lower Queen Street in early November. The New Zealand luxury watch and jewellery business has a six-generation legacy in Auckland's premier street and owner Grant Partridge is excited by the changes he's seeing.  
"In order for Queen Street to fulfil its potential as the main street in New Zealand, I believe the prioritisation of pedestrians in its new design will be a move in the right direction. Pedestrianisation has great potential as being a way of bringing people together in a similar vein as other international cities", says Partridge. 
The Wai Horotiu Queen Street Project improvements include:  
From Wellesley Street to Shortland Street we have removed two lanes of traffic to create additional space for pedestrians. Part of that additional space is the Waihorotiu path, located between the original footpath and the road.  
We have added safety cues to the Waihorotiu path which include wayfinding patterns, placement of planting, textural changes and signage. These elements work together to guide slow riders safely along the path while providing a buffer of protection for shoppers and others who walk along the footpath and cross the street. To find out more about the path and its unique name read here.  
In 2021 the footpath on Queen Street between Customs and Shortland Street was extended and more greenery was added. This first section will be revisited next year to ensure continuity with the design of Mayoral Drive to Shortland Street. 
In 2021 we created a pocket park at the intersection of Queen and Fort Streets to create more green spaces for people to sit and relax. The permanent furniture has been added this month.  
We have added over 200 planters filled with native foliage that reflects the forest/ ngāhere which once thrived here. Find out more about these plants and planters and other interesting facts about Queen Street's history. 
The improvements have been informed by a wide range of community members, who we have been engaging with since the beginning of this project. 
Measures to reduce general traffic: 
Introduced a new type of vehicle zone called an Essential Vehicle Area (EVA) on Queen Street between Wellesley and Wakefield Streets. Only buses, motorcycles, mopeds, bicycles, goods vehicles and emergency service vehicles are allowed to use the EVA, to reduce congestion, air and noise pollution, making it safer for pedestrians and micro-mobility users.  
Prioritised loading and servicing activities by removing general parking on Queen Street between Customs Street and Mayoral Drive. Queen Street offers only loading and servicing spaces along the length of the project area with P30 mobility parking around the arts precinct.   
Put in place a peak hour bus lane (4pm-7pm), heading north, between Shortland Street and Customs Street.